Geoffrey Rush Thought Pirates Of The Caribbean Would Be A One-And-Done Deal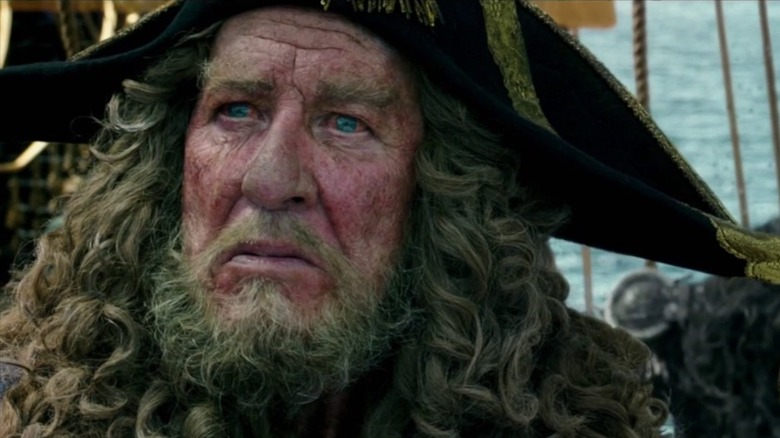 Disney
Before joining Disney's "Pirates of the Caribbean" franchise, Geoffrey Rush already had an Oscar and BAFTA under his belt. For the first 20 years of his career, the Australian actor won critical acclaim by portraying a controversial writer in "Quills," a tormented pianist in "Shine," and numerous Shakespeare characters, but he became a star when he took on the role of a cursed, undead pirate.
Although Rush's work was often celebrated by critics in the mid and late '90s, he was far from a household name. However, that changed when he stepped into the role of Captain Hector Barbossa. The mutinous, zombified, pirate became one of the most popular characters in the "Pirates of the Caribbean" franchise and introduced Rush to mainstream audiences across the globe, but the actor never expected the character to return after the first film.
Waiting for Barbossa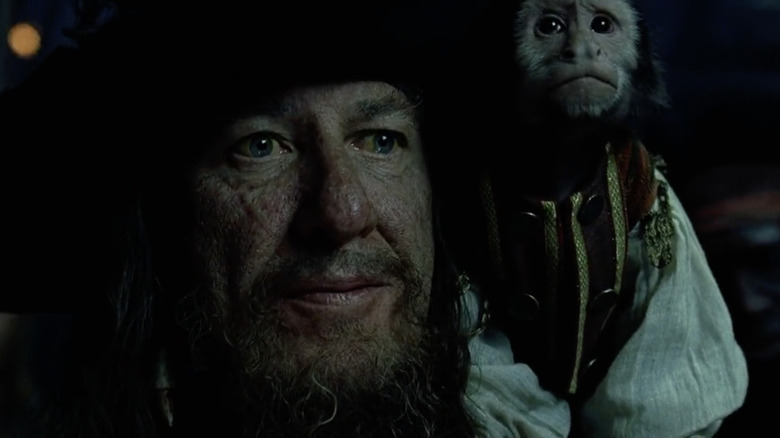 Disney
It seems that Rush was born to play Barbossa in the "Pirates" franchise, but he almost missed out on the life-changing character. In an interview with Inside the Magic, Rush admitted that he initially turned down the role:
"I originally had turned it down because I had committed to work with a longtime colleague director in a theater in Australia, and we were planning to do a production of 'Waiting for Godot.' So I remember writing a four-page email to my agent and it was titled something like 'I hope you've got a strong cup of coffee and you're sitting down... I have to politely, regretfully decline the offer. It's a wonderful script, but I'm committed to this.'"
Rush's agents replied with a longer e-mail explaining why he should take the role, and the actor decided to listen. 
"So that's where fate comes in. I wrote to all my colleagues and said, 'I'm sorry, I'm bailing out; I'm not doing it because I don't like you. But there's an opportunity that's come up that I think is a very important career maneuver.'"
"The Pirates of the Caribbean: The Curse of the Black Pearl" was a huge hit, grossing $654 million at the box office. Rush enjoyed his time on the first film, but he told Inside the Magic that he never expected to become a franchise regular:
"I went home [and thought], 'Well, that was fun. That was nice.' Then [director] Gore Verbinski phoned me up and said, ... 'We're going to bring you back.' I said, 'What? From the dead?' And he said, 'Yeah, with voodoo.'"
After his resurrection in the second film, Barbossa continued to be a fan favorite, and Rush's chemistry with Depp was a huge part of the franchise's success.
All about chemistry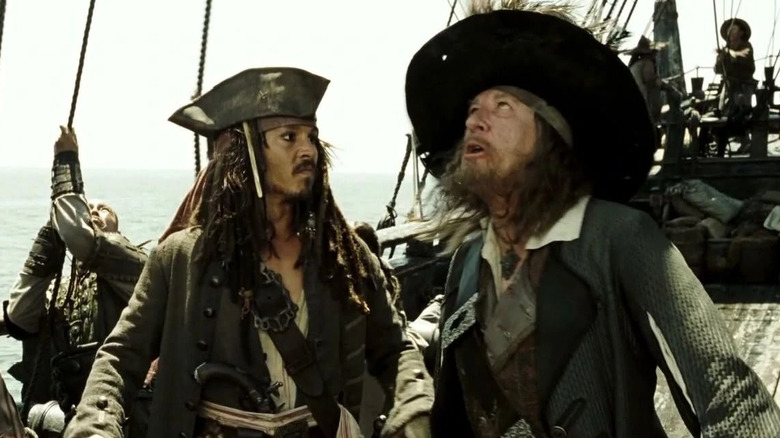 Disney
In 2003, "Pirates of the Caribbean: The Curse of the Black Pearl" kicked off the long-running franchise, where audiences first saw the staggering swagger of Jack Sparrow and the ominous, tattered sails of The Black Pearl. The success of the film is often credited to Depp's portrayal of the drunken, sun-stroked Sparrow, and he certainly demanded audiences' attention, but Rush's portrayal of Barbossa also deserves some credit for the film's achievements.
Barbossa is a cursed man, doomed by his greed to an eternity of insatiable hunger, thirst, and loneliness. His only purpose in life is to lift this curse, which he needs Sparrow's help to do. Barbossa has little patience for the quick quips and doomed adventures of Jack Sparrow, but he's stuck with him. This contentious relationship between an aimless Sparrow and a dedicated Barbossa provides tension, suspense, and comic relief for the audience. Rush and Depp's on-screen chemistry is what made both characters such an integral part of the franchise.
While his on-screen relationship with Depp is tense, the actor has nothing but respect for him off-screen. In a 2017 interview with Backtage, Rush praised Depp's acting ability and touched on the way he is able to play off of it.
"Johnny Depp is one of the great character actors of our time, I believe, trapped in a leading man's body. He's got the best of both worlds. He has a brilliantly absurd sense of humor, he's a great player. He just puts on Jack, you know, he just goes into the character, and he's a great combatant."
There is little doubt that Depp's role as Captain Jack helped make the "Pirates of the Caribbean" franchise successful, but Rush's fantastic portrayal of Barbossa is a key component of the films, and his talents shouldn't be overlooked.