Time Wasn't On Ingmar Bergman's Side While Filming The Seventh Seal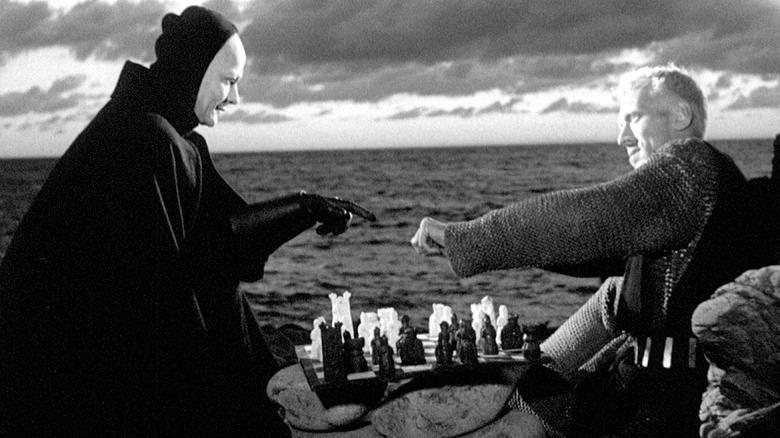 AB Svensk Filmindustri
When I was in college, a professor of mine credited two films with birthing modern European arthouse cinema: Federico Fellini's "8 1/2" and Ingmar Bergman's "The Seventh Seal." Their black-and-white cinematography aside, the two movies couldn't be more different from one another. Where Fellini's meta-fictional comedy is a series of relentlessly moving images full of zest and zeal, Bergman's historical drama is a somber period piece, his camera typically static as it fixates on the faces of the film's weary travelers. "8 1/2" is a surreal celebration of life in all its disorder; "The Seventh Seal" is a dour meditation on the existential conundrum of religious faith.
Yes, I just quoted the Swedish Chef from "Muppets Most Wanted." I only steal from the best, after all.
"The Seventh Seal" came together at a turning point in Bergman's career. He had only just gotten his first real taste of success in 1955 with "Smiles of a Summer Night," having already directed 15 films over the nine years prior. This allowed him to finally secure the financing he needed to realize a script based on his own play, "Trämålning," which had previously been rejected by prospective backers. All the same, Bergman was hard-pressed for both time and money throughout production on what would become "The Seventh Seal," as he admitted in a 1972 interview with Charles Samuels.
'It was all done in a hurry'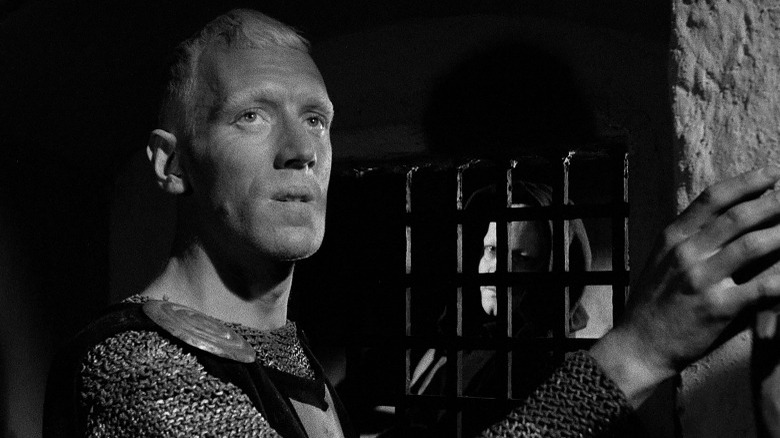 AB Svensk Filmindustri
Far from a sycophant, Samuels came out swinging in his interview with Bergman. Samuels felt "The Seventh Seal" was "unbalanced between realism and expressionism," a point that Bergman declined to rebuke. Instead, he talked about shooting the film in just 35 days, most of it either in the Filmstaden studios in Solna, Sweden, or the nearby woods. "Everything in it was done in an enormous hurry, and I like it because it expresses a sort of craftsmanship. It's very theatrical and complicated," said Bergman. He continued:
"Some parts of the picture I still like. It is very close to me. When we were making it, each morning brought a new catastrophe because we had to make it cheap and quick. For the beach scenes, we had only three days on location! The actors carried the cameras. We borrowed costumes from the theatre. It was all done in a hurry, but with enormous enthusiasm. We were happy even to be able to produce some images each day. For example, the scene with the flagellants was shot from eight A.M.. to seven P.M. of a single day."
Those constraints ultimately served the 1957 drama well. "The Seventh Seal" takes place in a medieval setting that's been ravaged by The Plague, its citizens either living in the shadow of death or, in the case of knight Antonius Block (Max von Sydow), locked in a literal chess match with the Grim Reaper (Bengt Ekerot). The movie's simple sets and costumes speak to the plight of its characters, many of whom spend scene after scene reflecting on their dire circumstances and suffering in the face of God's silence. One can see the film's continuing influence in recent works like "The Green Knight" and "The Tragedy of Macbeth."
Sometimes quicker is better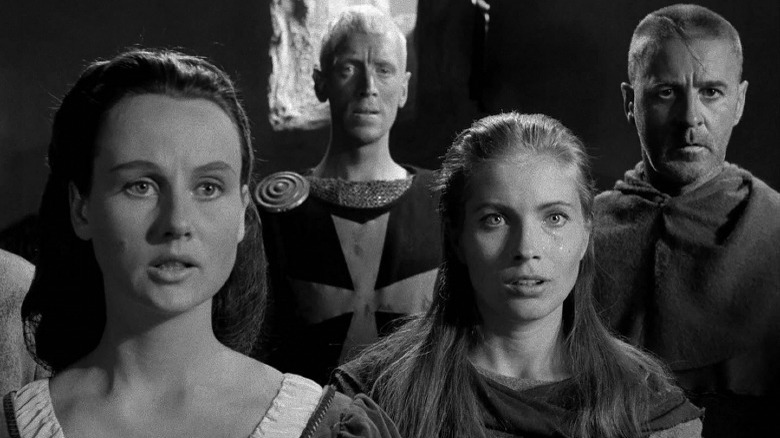 AB Svensk Filmindustri
If "The Seventh Seal" is a "stagy" film, then Bergman didn't much care. "That was not my intention. I only wanted it done quickly," he told Samuels. Nor was he bothered by the movie's theatrical nature, which does little to hide its origins as a stage play. "This picture is enormously theatrical, but I don't care," said Bergman. "It was such a fantastic time. We never slept. We only rehearsed and shot."
Even with time working against him, Bergman clearly enjoyed making the film. "The Seventh Seal" itself, on the other hand, is a movie Samuels fairly described as "troubling for the spectator," depicting Death as an all-powerful entity who delights in toying with the living souls he's come to collect. Bergman pointed to the medieval art that inspired the film as the source of this idea:
"The whole film is based on medieval pictures in a Swedish church. If you go there, you will see death playing chess, sawing a tree, making jokes with human souls. It's like a Mexican peasant game that takes death as a joke. Only suddenly does he become terrible."
When Samuels argued the sensibility of the medieval art is "totally different" from the film, Bergman disagreed. He described his fear of death ("this infantile fixation of mine") during production as "overwhelming." Yet, by the time he was done, that fear was gone:
"I have the feeling simply of having painted a canvas in an enormous hurry – with enormous pretension but without any arrogance. I said, 'Here is a painting; take it, please.'"
Bergman wouldn't be the last director to realize art that relies on gut feelings and ingenuity is sometimes the best kind there is. Suffice it to say, history has vindicated him when it comes to "The Seventh Seal."