The Great Escape Stunt That Left A Camera Man With A Broken Leg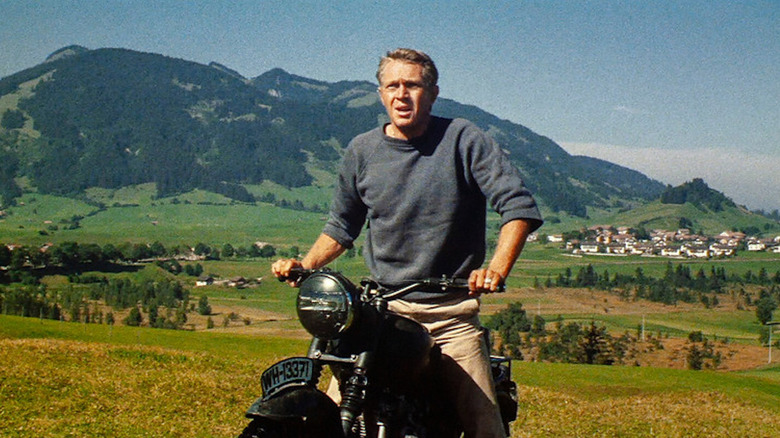 United Artists
John Sturges' 1963 war epic "The Great Escape," based on true events surrounding a massive prison break from a Polish Nazi P.O.W. camp during World War II, climaxes with one of the more famous stunts in cinema history. After having escaped from the camp, American soldier Captain Virgil Hilts (Steve McQueen) boosts a motorcycle and leads his Nazi pursuers on a glorious chase through the German countryside toward the Swiss border. According to cinema lore, and confirmed in Marshall Terrill's 2020 biography "Steve McQueen: In His Own Words," many of the shots in that final chase are of McQueen himself. McQueen was an avid motorcyclist, and was given permission to ride his very own 650 cc Triumph TR6 Trophy on camera for "The Great Escape." Thanks to the magic of editing, McQueen also played one of his own motorcycle-mounted Nazi pursuers in the same sequence. 
The chase ends with a triumphant motorcycle jump over a barbed wire barricade, which Captain Hilts clears with ease. It's a taller, second barbed ward barricade — paired with an approaching retinue of Nazi soldiers — that trips him up. Hilts crashes into the barbed wire and is ultimately recaptured. The jump was not performed by McQueen, but by stunt rider Bud Ekins. It was Ekins who brought a second legendary stunt rider onto production, 28-year-old Australian motocross champion Tim Gibbes. Between the two of them, Gibbes and Ekins performed the bulk of the stunts seen in "The Great Escape."
And, thanks to some recently discovered silent 8mm film footage shot in 1962 by Gibbes' wife (handily posted alongside a 2019 interview with the Daily Mail), "Escape" fans can witness Gibbes and Ekins chatting on set, and camera crews preparing to film the stunts. And that's where an on-set injury enters the picture.
Tim Gibbes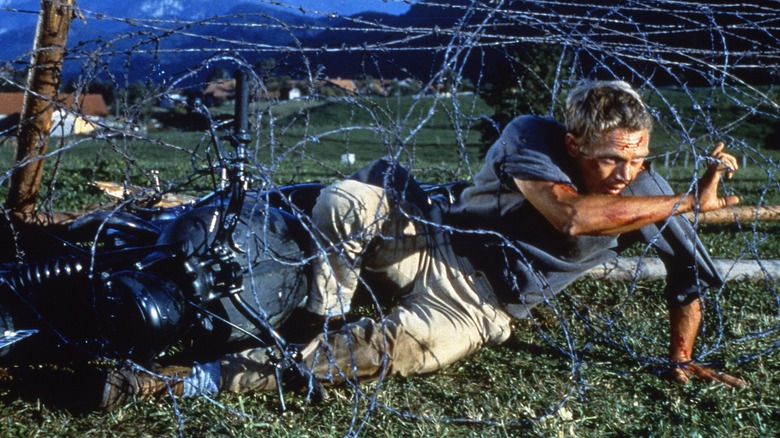 United Artists
One of those stunts involved a sliding motorcycle, a little bit of bad luck, and an injured cameraperson. Worry not, dear reader, the cameraperson escaped with only a fractured leg. 
Gibbes is a legitimate legend in his own right, and his story can be read on the Australian Motocross History website: Gibbes began racing in 1955 and won several international motocross championships in 1960. While touring, Gibbes — possessed of Steve McQueen's handsome face and wiry frame — was approached by Ekins about the possibility of performing as a stunt rider. According to the interview with the Daily Mail, Gibbes claims he didn't know who McQueen was, nor did he recognize other "Great Escape" stars Richard Attenborough and James Garner. 
Gibbes recalls interactions with McQueen quite well, however. The star, he remembers, was something of a hot dog. He said: 
"His job was showing off, you could tell that right away. I certainly wouldn't describe him as a modest. But that's what these actors are paid to do. When I arrived on set riding a motorcycle, I would just pull up and that would be it. But when Steve arrived on set it would be a big show, with lots of swerving about on the bike and swinging of handlebars. Even when he wasn't on camera he'd be the center of attention. He would always be making noise in the background."
Gibbes is describing the typical look-at-me-everyone instincts of many actors. McQueen, it seems, liked to be watched. 
Get up and try again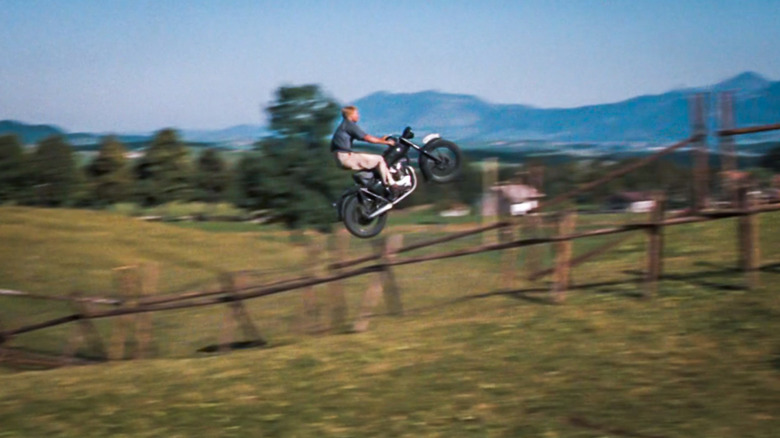 United Artists
The dangerous moment in question came from a scene between Gibbes and McQueen where the latter knocks the former off of his motorcycle with a tripwire, and then steals his vehicle. The idea is that Gibbes would fly off the motorcycle and go skittering across the ground straight toward the camera, Gibbes, 85 at the time of the interview, remembers a miscalculation that led to his fear of being fired, as well as the injury of the man filming the scene. He said: 
"During the first take I overcooked the slide and went straight into the cameraman filming the stunt. I thought he just had a bruise or something, but someone told me he'd broken his leg and so I decided to sneak off set before I got into trouble. But as I was walking away the director shouted my name and called me over. And he remarkably told me to do exactly the same thing again. He said the sight of a motorcycle coming straight towards the camera would thrill audiences."
It seems that attitudes toward on-set danger were perhaps a touch more laissez-faire in 1962. The injured camera operator (unnamed) was rushed off to have his injuries tended to, and shooting merely continued. Gibbes, perhaps a bit rattled, was far more careful on the second take:
'So we got another cameraman and did the whole thing all over again, but this time we made sure the bike was able to miss the poor chap filming.'
Gibbes performed the stunt with aplomb. 
Although he worked on a film as famous as "The Great Escape," Gibbes never did any additional stunt work for movies, preferring to stick to the racing circuit. He would eventually be inducted into the Motorcycling New Zealand Hall of Fame.