Why Steve McQueen Always Felt A Little Guilty About The Great Escape's Motorcycle Jump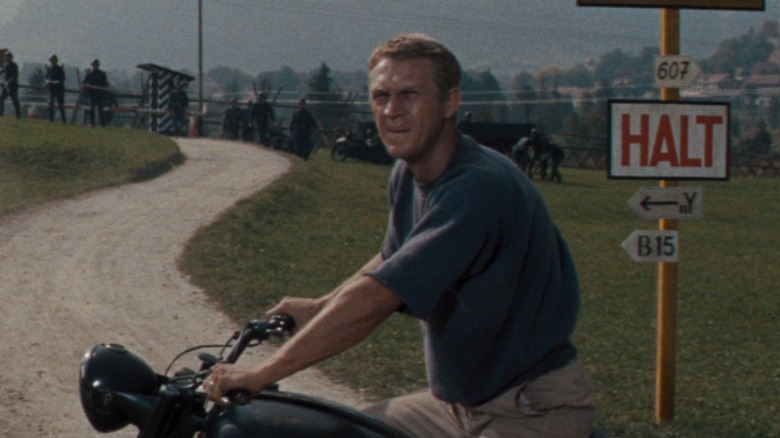 MGM
In the annals of all-time great movie stunts, Steve McQueen jumping a six-foot barbed-wire barrier on a motorcycle in John Sturges' "The Great Escape" ranks awfully high. The thrilling sequence comes near the end of the film, when McQueen's dogged Captain Virgil Hilts, aka "The Cooler King," is on the run from German soldiers. As they close in from every direction, the stubborn American POW is forced to gun the bike up a hill and scale the impediment sideways. He deftly manages the first leap, but has his tires shot out before he can attempt the second jump, at which point he would've been home free into Switzerland.
Worshiped as a man's man of an actor, McQueen prided himself on performing his own stunts. He came by his daredevil disposition naturally; his father was a barnstorming pilot, which entailed everything from wild aerial acrobatics to insanely risky stunts like wing walking. Near the end of his life, McQueen would learn to pilot a World War II-era biplane, but he favored the ground as a race car and off-road motorcycle driver. These exploits were well publicized in the press, so many people assumed the star executed the jump in "The Great Escape." It became a part of his legend, and he never felt great about this because, well, this was a rare occasion when he did not perform the stunt.
A star and his stuntman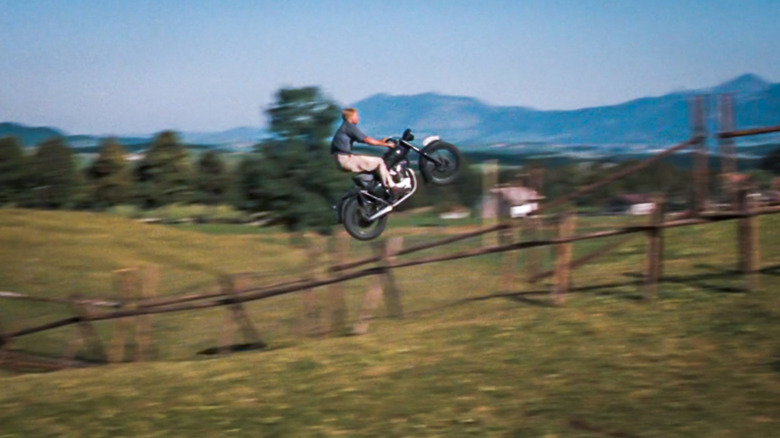 MGM
Fans of Quentin Tarantino's "Once Upon a Time in Hollywood" should be well acquainted with the name Bud Ekins. The celebrated Hollywood stuntman was one of several inspirations for Brad Pitt's Cliff Booth. He was McQueen's stunt double throughout much of his career, and a hugely accomplished motorcyclist. McQueen was no slouch himself, but, later in life, he admitted that he was not up to the stunt when "The Great Escape" was made in the early 1960s.
According to a must-read Hagerty article by Priscilla Page, McQueen once said:
"I always felt a little guilty about that. A lot of people thought it was me making that jump, but I've never tried to hide the truth about it. I could handle the jump now, I'm sure. Back in '62, I just didn't have the savvy."
Bud Ekins, superstar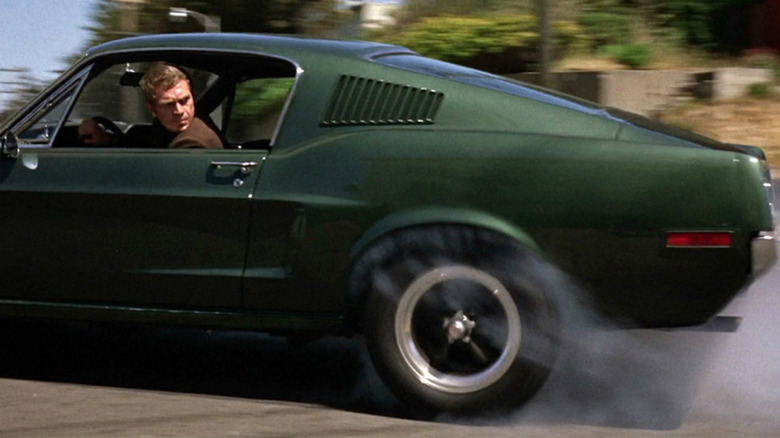 Warner Bros
The McQueen/Ekins combo was a formidable one. In 1968, Ekins manned the Ford Mustang 390 GT during the massively influential, and still utterly gripping, car chase in "Bullitt." He brought the Deathmobile to "ramming speed" at the end of "Animal House." Ekins, who died in 2007, is enshrined in the Motorcycle Hall of Fame, and, 60 years later, is rightly worshiped today for pulling off the technically daunting stunt in "The Great Escape." 
Good on McQueen for not getting wrapped up in his movie star ego, and giving credit where it was richly due.