Why Disney Decided The Orville Needed A Subtitle For Season 3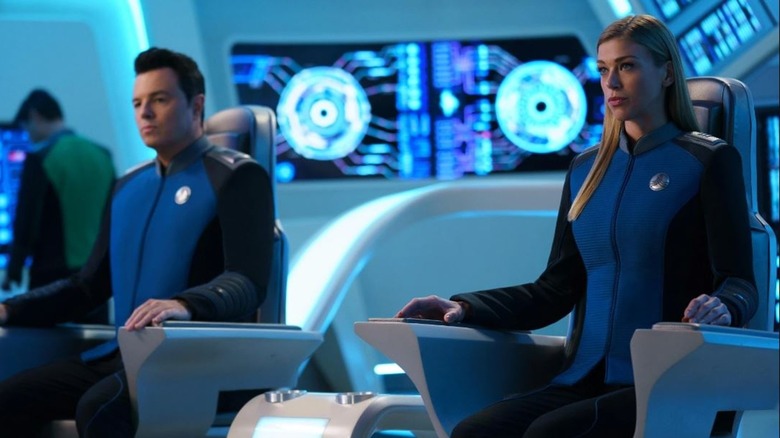 Hulu
After a turbulent journey, the third season of Seth MacFarlane's "The Orville" dropped on Hulu in June. A sci-fi lover's tool for decompression after a long day at work, "The Orville"'s return feels like a welcome relief in the midst of, well, have you seen the world lately? With that said, a decent amount of change has happened to the show between seasons. Everything seemed to be running smoothly after its second season wrapped back in April 2019. Alas, fans wouldn't know then that it would be a long time until season 3 arrived. 
The most notable change was the network. The show was moved from FOX to the streaming service, Hulu, though this wasn't a bad change. As MacFarlane shared via THR, moving to the service changed how they could approach episodes without commercials and allowed them to play with the tone of the series. Then the pandemic hit. Filming during the third season was interrupted a couple of times due to COVID, which pushed back the release date of the show. As anyone in the industry knows, this was a common problem for many productions at the time.
One change that might have gone unnoticed is that "The Orville" isn't just simply "The Orville" anymore. With the transition between networks, the sci-fi comedy series got a subtitle added onto the show's name. Reminiscent of "Star Trek" spin-off series, the show is now titled "The Orville: New Horizons," and the add-on was entirely Disney's idea.
'It's a continuation'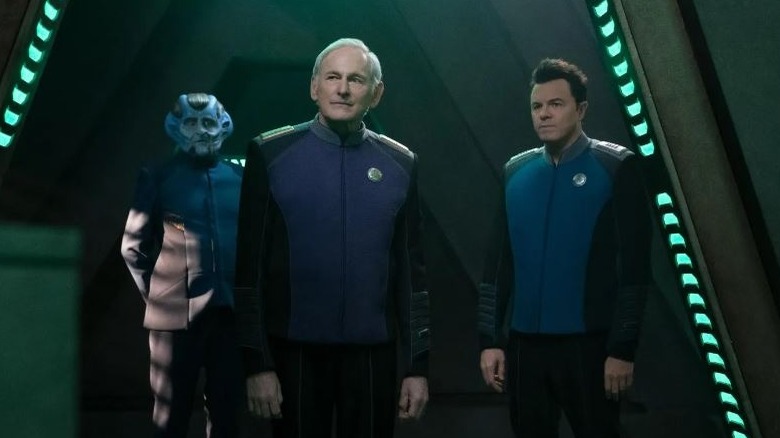 Hulu
Adding a subtitle to the title of a film or a show isn't a new thing. It's done to indicate the next installment or a transition, but it's not often you see it done for a series that is still going like "The Orville." Usually, the decision would have been made once the series ended and the network started to look at spinoff options. But, as Seth MacFarlane revealed to Collider, it was a good idea to add it and it was all thanks to his boss over at Disney:
"Adding a subtitle was actually Dana Walden's idea ... And I thought it was kind of cool because it's not a reboot, but it was just enough to tell the audience that we're expanding a little bit. That the scope is bigger. The show is more ambitious. It's going to feel more like a movie. It's maybe going to feel a little more special. And it seemed appropriate also because it's been a few years since we've been on the air and we've moved to Hulu and it's a 10 episode run as opposed to, a 13 episode run."
While MacFarlane also admitted it might not have been a huge difference overall, such a seemingly tiny change carried with it a ton of weight. Easily serving as a transitional tool to guide fans from its former home at FOX to its new home at Hulu, the addition of "New Horizons" marks a new era for "The Orville."