Glorious Clip: Ryan Kwanten Goes Up Against A Lovecraftian Glory Hole In The Latest Shudder Movie [Exclusive]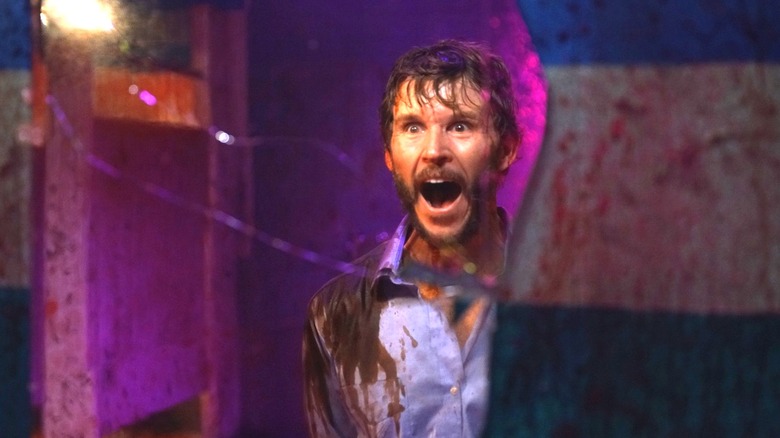 Shudder
In practically no time at all, Shudder has established itself as the prime streaming destination for all sorts of hidden gems in the horror genre. Let's put it this way, for a recent example: Any platform that provides a home for a fever dream as genuinely unhinged and utterly unforgettable as Phil Tippett's "Mad God" deserves all the plaudits and appreciation it gets.
Not content to rest on such refreshing success stories, however, Shudder is moving ahead with its next prized acquisition. "Glorious" alternately awed, scared, and delighted festival audiences upon its premiere at this year's Fantasia Fest, ahead of its recent debut on streaming. /Film's Matt Donato reviewed the film, describing it as, "Slimy, icky cosmic horror gets existential in a roadway rest stop bathroom to embrace single-location simplicity, yet existential provocation is infinite. It's a bit 'Lovecraftian Saw' as cotton-candy-colored doomsdaying pits man against hidden gobbledygook, relying on dialogue and unseen characters to examine mortal sins on a universal scale."
"Glorious" follows a man named Wes (Ryan Kwanten) who struggles to regain his bearings following a particularly rough breakup. Naturally, that goes awry when he finds himself locked in a bathroom and accosted by a Lovecraftian monster (J.K. Simmons). Today, /Film is able to exclusively debut a relatively grounded clip from the film, showing just how much baggage the main character lugs around prior to his otherworldly encounter with, well, you'll have to watch the movie to believe it.
Check out the clip below!
Watch an exclusive Glorious clip
Who among us can't relate to an adorable teddy bear bringing back all sorts of unpleasant memories of a ruined relationship? Unfortunately, what Wes will presumably stumble upon next will be unlike anything most of us could even fathom. It's safe to say that this relatively ordinary-looking scene doesn't quite reflect the madness that the story will ultimately unleash.
"Glorious" is directed by Rebekah McKendry, best known for writing and directing 2018's "All the Creatures Were Stirring," and written by Todd Rigney, Joshua Hull, and David Ian McKendry. The largely one-location horror/comedy promises to deliver everything fans of the genre could possibly want, with the director going so far as to tease the film as:
"'Glorious' speaks to my adoration of Lovecraft, gore, absurdist humor, philosophy, and the type of transgressive movies that leave you thinking, 'I can't believe I just saw that.' It is a wild mix of horror, humor, and heady moralistic concepts about our own existential realizations of who we really are, forcing each of us to stare into our personal abyss. And sometimes, the abyss stares back... and maybe has a favor to ask."
"Glorious" is currently available to stream on Shudder.
Glorious follows as, spiraling out after a bad breakup, Wes (Ryan Kwanten) ends up at a remote rest stop miles away from civilization. His situation worsens after he finds himself locked inside the bathroom with a mysterious figure (J.K. Simmons) speaking to him from an adjacent stall. As Wes tries to escape, he finds himself an unwilling player in a situation bigger and more terrible than he could possibly imagine...