Speak No Evil Trailer: Get Ready To Be Deeply Upset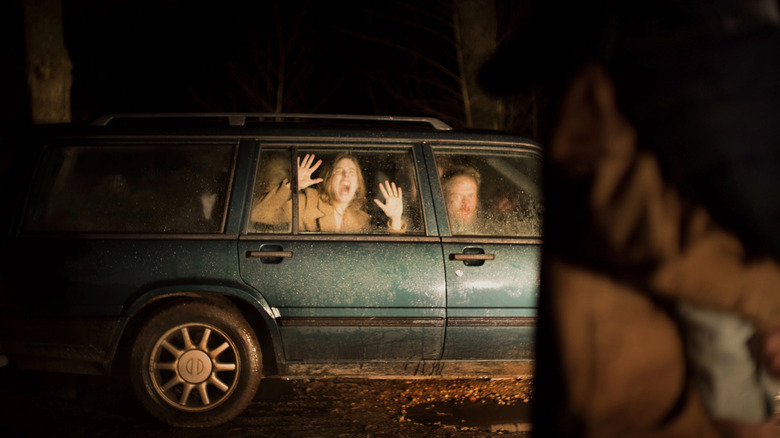 Shudder
There are horror movies, and then there's "Speak No Evil," a new Shudder original that will incessantly haunt you for the foreseeable future. The soul-chilling satirical tale now has a trailer, and the sneak peek hammers home just how uncomfortable and horrifying this film truly is. After seeing the Danish tale, you will think twice about everyone you speak to for the rest of your life — and I wish I was exaggerating. 
In the trailer, we meet a family who has spent the summer vacationing among other families. One couple, with whom our protagonists felt a connection during their trip, invites them to spend some time at their remote home. That invitation has unsuspected, drastic, and sickening consequences. The official plot summary from Shudder is: "One family accepts an invitation to the rural home of another they met on holiday, only to find their lives altered in unexpected, deeply horrifying way." But even that synopsis won't prepare you for what this terrifying movie has in store for you.
"Speak No Evil" was directed by Christian Tafdrup and stars Morten Burian, Sidsel Siem Koch, Fedja van Huêt, Karina Smulders, Liva Forsberg, and Marius Damslev. Check out the trailer below.
Speak No Evil trailer
One thing I'll never do, reader, is lie to you. Which is why it behooves me to warn you about one thing. If you've clicked on this story, you've probably seen your fair share of messed up horror movies. After all, why would you be here otherwise? But you need to know going into "Speak No Evil" that it is going to join that canon in your brain. 
I saw the film a few months back and it has been hard-pressed to leave my thoughts since. It is so deeply upsetting and uncomfortable on top of being almost impossibly cruel. It has a grit and bite that I've not seen in a horror film in some time and it highlights the thing that I find most terrifying within the genre: a lack of empathy. Ghosts and aliens and supernatural beings, they're all terrifying, no doubt. But when you sit back and think about them, your logical brain reminds you that they're not actually a threat because they don't exist. 
But a person really can inflict harm on another person, and the prospect of that is infinitely more terrifying than any ghost, simply because it could happen to you. That's the kind of stuff that makes my skin crawl, and even as a die-hard horror fan, movies like that tend to be the hardest for me to watch. So don't say I didn't warn you. 
"Speak No Evil" will have a limited theatrical release beginning on September 9, 2022 and arrives on Shudder on September 15, 2022.