One Of The Scariest Scenes In Nope Eats You Alive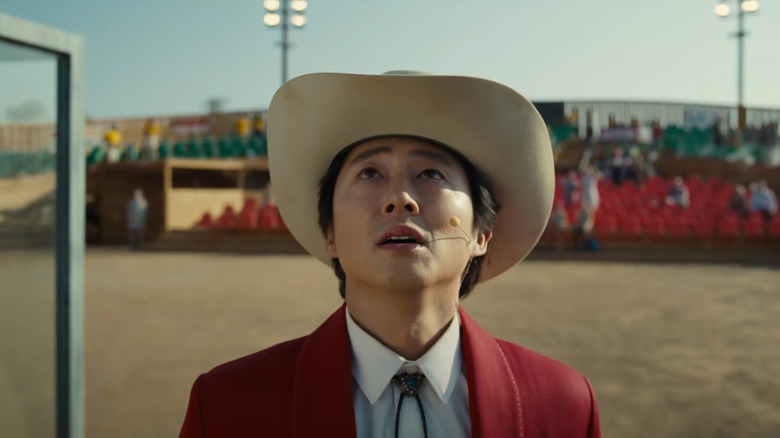 Universal
(Welcome to Scariest Scene Ever, a column dedicated to the most pulse-pounding moments in horror with your tour guides, horror experts Chris Evangelista and Matt Donato. In this edition, Matt wants to nope out of "Nope").
Spoilers for "Nope" follow. 

Jordan Peele has broken the $100 million domestic threshold on three straight releases — his first three directorial features — to the tune of box office dependency. His latest, "Nope," does a splendid job representing why. "Nope" doesn't stifle Peele's expressive freedoms when telling horror tales about representation, nor does it skimp on said horrors. Peele's brand of filmmaking through "Get Out," "Us," and "Nope" keeps event-based horror alive as studios continue to slash genre budgets, which audiences reward with their attention and wallets. He's no imposter alongside contemporary horror masters like James Wan or Scott Derrickson.
Although, "Nope" is decidedly Peele's least horrifying offer. His blend of western science fiction is more about predatorial unknowns, akin to "The Twilight Zone," but that doesn't mean scares vanish. A particular barn scene with extraterrestrial pranksters had my audience gasping before the humanoid reveal, yet there's another glimpse in "Nope" that I won't forget anytime soon. Peele brings us into the belly — eh, maybe esophagus — of his cowboy-hat-lookin' UFO monster.
The setup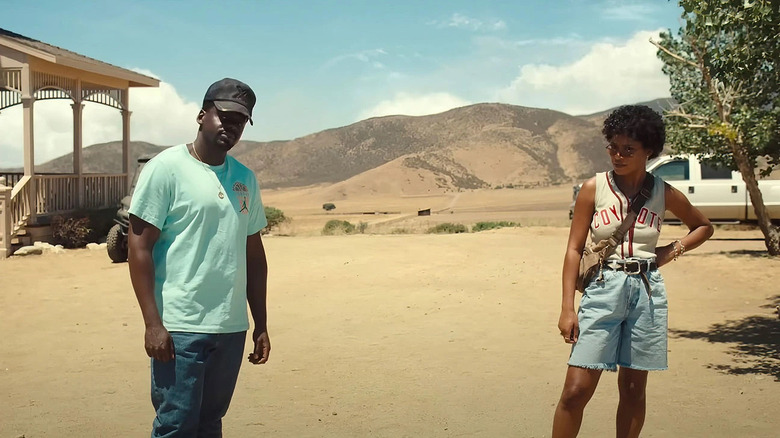 Universal
Haywood Hollywood Horses is run by father Otis Sr. (Keith David), son Otis Jr. aka OJ (Daniel Kaluuya), and daughter Emerald aka Em (Keke Palmer) when she's not chasing side hustles. We meet the Haywoods right before a freak tragedy kills Otis Sr., leaving the animal entertainment business to brother and sister. Officials presume an aircraft dropped luggage over the Haywood residence, causing a coin to drive itself into Otis Sr.'s brain. That's the only logical explanation, at least.
Under OJ's management, Haywood Hollywood Horses struggles to maintain its prestige reputation. OJ's not "front of house" material, which becomes Em's specialty — except she's often too preoccupied with her handful of passion projects. After losing a major commercial project, OJ worries their father's business might crumble. It's not like their contracts keep Haywood Hollywood Horses afloat — Wild West theme park owner Ricky "Jupe" Park (Steven Yeun) buys horse after horse from OJ, turning some profit.
The story so far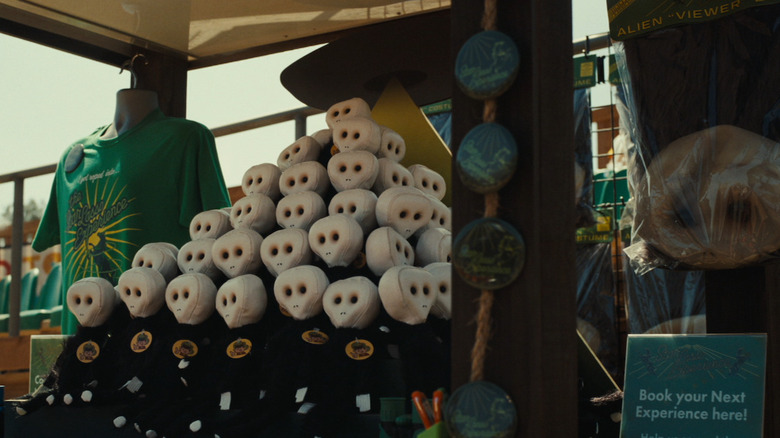 Universal
It's late at night when OJ witnesses a spectacle, or a "bad miracle," as he dubs it. One of Haywood's remaining horses isn't penned after dark, which draws OJ outside long enough to spy some floating vessel zip across California desert nightscapes. OJ and Em decide their ticket to prosperity is catching photographic evidence of whatever interstellar ship OJ claims to have witnessed. They visit Fry's Electronics and meet technician Angel Torres (Brandon Perea), a conspiracy theorist and alien believer who becomes their unexpected third teammate when trying to capture whatever's out there on video. 
Meanwhile, it turns out Ricky has big plans for Jupiter's Claim that involve the same flying saucer. Ricky announces a new attraction at his park Jupiter's Claim, called the "Star Lasso Experience." Lucky patrons attend the event's debut in a horseshoe-shaped grandstand, which Ricky introduces in a flamboyant ruby-red cowpoke's getup. It turns out that Ricky has been feeding OJ's horses to the aerial entity without an identity, and now Ricky wants to tame the unidentified flying object. He welcomes guests to the Star Lasso Experience and presents another sacrificial horse, but the hungry spaceship doesn't care about an equestrian snack this time around — Ricky pays the price for trying to control something without an explanation.
The scene
There's a calm before the Star Lasso storm. Ricky gazes upward at the metallic disc hidden in cloud camouflage, flags dangling out its mouth opening due to the training horse it tried to munch. It's a staredown moment as Ricky calms his preview customers, assuring everyone there's no present danger. Ricky says the "Nope" monster only eats horses — he also ensures everyone their lives will forever change. Unfortunately, Ricky's right about one of those assumptions. Bummer.
All eyes are Ricky's guest of honor when the levitating vacuum descends upon the Star Lasso crowd. Ricky's family, Jupiter's Claim employees, and eager visitors start screeching as they're lifted into the flying beast. Camera perspectives pull tight against Ricky's face since he can't stop looking sky-bound, fixated on the "bad miracle" above, not the chaos and fear-stricken panic all around. We're not 100% positive about OJ's special visitor by now, but Ricky's foolish fantasy of taming the creature with his Star Lasso meet-and-greet answers most questions.
Mind you, that's not even the scary part.
Peele removes all mystery about what The Suckening entails because we're pulled inside the creature's guts. The camera shows Ricky's wife Amber (Wrenn Schmidt) stuck between tissues or fabrics as she's thrust upwards in a claustrophobic nightmare. It's like a reverse throat as Amber screams her head off, covered in slick lubrication that resembles bloody viscera. She's pushed higher and higher until she's face-to-face with the fake horse head lodged inside the monster's digestive track — but her fate is sealed. She's being devoured. There's no escape.
We don't even see Amber die on screen, yet Peele mortifies through implications alone. The experience of sliding into a massive stomach while still conscious is like diving head-first into an anaconda. Cinematography makes it impossible to breathe, playing against multiple popular paranoias. It's the scariest sequence I've seen thus far in 2022 by a moonshot.
The impact (Chris' take)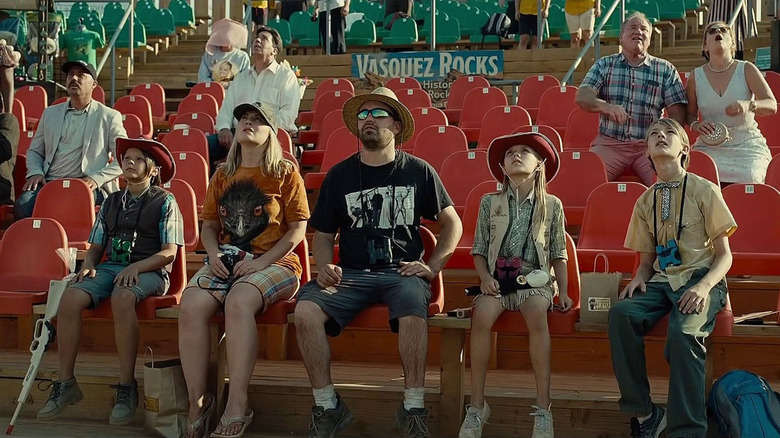 Universal
Jordan Peele is 3 for 3 for me, and I can't wait to see what he does next. He's a horror filmmaker working on a whole other level, and "Nope" might be his most entertaining film. As Matt says, the film isn't as scary as what Peele has done before — but he still manages to pack in plenty of bursts of horror, aided by meticulous sound design. The scene Matt is talking about here is the first scene where we really learn what the UFO is all about, and it's genuinely horrifying.
The set-up, with Steven Yeun's character giving a big showman introduction, doesn't really prepare you for the nightmare to come. There's a sense that something is wrong here, but I'll confess I wasn't entirely sure where the scene was going until the last minute. At that point, it becomes pure nightmare fuel, and the shot of the inside of the UFO, later nicknamed Jean Jacket, is claustrophobic and horrifying.