John Cusack Wanted His Con Air Character To Stand Out From Other Action Heroes In One Key Way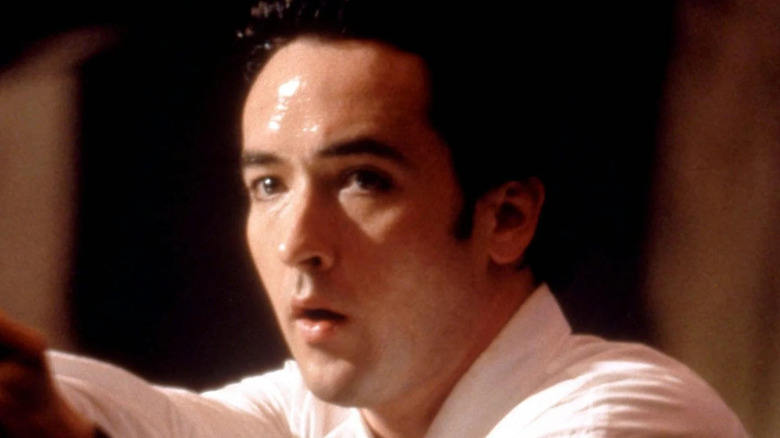 Touchstone Pictures
Celebrating over 25 years of gonzo action mayhem, "Con Air" still packs a real punch. The explosive Simon West-directed spectacle sees a group of some of the most dangerous convicts in the state taking control of the transport plane extraditing them, with one man, played by Nicolas Cage, trying to make it back home to his family.
It was right after the year in which Cage starred in both "The Rock" and "Leaving Las Vegas," which won him the Best Actor Oscar. The man was on top of the world, so it's fitting that he gets to play a character that ascends to the clouds before making a bombastic entrance back into the city of lights. But while Cage is the lead action star of "Con Air," he's far from the last huge star keeping the bird in the air.
John Malkovich, Ving Rhames, Steve Buscemi, and Danny Trejo are only a few of many names rounding out this awesome ensemble. On the ground, meanwhile, is John Cusack as Agent Vince Larkin, a US Marshal trying to get this chaotic takeover under control. But the crew of the newly designated "Con Air" is determined to make it as difficult as possible.
Bring in the birkenstocks!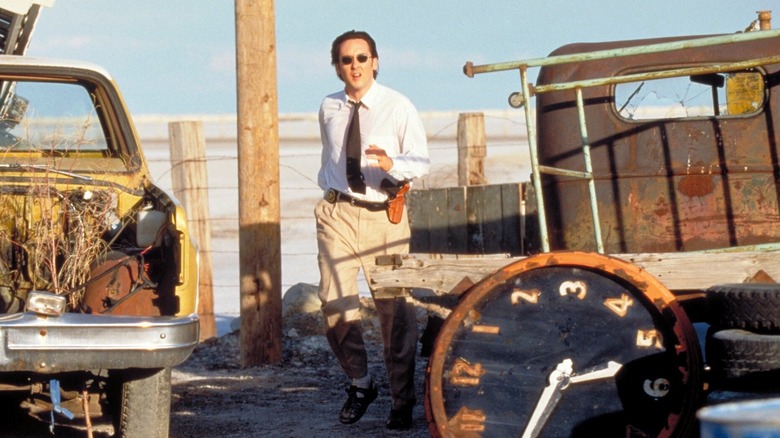 Touchstone Pictures
It's not uncommon for actors to make special requests for their characters. Even Cage wanted a real bat on the set of "Vampire's Kiss," but settled for eating real cockroaches when they couldn't make that happen. As it turns out, however, Cusack had a doable, yet odd inquiry in mind.
In Empire's celebratory retrospective for "Con Air," screenwriter Scott Rosenberg talks about how Cusack jumped on board not because of the script itself, but because of what starring in a bombastic summer blockbuster could do for his career. He had one unique request in mind, which involved his footwear:
"He was like, 'I wanna create the very first action hero who wears Birkenstocks. Charlton Heston wore sandals and he kicked ass. I wanna do the same.' Thus, Larkin wears sandals."
There's so much anarchy going on in "Con Air" that I seemed to have missed that little detail. I'll give it to Cusack. I genuinely can't recall the last action star whose prime footwear was Birkenstocks, let alone with crew socks on. Of course, you have outliers like Bruce Willis having no footwear in "Die Hard" and Bryce Dallas Howard wearing heels in "Jurassic World."
"Con Air" is currently available to rent and buy on multiple VOD streaming platforms.