Without Will Ferrell's Talladega Nights, Superbad Might Never Have Been Made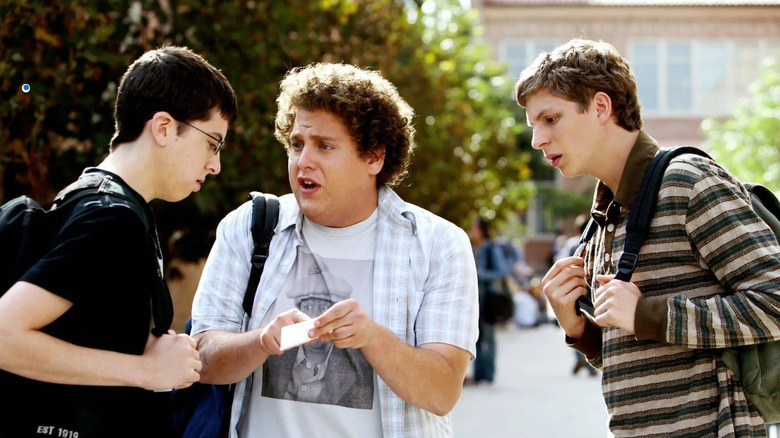 Sony Pictures
Fifteen years ago, "Superbad" came out and ended up as one of the most beloved teen comedies of all time. Following the story of three high school seniors in their somewhat misguided quest to get laid before college, "Superbad" gave breakout roles to Jonah Hill, Michael Cera, and Emma Stone, and let Bill Hader give one of his most memorable early comedy performances outside of "Saturday Night Live." 
Although the movie released in 2007, the script was being written far earlier. The film's executive producer, Judd Apatow, first heard that "Superbad" writers Seth Rogen and Evan Goldberg were working on an early script back when he and Rogen were working on "Freaks and Geeks," which aired its only season in the fall of 1999. "Seth and Evan had started their script when they were 13 years old, and already had something in its earliest form, which was incredibly funny and original," Apatow said. They pitched the film to a bunch of studios, with no success.  
Luckily for Rogen and Goldberg, Judd Apatow's profile skyrocketed throughout the mid-2000s. After the critically acclaimed "Freaks and Geeks," he produced "Anchorman" in 2004 and directed "The 40-Year-Old Virgin" in 2005. As to what it was that tipped the scales and let "Superbad" go into production? Seth Rogen credits the 2006 film "Talladega Nights: The Ballad of Ricky Bobby."
The best NASCAR movie ever made?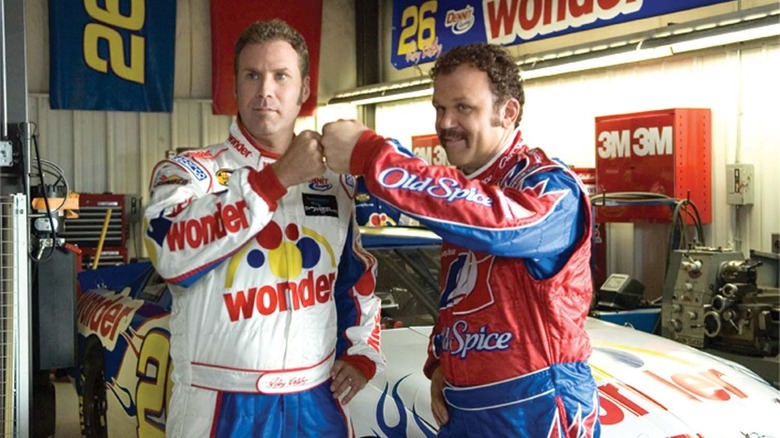 Sony Pictures
"Talladega Nights" had a lot going for it. It was a sports movie about a sport that doesn't usually get a ton of movies made about it, so there was loads of untapped potential. It featured Will Ferrell at perhaps the height of his career. And it was written and directed by many of the same people behind "Anchorman." Sure enough, it was a box office success, making $163 million worldwide and nearly (but not quite) turning "shake and bake!" into a thing people said in real life.
"After 'Talladega Nights,' [producer] Amy Pascal was like, 'I'll make every comedy that comes from these guys,'" Seth Rogen explained. "So while we were making 'Knocked Up,' 'Superbad' got greenlit and we began the casting process." 
"Superbad" came out in August 2007, outdoing "Talladega Nights" at the box office with $170 million worldwide. More impressive than its performance at the time, however, is the way "Superbad" is still remembered and rewatched today. It's been fifteen years at this point, but McLovin still has a place in our hearts.
It's tempting to wonder what the movie would've looked like had the project gotten off the ground earlier. Apparently, Seth Rogen and Jason Segal were originally cast to play Seth and Evan, but by the time 2006 came along, they were both too old to believably play teenagers. In the end, we can't complain about the results: "Superbad" is still cherished, and we're grateful to Ricky Bobby for letting it happen.