Lost Ollie Review: A Sweet But Familiar Adventure Promises To Unleash Your Inner Child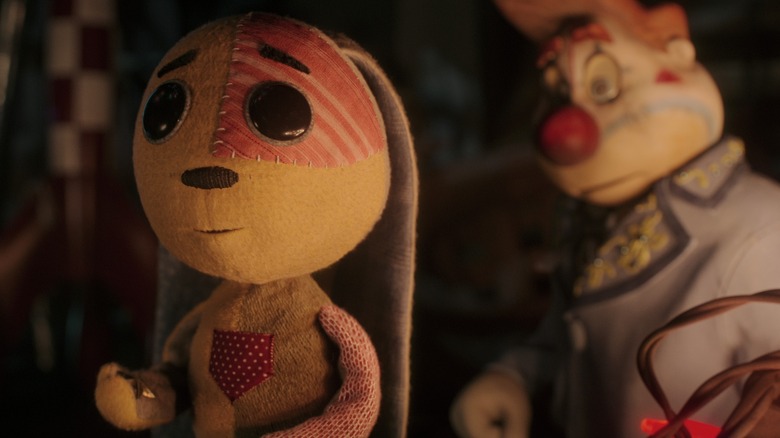 Netflix
Is there a more universal experience than the festering fear of looking around and realizing you're lost? It happens to children and adults, and evidently, it's also a very common occurrence for toys. "Lost Ollie" certainly isn't the first time we've seen a beloved toy embark on a dangerous journey to find its way home, but it might very well be the most adorable. To be fair, this particular story has the advantage of following Ollie, the world's cutest stuffy — a patchwork bunny with unbeatable spirit and the voice of Jonathan Groff. 
When he wakes to find himself in an unfamiliar place, it's up to Ollie to swallow his fear and begin a quest filled with danger, mystery, and more emotional gut punches than one can honestly prepare for. And why put himself through all that? Because somewhere out there is Billy (Kesler Talbot), a young boy who needs his favorite toy. In truth, Ollie's adventure only takes place across a single countryside — but when you're a child-sized stuffy, the world is larger than you can possibly imagine. And though this story is imbued with warmth all the way through, there are untold perils lurking around every corner; very quickly, Ollie realizes that the simple task of finding his way home is actually an impossible quest.
The four-part miniseries comes from creator Shannon Tindle ("Kubo and the Two Strings") and director Peter Ramsey ("Spider-Man: Into The Spider-Verse"), both of whom bring a magic touch Ollie's journey that results in immaculate vibes and gorgeous visuals. It also helps that the series takes its story from "Ollie's Odyssey," the children's book by renowned author and illustrator William Joyce. As he's proven many times over, Joyce has a knack for crafting worlds right out of a child's imagination; other titles of his served as inspiration for underrated gems like Disney's "Meet The Robinsons" and Dreamworks' "Rise of the Guardians." In fact, the latter is the very film that Ramsey made his directorial debut with, making "Lost Ollie" a joyous reunion.
A tale of two children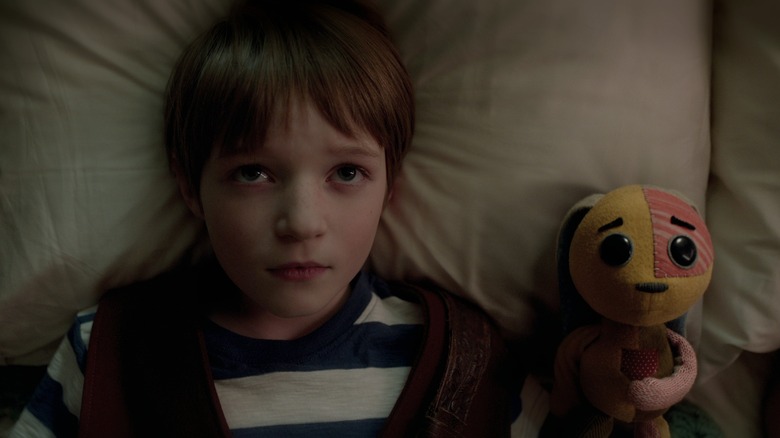 Netflix
It goes without saying that "Lost Ollie" is treading very familiar territory. It's following in the footsteps of "Toy Story," "The Velveteen Rabbit," and every other ridiculously sweet story about stuffed animals coming to life. But for better or worse, there are many other elements of this story that ring a bell. This isn't just the story of Ollie, after all — we also spend plenty of time watching the next moves of young Billy, a fourth grader who has lost much more than his favorite toy. In Ollie, he had a safe place to return when all else failed. But without him, it's up to Billy to face down bullies, parents, and the many dilemmas of childhood. As the duo fight to reunite with one another, Billy faces these obstacles alone. But even though they're apart, he and Ollie do share the same glimmer of hope: all the happy memories of life before their separation. 
Occasionally, we glimpse the past through their eyes: blissful pirate playtimes and joyous days with Billy's parents, played by Gina Rodriguez and Jake Johnson. And this is where we start to tread familiar ground. "Lost Ollie" is a heartwrencher, and it's very aware of what it's doing. The well-worn sentiments it embraces are recycled for good reason: they're very effective. How many times have we watched a TV father lecture his son about how he needs to grow up? Whenever Jake Johnson gets gruff about his son's stuffed animal, it strikes a very familiar chord — but that doesn't stop the tears from flowing. The same can be said of Billy's mother, who embraces his imagination and always champions her precious baby boy. While gruff father and doting mother are fine places to start, the problem is that these broad strokes are the most we get of those characters, even though we end up spending plenty of time in their presence. It's a shame because if Ollie's side of the story proves anything, it's how effective "Lost Ollie" is when dealing with the details.
Precocious, impatient, and determined, Ollie is our best-defined character by a wide margin, followed by the two toys that he befriends along the way. Since he basically oozes likability, it's not hard to see how Ollie ropes two strangers into his quest. Zozo (Tim Blake Nelson), a wise clown doll, and Rosy (Mary J Blige), a fearless teddy bear, quickly find themselves wrapped up in Ollie's adventure, whether they'd like to be or not. But reluctance aside, crossing paths with Ollie is an inevitability in their own personal journeys: though they aren't the same kind of lost that he is, their souls are also wandering. Before long, Ollie gives them something to latch onto.
Prepare to fall in love with Ollie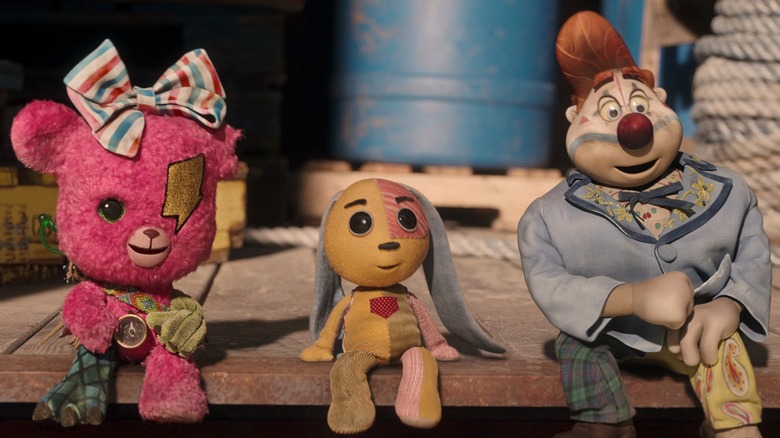 Netflix
As you might expect from a film that boasts both the director of "Spider-Man: Into The Spider-Verse" and the creator of "Kubo and the Two Strings," the visuals of "Lost Ollie" are stunning. Watching Ollie and his newfound friends traverse the dangers of everyday life is endlessly magical and as they navigate the difficulties of catching a train and wandering the woods, we get the lowdown on what drives Rosy's fierce loyalty and Zozo's belief in Ollie. Ultimately, it's a pretty tight-knit story and that smallness is what makes it feel so grand. Beyond our main trio, not many other toys are given the spotlight, and that ever feels like a missing element. When it comes to their story the series is so self-assured — but Billy's side of the tale is much more nebulous. There are hints at larger themes and glimpses of other issues, but none of that gets the same focus as the dilemma at the heart of this story: Ollie is lost and he needs to get home.
At its core, "Lost Ollie" is a tale of two lost children. Billy and Ollie both have some growing up to do and as fate would have it, they won't be together to get through it all. But over the course of the miniseries, we're reminded of how that obstacle doesn't have to be the end of the world: being apart from someone doesn't mean losing them. That message is itself is enough to bring on the waterworks, but even the most emotionally manipulative parts of "Lost Ollie" are rooted in enough genuine sentiment to earn those tears. And if you have any trouble tapping into that, just stare into Ollie's lovely patchwork face and see if your heart doesn't melt at the sight. "Lost Ollie" doesn't need to be a grand epic or end-of-the-world type quest. It's still a beautiful reminder of what it feels like to be wandering and what it truly means to find your way home.
"Lost Ollie" will be released on Netflix on August 24, 2022.