Clips Round-Up: Big Nate Gets Musical, Vinnie Jones Is Bullet Proof & More [Exclusive]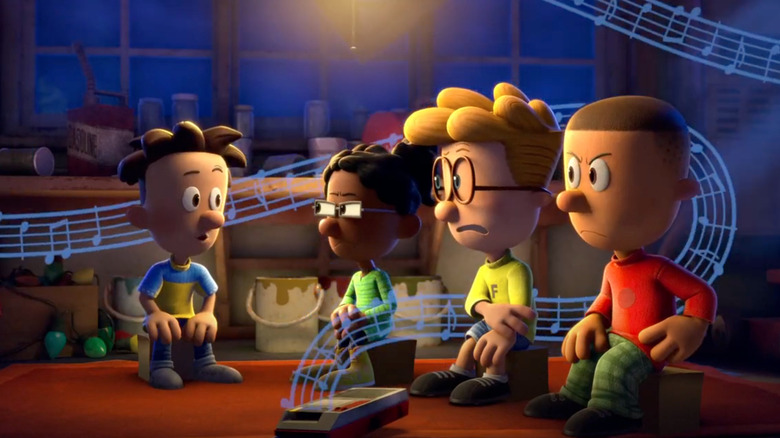 Paramount+
(Welcome to SlashClips, a series where we bring you exclusive clips from hot new Digital, Blu-ray, and theatrical releases you won't see anywhere else!)
In this edition you'll find footage from: 
Big Nate
Bullet Proof
Lie Hard
Howl of the Underdogs 
Maneater
Big Nate
First up, we have an exclusive clip from the hit Paramount+ animated series "Big Nate," based on the long-running comic strip by Lincoln Peirce. Having premiered on the streamer back in February, the show is back with nine all-new episodes set to drop on August 19, 2022. An additional 10 episodes have also been ordered, set to premiere in 2023.
Here is the official synopsis:
"Big Nate" follows the riotous exploits of Nate Wright, a sixth-grade kid who has a never-ending need to prove his awesomeness to the world. Whether he's dealing with disasters at home or detention at school, Nate is no stranger to a challenge. Luckily, he's able to express himself through the world of cartoons that he creates. Charming, mischievous, and a magnet for misadventure, Nate always finds a way to turn trouble into fun.
Bullet Proof
Next up is an exclusive clip from the Lionsgate action film "Bullet Proof," which stars the legendary Vinnie Jones. The film will be released in select theaters, on demand, and digital on August 19, 2022.
Here is the official synopsis:
Vinnie Jones ("Snatch") plays Temple, a sadistic mob boss, in this gritty, white-knuckle action ride. After stealing millions in cash from Temple's drug-dealing hideout, the Thief finds a stowaway in his getaway car: Temple's pregnant wife, Mia! Desperate to reclaim his cash and his unborn son, Temple sends out a squad of hit men and bounty hunters to bring in Mia and the Thief. Speed, cleverness, and good aim give the duo a brief advantage, but how long will their luck hold out?
Lie Hard
Mutiny Pictures has provided us with an exclusive clip from the comedy "Lie Hard," co-written, directed, and starring Ian Niles. It arrives on VOD and digital today. 
Here is the official synopsis:
Rob Smart (Ian Niles, "Millenniums," "A Mother's Greatest Fear," "Black Water") is a compulsive liar with an out-of-his-league girlfriend, Katie (Melanie Chandra, "Hot Mess Holiday," "Code Black"). After Rob makes a poor impression on Katie's wealthy father (Patrick Kilpatrick, "Black Water," "Cops and Robbers"), Rob aims to impress him by borrowing millions of dollars from Big Sally, a vicious crime boss (Catherine Curtin, "Stranger Things," "Orange is the New Black"), to purchase a mansion and fake his own wealth.
Howl of the Underdogs
Next we have a fascinating clip from the Norwegian heavy metal documentary "Howl of the Underdogs," which premieres on iTunes, Apple TV, and Amazon today. 
Here is the official synopsis:
"Howl of the Underdogs" is an intimate and uncompromising look into the 20-year struggle between Norwegian rock visionaries Madder Mortem and body image, gender double standards, and a culture of conformity. What starts as a typical rock doc turns into an intimate portrait of the band's enigmatic lead singer and her lifelong battle with mental illness and an eating disorder ... which she channels into dark and emotional music. The film also details the band's efforts in supporting their local community, and making metal a safe place for fans and fellow musicians.
Maneater
Finally, Saban Films has provided us with an exclusive clip from director Justin Lee's thriller "Maneater," starring Nicky Whelan, Trace Adkins, Jeff Fahey, and Shane West. It premieres in theaters as well as on digital and on demand August 26, 2022.
Here is the official synopsis:
Jesse and her friends' idyllic island vacation turns into a gruesome nightmare when they become the target for an unrelenting great white shark. Desperate to survive, she teams up with a local sea captain to stop the vicious man-eater before it strikes again in this heart-pounding thriller.