How Christina Hendricks' Accordion Skills Made It Into The Mad Men Script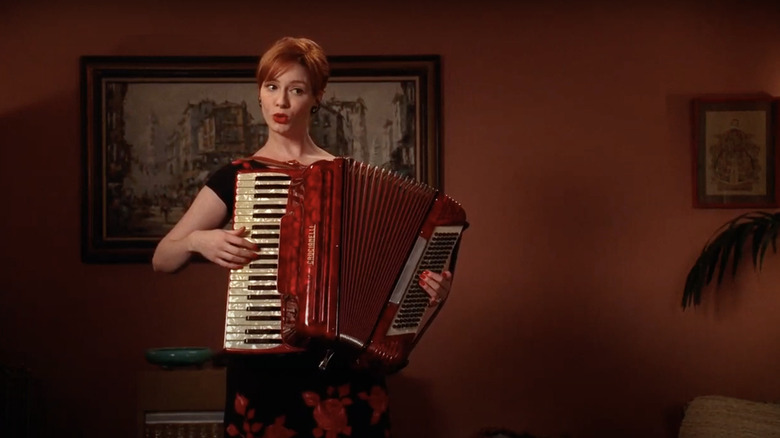 Lionsgate Television
One of the ways "Mad Men" makes its many dour moments more palatable is through music, from impromptu musical numbers to dinner party concerts. Who can forget Bert Cooper's song-and-dance number, or Megan Draper's French serenade of "Zou Bisou Bisou." In another memorable musical moment from the show, Joan Holloway sings in French while also wielding an accordion with uncanny skill.
It's a moment that comes as a light shock, one of the many reminders that the characters in "Mad Men" carry with them pasts we know nothing about. But actor Christina Hendricks, who plays Joan, really only needed to learn French for the scene, since she was already an adept accordion player before "Mad Men." Initially, an accordion wasn't the instrument the writers intended Joan to play, but that all changed when they found out about Hendricks' skill.
Hendricks' passion for the accordion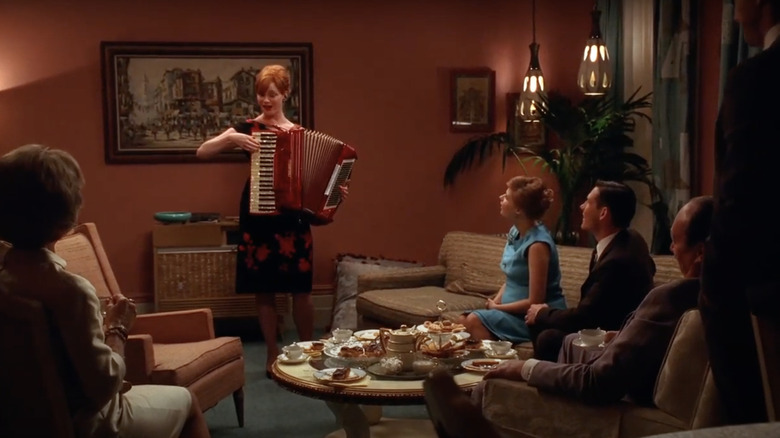 Lionsgate Television
Before performing with her accordion on "Mad Men," Christina Hendricks had already been taking lessons for four to five years. Speaking with the Los Angeles Times, she explained why she picked it up and expressed regret at neglecting to practice in recent years:
"I started taking lessons four or five years ago. It is such a rich instrument for one person. You can get so much out of it, like a one-man band. I also think it's a very romantic instrument, and it channels all the things I love — French culture, Tom Waits — and all the things I try to make my house look like. It's something I've always been interested in. Then I got a show in Canada ['Kevin Hill,' with Taye Diggs], and I wasn't able to bring it with me, because it's cumbersome, so I dropped it. I was getting quite good at it."
"Quite good" feels like a humble understatement. I remember watching the episode "My Old Kentucky Home" for the first time unable to decide what was more surprising: seeing the character Joan or Hendricks effuse all this hidden talent. Without her, the scene would've been drastically different, especially because it was her passion for and knowledge of accordions that led to the inclusion of one in the show.
The accordion was more period-appropriate than a piano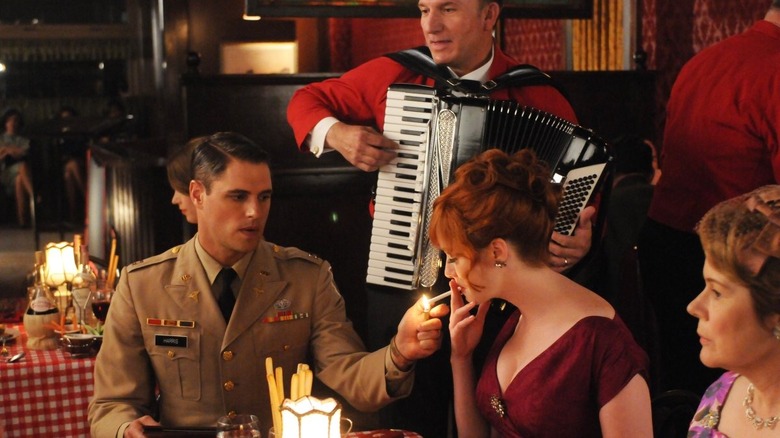 Lionsgate Television
When "Mad Men" creator Matthew Weiner gave Christina Hendricks a call to ask if she spoke French or played the piano, she voiced a suggestion. Originally, the scene called for Joan to play the piano at dinner. But Hendricks felt the sudden appearance of such a large and expensive instrument in her character's apartment would feel odd. She told IndieWire:
"I said 'I'll learn French, and I don't play the piano, but I do play a little bit of the accordion.' And wouldn't that be way easier to somehow all of a sudden see an accordion in Joan's apartment than, like, all of a sudden ... 'We've never seen the piano in the corner of the room!'"
Not only did using an accordion make logistical sense, but it was also more period-appropriate than a piano. In fact, the first half of the 20th century is even referred to as the "golden age of the accordion." As Hendricks explained, playing the accordion was just a "much more popular thing to play in the '60s." After watching her dazzle on the instrument, though, it feels like the accordion needs a comeback — and I can't help but hope it makes its way into one of her future roles.