The Daily Stream: Frasier Takes Chances With Comedy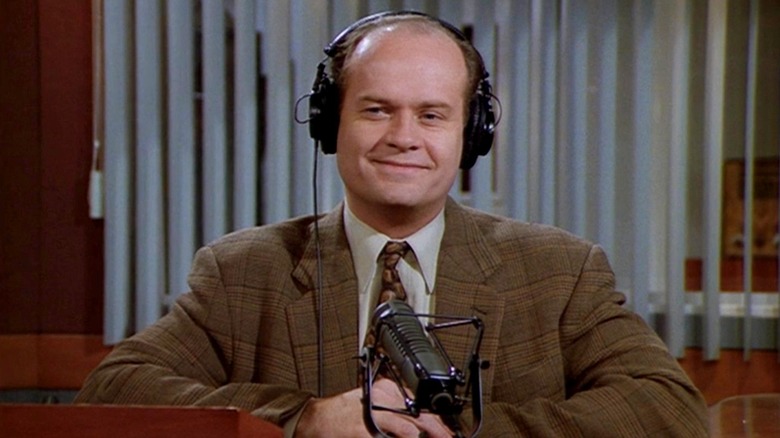 CBS
(Welcome to The Daily Stream, an ongoing series in which the /Film team shares what they've been watching, why it's worth checking out, and where you can stream it.)
The Series: "Frasier"
Where You Can Stream It: Paramount+, Peacock, Hulu
The Pitch: Following the end of his marriage, eminent psychiatrist Dr. Frasier Crane (Kelsey Grammar) leaves his life in Boston (and his stool across the bar from Norm Petersen and Cliff Clavin) behind to return to his hometown of Seattle, Washington to start a new life as a radio talk show host and man about town. His life is thrown for a bit of a loop when he takes in his retired police officer father (John Mahoney) after he gets shot in the line of duty, along with his dog Eddie and his live-in physical therapist and caregiver (Jane Leeves).
Because Frasier and his neurotic brother, Niles (David Hyde Pierce), have very expensive tastes and "high class" interests, they constantly clash with their blue collar dad and the people around them. Hilarity frequently ensues when cultures clash between themselves and others, resulting in the brothers Crane getting their comeuppance when they're knocked off of their high horses — which are often parked at their favorite coffee shop, Cafe Nervosa.
But at its core, the acclaimed "Cheers" spinoff also exhibits a lot of heart as it explores themes of family, relationships, growing older, and finding your place in the world. Though you may initially look at the show as a throwaway sitcom about a pompous one-percenter, it's really a comedic treasure trove that still appeals to audiences 18 years after its series finale, because it largely holds up after all this time.
Why it's essential viewing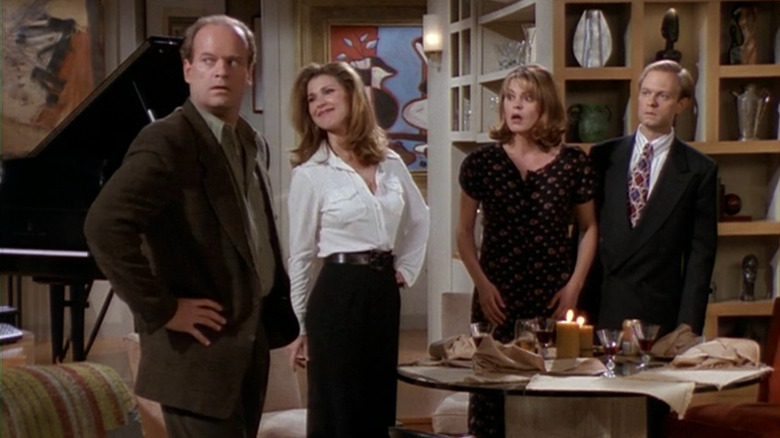 CBS
During the initial run of "Frasier" on NBC between 1993 – 2004, I was among those that wrote it off. But I did revisit it while majoring in screenwriting and playwriting at Drexel University. Due to my interest in comedies and sitcoms, I was encouraged by to sample shows outside of my comfort zone for educational purposes. And in this series from David Angela, Peter Casey, and David Lee, I discovered a whole new level of funny. The physical comedy harkens back to the days of Lucille Ball and Dick Van Dyke. The farcical elements borrowed so well from the great farces of stage and screen. And the comedy of manners offered an excellent backdrop for clever puns and wordplay. To put it simply, there are a number of ways to have fun with "Frasier."
One example is the season 6 episode "Three Valentines." It starts with Niles (along with Eddie) preparing for his date, but things go hilariously wrong when he accidentally starts a fire while trying to iron his pants. Dialogue is largely replaced with "The Marriage of Figaro" in this scene and Pierce goes all in with physicality and impeccable comedic timing. This vignette definitely goes down as one of the seminal moments of the show since it's such a masterclass of comedy.
In a sea of content that's frequently dark, gritty, or cynical, "Frasier" stands out as a fun romp that carries a kernel of hope for a cruel world. After all, from the pilot to the two-part finale, the message has always been, in Dr. Crane's own words: "In the end, what we regret most are the chances we never took." It's always nice to have that reminder, while also having a few really good laughs along the way.