Star Wars: Andor's Theme Will Break The Mold For The Franchise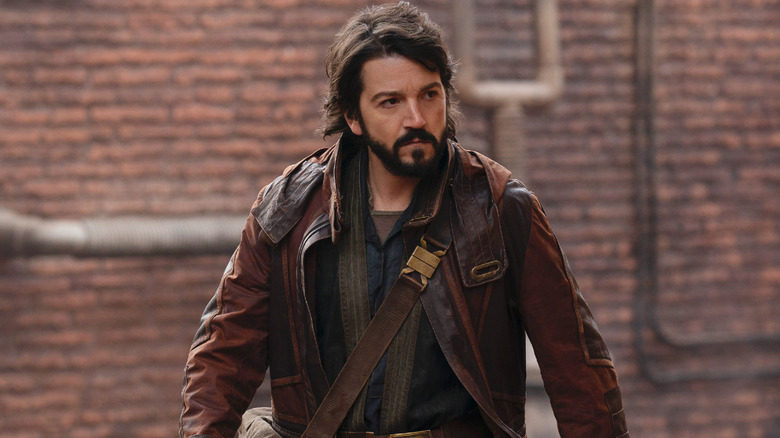 Disney+/Lucasfilm
Having to operate in the shadow of John Williams — only perhaps the greatest film composer in the history of the medium, no biggie — is about as intimidating a challenge as any musician could ask for, but it's also one a growing number of artists have taken on in recent years with their contributions to the "Star Wars" franchise. And so far, many of them have done a pretty bang-up job, not least of all when it comes to Ludwig Göransson's small screen work on "The Mandalorian" and the central leitmotif for "The Book of Boba Fett."
The upcoming "Andor" will do its best to follow in the footsteps of other live-action "Star Wars" series by bringing Nicholas Britell on board to handle the music. Britell, for those who are not familiar, has quickly made a name for himself by becoming the go-to composer for directors Barry Jenkins and Adam McKay, on top of crafting the earworm that is the central theme for "Succession" (along with the rest of the compositions for Jesse Armstrong's savagely satirical HBO dramedy series).
Those who pay close attention to the music on "Andor" will be rewarded for their efforts, as each of the first season's 12 episodes will feature a unique variation on Britell's primary leitmotif for the show. In the "Andor" production notes (via ComicBook.com), showrunner Tony Gilroy talked about the process of discovering the series' main theme:
"One day, I went to Nic's house, and he played us his theme. I was like, Oh, my God! That's our theme. I called [Lucasfilm president Kathleen] Kennedy [to say], 'We have a theme."
He went on to confirm that each variation of theme is "a different orchestration, a completely different interpretation of our theme that Nic has done... I think they're just absolutely beautiful."
'We're going to make a new musical vocabulary'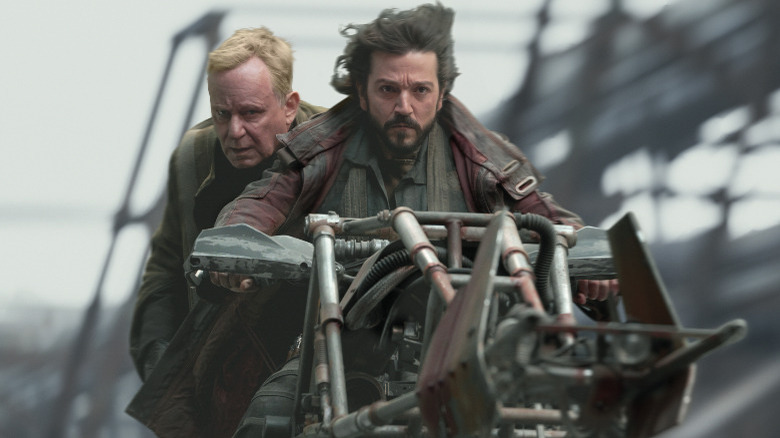 Disney+/Lucasfilm
As Disney and Lucasfilm continue to churn out brand-new live-action "Star Wars" TV shows at a pace that matches the output of the Marvel Cinematic Universe, it's become all the more important for each new series to find ways of separating themselves from the rest of the herd. In the case of "Andor," Tony Gilroy's approach includes relying on practical effects and real-world locations over digital tools like ILM's StageCraft (which is not at all to suggest that ground-breaking tech is somehow bad now) and adapting a style of music that better fits the grounded war story Gilroy is trying to tell. 
As the showrunner sees it, bringing in a talent like Nicholas Britell was absolutely vital to this effort:
"Music in 'Star Wars' is just absolutely essentially identified with John Williams — I mean, bow down-but we're going in a whole other direction. We needed an entirely new vocabulary. We're making a new visual vocabulary, a storytelling vocabulary; a new casting vocabulary, all these things. We're going to make a new musical vocabulary. Nic Britell was not only available but interested. Nic is just one of the premiere composers of the moment right now. He's just on fire, and he's inspired."
In many ways, Gilroy is simply following the trail he helped to blaze when he oversaw the reshoots on "Rogue One: A Star Wars Story," the 2016 film that not only inspired "Andor" but also changed up the visuals, tone, and even themes of the franchise in ways that few other "Star Wars" projects have since the original trilogy. We shall see if he, Britell, and the rest of their team can break the mold a second time when "Andor" premieres September 21, 2022 on Disney+.