Rob Zombie Could've Directed A Sequel To Thomas Jane's The Punisher, But Marvel Said No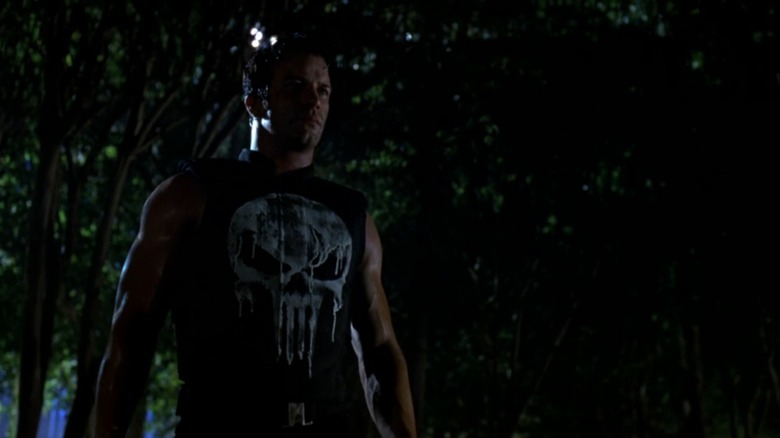 Lionsgate
One could easily argue that we have never had an outright good "Punisher" movie. While several attempts have been made, nothing has truly managed to capture that character on screen in a way that seems possible. Jon Bernthal's Frank Castle from "Daredevil" season 2 seems the closest, even if his solo show missed the mark a bit. Thomas Jane gave it the old college try in 2004, with the actor stepping up to the plate for "The Punisher," an adaptation of the Marvel Comics title with Jonathan Hensleigh in the director's chair.
As it turns out, there was talk of a sequel to that iteration, and, what's more, several major directors were being courted to tackle the follow-up. Among those the studio considered? None other than the man behind "House of 1,000 Corpses" and "The Devil's Rejects," Rob Zombie.
Rob Zombie nearly directed Punisher 2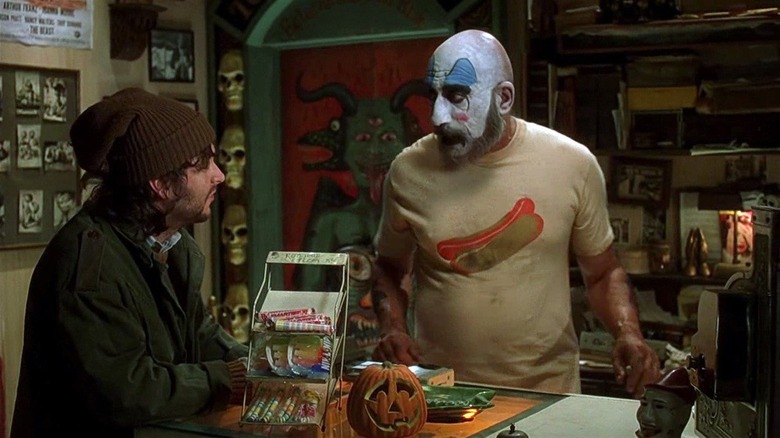 Lionsgate
Jane revealed the intriguing information during an appearance at Fanboy Expo Knoxville (per Comicbook.com). The actor explained that "Punisher 2" was on the table, presumably with Lionsgate once again planning to distribute the film. Yet, Marvel had other plans and the version that would have seen Zombie in the director's chair never came to be.
"There were a couple of iterations of Punisher 2. One of them was with Rob Zombie directing, which I thought would have been interesting. But that was one iteration. We were batting around script ideas and trying to find a new director. The Marvel folks wanted to go with a different director, and that was their choice, so it was like, 'Who is that person going to be?'"
Zombie, known as a hard rock and metal hit-maker before he began making horror films, is a fascinating choice. Say what you will about the filmmaker's catalog, but the man pulls precisely no punches. That alone would have made his take on Frank Castle worth watching. Jane explained further that they "went through a number of different sorts of folks," and that also included "immensely talented" Walter Hill, of "48 Hours" fame.
Thomas Jane had to walk away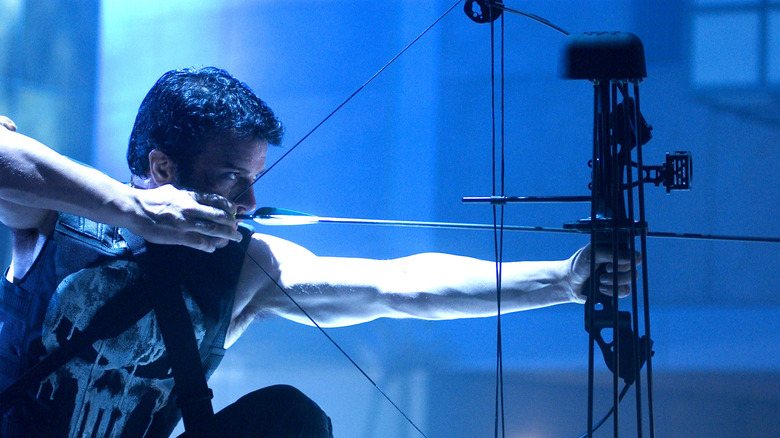 Lionsgate
Yes, when Zombie didn't pan out, the legendary Hill, whose credits also include "The Warriors" and "Red Heat," was also in contention for the job. Jane even met with Hill, a meeting that went quite well, with the director eager to take on the job. Unfortunately, once again, the studio had other ideas.
"We met and fell in love with each other and went to the studio. Walter said, 'I'll write it, and direct it, and that'll be that.' They ended up saying no to Walter Hill for reasons that are beyond my ability to comprehend. That's when I said, 'If you're not going to make the perfect Punisher film with the perfect guy, then who else do you got?' They floated another director who hadn't really done anything in that ballpark, and so that's when I had to pull out. I had to say, 'Listen, I'm not sure if you guys really understand what it is you're doing. Therefore, the chances of f*****g this up are pretty high.'"
And so, Jane walked away from a potential sequel. Instead, we got "Punisher: War Zone" in 2008, which starred Ray Stevenson ("Thor," "Rome") as our new Frank Castle, with Lexi Alexander ("Green Street Hooligans") at the helm. While that particular film has its fans, it performed very poorly at the box office, taking in a mere $10.1 million against a $35 million budget. For comparison's sake, Jane's first film earned $54.5 million and also had a $35 million budget. Plus, the home video market was far better off at that time, which likely explains how a sequel got going in the first place. But that would be the end of the line for Punisher until 2016 came along and Netflix brought Frank to the party for "Daredevil" season 2.