Pop Culture Imports: Happening, Money Heist: Korea & More Foreign Movies And TV Streaming Now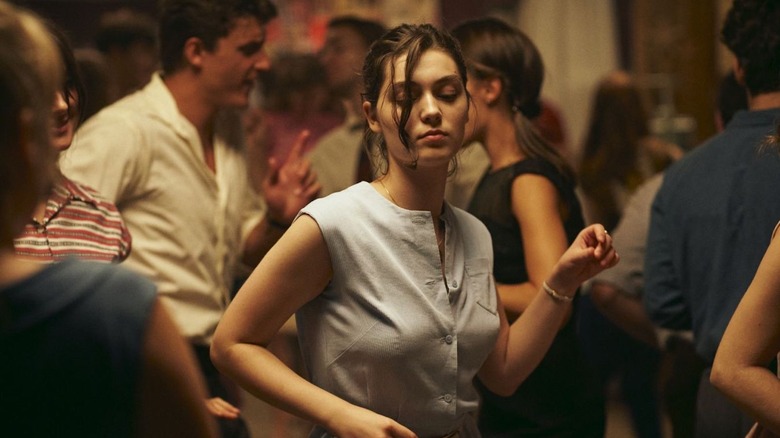 Wild Bunch
The summer heat has reached the point of being unbearable, so you know what that means: time to head inside, blast the AC, and pretend you're huddled in the cold European countryside. This month's Pop Culture Imports has everything: a painfully relevant French drama, a wistful anti-romantic comedy, a sweet slice-of-life anime, and more. There's something to chill you to your bone, and another thing to warm your cockles. Or, if you want something in the middle: a heist thriller where a bunch of red-suited criminals take down capitalism.
It's time to fire up those subtitles, and get streaming. 
Wheel of Fortune and Fantasy – Criterion Channel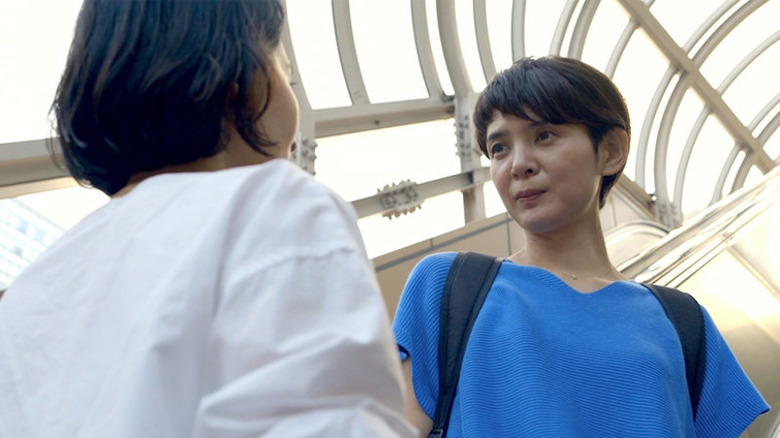 Neopa
Country: Japan
Genre: Anthology film
Director: Ryusuke Hamaguchi
Cast: Kotone Furukawa, Ayumu Nakajima, Hyunri, Kiyohiko Shibukawa, Katsuki Mori, Shouma Kai, Fusako Urabe, Aoba Kawai.
Ryusuke Hamaguchi rightfully earned acclaim for his exquisite three-hour character epic "Drive My Car," but the Oscar-nominated film wasn't the only movie the Japanese filmmaker released last year — nor, arguably, even his best one. While my preference leans toward "Drive My Car," there's something to be said about the lean storytelling efficiency of his romantic anthology film "Wheel of Fortune and Fantasy." "Wheel of Fortune and Fantasy" follows the story of three women, played by Kotone Furukawa, Katsuki Mori, and Fusako Urabe, in three unrelated love stories — though it's not "love" as you might expect it. Thorny, complicated, and messy, the three segments are stories of love lost, love that never existed, and old love made new again. Gentle and subdued, "Wheel of Fortune and Fantasy" doesn't have quite the hold that "Drive My Car" had, but its snapshot of the human condition in all its uneven facets is something to behold.
Watch This If You Like: "Before Sunrise," "Paris Je T'Aime," "The French Dispatch," long car rides.
Happening – AMC+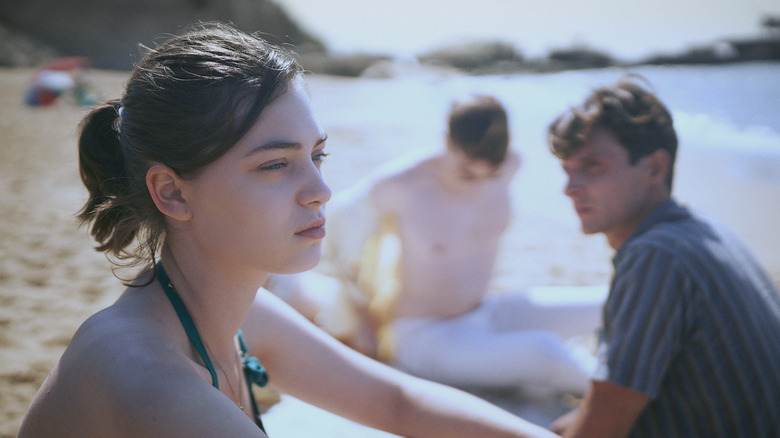 Wild Bunch
Country: France
Genre: Drama
Director: Audrey Diwan
Cast: Anamaria Vartolomei, Luàna Bajrami.
In the wake of recent events, no movie is more relevant right now than Audrey Diwan's "Happening." Based on an autobiography by Annie Ernaux, "Happening" is the unflinching story of how the unplanned pregnancy of a young woman in 1963 France can completely derail her promising academic career, not to mention her entire life. Clear-eyed but never clinical, "Happening" follows Anne (Anamaria Vartolomei, steely and terrific) as she desperately searches for a way to abort her baby, at first trying to take it into her own hands before finding her way through back-alley deals to a weary, hardened professional. Quietly relentless and candid, "Happening" dares you to look away just as much as it dares you not to care.
Watch This If You Like: "Never Rarely Sometimes Always," "Portrait of a Lady on Fire," abortion rights.
Kotaro Lives Alone – Netflix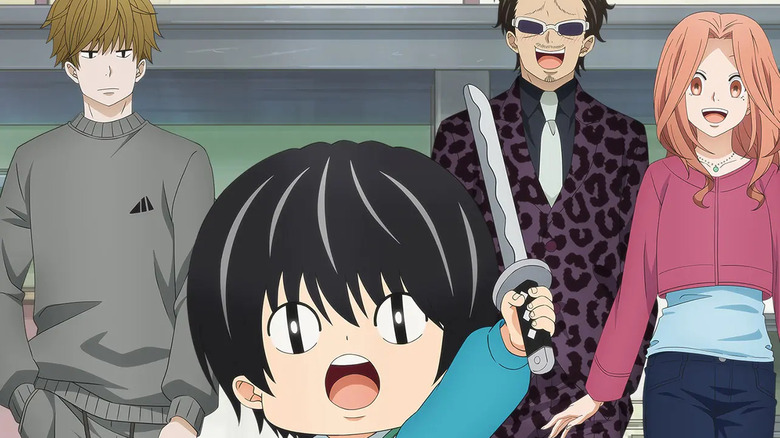 Netflix
Country: Japan
Genre: Slice of life anime
Director: Tomoe Makino
Cast: Rie Kugimiya, Toshiki Masuda, Saori Hayami, Junichi Suwabe.
"Old Enough!" is the adorable Netflix hit of the summer, with the antics of children barely out of toddler-dom charming American audiences so much that it wasn't long before it spawned "SNL" skits, talk of remakes, and pearl-clutching articles over irresponsible parenting. But what if there was an anime with a similarly adorable premise, a sweet slice-of-life twist, and a surprisingly melancholic undercurrent? "Kotaro Lives Alone" is the story of a 4-year-old boy who moves into an apartment complex where he immediately captures the affection (and concern) of the adults who live near him, including struggling manga artist Shin Karino. But as his neighbors, none of whom have much of a handle on their own lives, grow protective of this solitary child, Kotaro teaches them more about themselves than they might expect.
Watch This If You Like: "Shoplifters," "Marcel the Shell With Shoes On," "Old Enough!" if it had a sweet but sad plot.
The Worst Person in the World – Hulu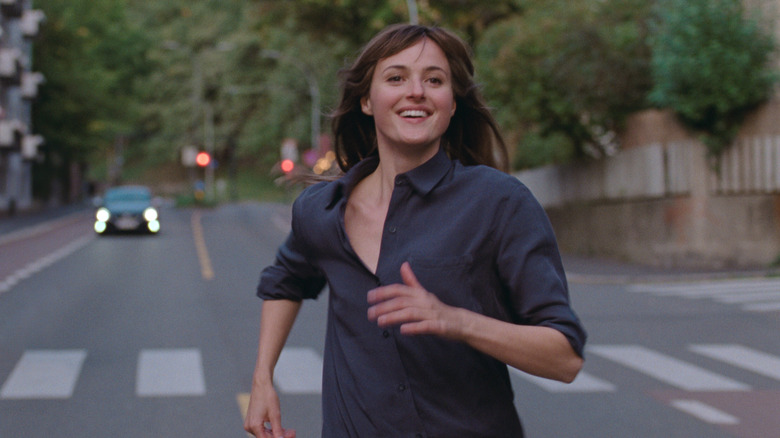 NEON
Country: Norway
Genre: Romantic comedy-drama
Director: Joachim Trier
Cast: Renate Reinsve, Anders Danielsen Lie, Herbert Nordrum.
"The Worst Person in the World" is a bit of a hyperbolic title — its protagonist Julie (played with radiance by Renate Reinsve) is frequently selfish and inconsiderate, but by no means the worst — though the praise around this movie is not hyperbolic. A snapshot of millennial ennui, "The Worst Person in the World" is both an achingly relatable and a frequently impersonal romance. Told in 14 parts of varying length and tone, "The Worst Person in the World" is partly designed to alienate — Reinsve, after all, is extremely beautiful — telling the extremely specific story of a woman whose charmed existence is only derailed by her own aimlessness. But beneath its whimsical antics and darkly comic tone lies a devastating loneliness, embodied by Anders Danielsen Lie's heartbreaking performance as Julie's older, and ultimately tragic, ex-boyfriend. "The Worst Person in the World" seems destined to be remade in English with Dakota Johnson in the lead, so take the chance now to watch it in its original, pure, heartwrenching form.
Watch This If You Like: "Lady Bird," "Take This Waltz," beautiful people falling in and out of love.
Money Heist: Korea – Netflix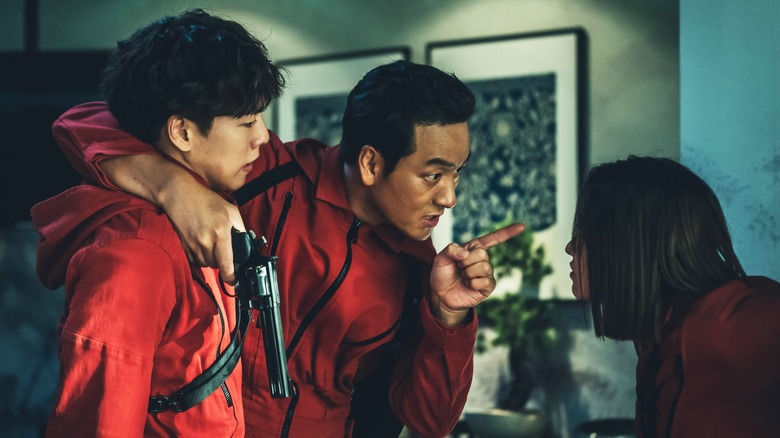 Netflix
Country: South Korea
Genre: Crime thriller series
Director: Kim Hong-sun
Cast: Yoo Ji-tae, Park Hae-soo, Jeon Jong-seo, Lee Hyun-woo, Lee Won-jong, and Park Myung-hoon
Korea can make its own remakes too! Netflix won't stop the international franchising of its biggest IP's at English-language remakes, and "Money Heist" is one of the streaming giant's biggest moneymakers. And with Korean pop culture enjoying unprecedented global recognition right now, a Korean cast + "Money Heist" = profit, right? Cynically, that might be the first gut reaction upon hearing of "Money Heist: Korea," but the Korean remake of the Spanish crime thriller series is actually, you know, pretty good. Featuring an all-star cast including Yoo Ji-tae of "Oldboy" fame, "Squid Game" star Park Hae-soo, and "Burning" breakout Jeon Jong-seo, "Money Heist: Korea" puts a slight sci-fi spin on the premise — a motley crew of criminals cripples government institutions by pulling off the biggest heist imaginable — by setting it in a near-future where South and North Korea have unified, resulting in drastic economic inequity. That anti-capitalist thread that runs through many of the best South Korean hits is strong in this series, which manages to inject new energy into a story we've already seen before.
Watch This If You Like: "Money Heist," duh.