The 15 Best Elizabeth Taylor Movies, Ranked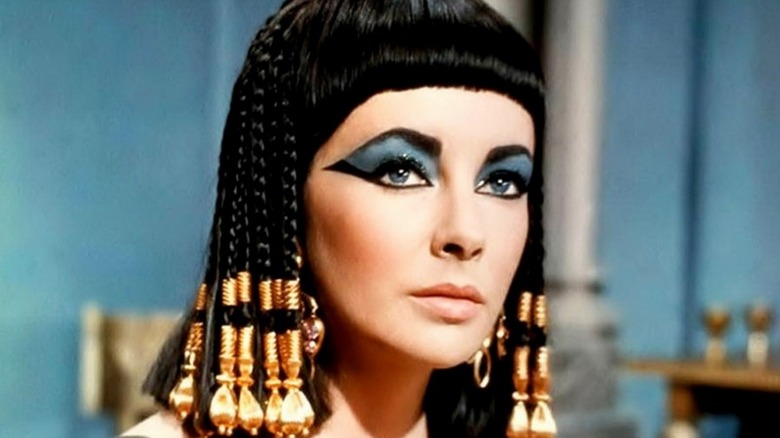 20th Century Fox
One of the last celebrities of Hollywood's Golden Age, Elizabeth Taylor combined a versatile acting range with a scandalous public life that always had people talking. She was a Kardashian with talent, a reality TV subject before there was reality TV. Over the course of her six-decade career, she won two Academy Awards, married eight times (twice to co-star Richard Burton), launched fragrance and jewelry brands, and was an early advocate for AIDS research and LGBTQ equality.
"I don't want to be a sex symbol," Taylor said. "I would rather be a symbol of a woman who makes mistakes, perhaps, but a woman who loves." She wasn't afraid to get her hands dirty, either. Whether she was aging herself up to play Martha in "Who's Afraid of Virginia Woolf?" or finding Gloria Wandrous' unvarnished realism in "BUtterfield 8," Taylor was always committed to the truth behind her characters, even if her heroines weren't always likable in a Debbie Reynolds sort of way.
While she may be immortalized for her dramatic public life, we are here to celebrate Taylor's great contributions to American cinema. The thought of ranking any of Taylor's movies is slightly daunting for this fan, but I'm here to applaud the roles she played, the fierceness with which she embraced difficult and complex characters, and her unwavering kindness in the face of so much public vitriol.
15. A Little Night Music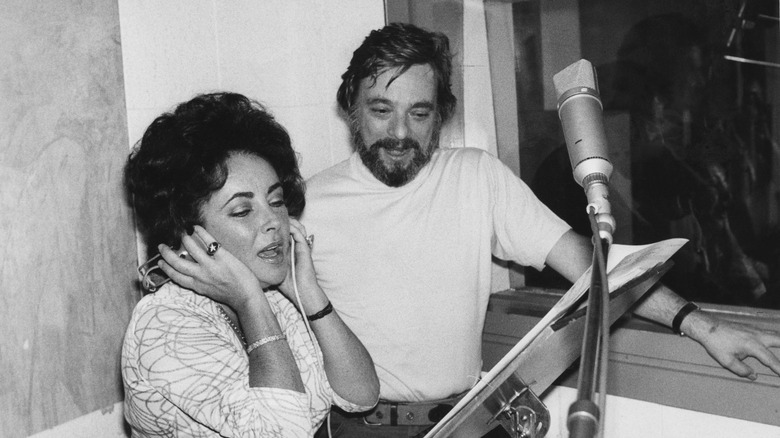 Graham Morris/Getty Images
In his review for the New York Times, critic Vincent Canby asserted that "A Little Night Music," Harold Prince's film adaptation of his massively successful Broadway musical, "not only fails to raise the spirits; it also tramples on them." Canby goes on to say that the film, which features music and lyrics by Stephen Sondheim, "pursues disaster in the manner of someone, who, with mindless self-confidence, saws off the limb he's sitting on."
While the reviewer did not attack Ms. Taylor's performance, he did condemn the production for capturing her in such an unflattering light. The film, which appears to have been shot out of order, documents Taylor's weight fluctuations in such an obvious manner that today it might have generated a lot more bad press. 
For all the criticism, Taylor's performance as traveling actress Desiree Armfeldt, the daughter of a formerly famous courtesan, is remarkably exciting. As she trades lovers and tries to live in the whimsical universe Sondheim created, Taylor keeps one toe in the real world. Desiree's story has a number of parallels with Taylor's, at least how she was portrayed in the press — maybe that's why she was offered the role — and although she was not known for her singing, Taylor holds her own with the show tune standard "Send in the Clowns." Sure, "A Little Night Music" isn't the greatest film out there, but it makes for a stellar B-movie. With Diana Rigg in a supporting role, what's not to love?
14. Sweet Bird of Youth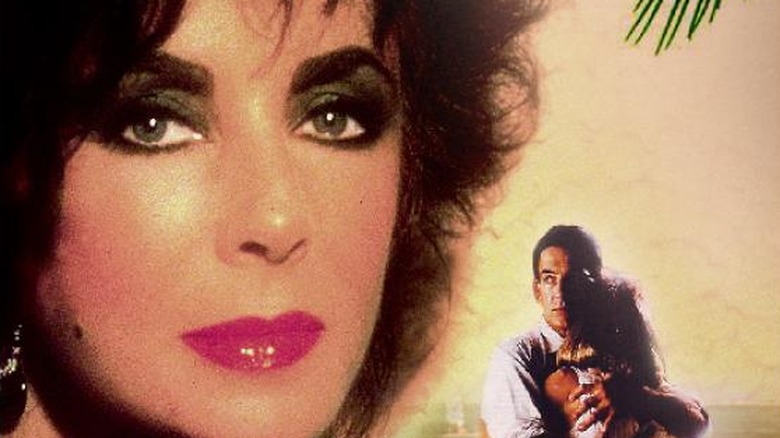 NBC
In NBC's adaption of the classic Tennessee Williams play "Sweet Bird of Youth," Elizabeth Taylor plays the Princess, an aging, addled movie star who is on the run from her mortality, critics, and reality. Taylor has big shoes to fill here, as Geraldine Page originated the role both onstage and in the 1962 film adaptation.
The late '80s were a difficult time for Taylor, who faced excruciating bullying from the press when she was no longer box office royalty. In the scathing New York Times review of "Sweet Bird of Youth," John J. O'Connor writes, "Apparently gaining weight again, Miss Taylor wears loose-fitting clothes and is often displayed in extremely dim lighting." While her weight has nothing to do with the Princess' character, critics still felt like they had carte blanche to shame Taylor's body.
But the Princess is one of William's most tortured characters, making it perfect material for Taylor to dig into. The Princess believes that she has lost everything, so she runs off with Chance Wayne, a gigolo, con artist, and fledgling actor. At times, the Princess is as fragile as glass, but she finds her strength again in the film's climax. It's a worthy arc not only for the Princess, but for Elizabeth Taylor as well.
13. Boom!
Taylor is one of the great interpreters of Tennessee Williams, and she doesn't let either Williams' or her own fans down as Flora Goforth in 1968's "Boom!" Starring alongside her then-husband Richard Burton and acclaimed playwright Noël Coward, Taylor shines as a terminally ill woman living out her final days on a secluded island, where a mysterious man nicknamed the Angel of Death changes her life irrevocably. Williams adapted the screenplay for "Boom!" from his stage play "The Milk Train Doesn't Stop Here Anymore," which famously failed twice on Broadway. The film version is notable because Taylor is too young to play Goforth and Burton is too old to play the male suitor, so they just changed the parts to suit their real-life ages. When you're Elizabeth Taylor, you can do that sort of thing.
Although widely unpopular when first released, the film has maintained somewhat of a cult following — filmmaker John Waters is a big fan — despite being difficult to stream in the U.S. Of Taylor and Burton's performances, Time Magazine said, "They display the self-indulgent fecklessness of a couple of rich amateurs hamming it up at the country-club frolic, and with approximately the same results." Was the film really that bad, or did the press just seize every opportunity to tear down the immaculate Taylor?
12. Identikit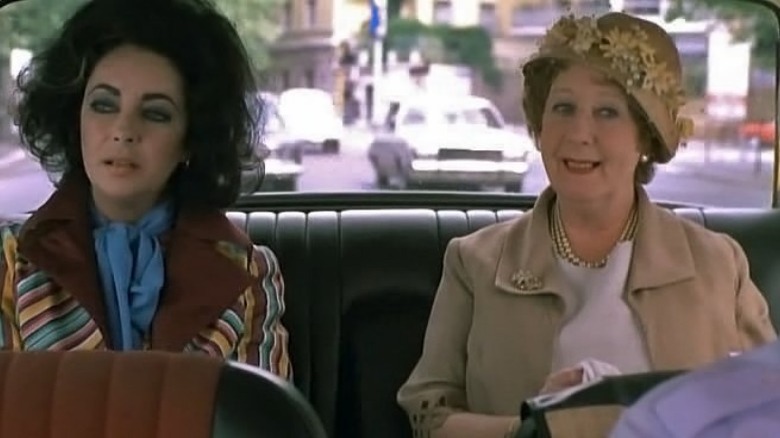 AVCO Embassy
One of the more experimental entries on this list, "Identikit" (also known as "The Driver's Seat") is a 1974 Italian psychological drama in which Taylor plays an unstable woman on the verge of death who seeks out last-minute liaisons in the moments before her tragic demise. Taylor leads the cast alongside Ian Bannen and Andy Warhol.
Released the same year as Taylor's first divorce from Burton, it is impressive that she would not only make a film during such a tumultuous time, but also that she would take on such a heavy and risky role. While nonlinear yarns about murder may be more permissible today, "Identikit" was a huge gamble on Taylor's part. This film, an adaptation of a Muriel Sparks novel, may not go down in history as one of Taylor's best turns, but her performance as Lise showcases her versatility and courageousness in taking on difficult characters.
11. The Mirror Crack'd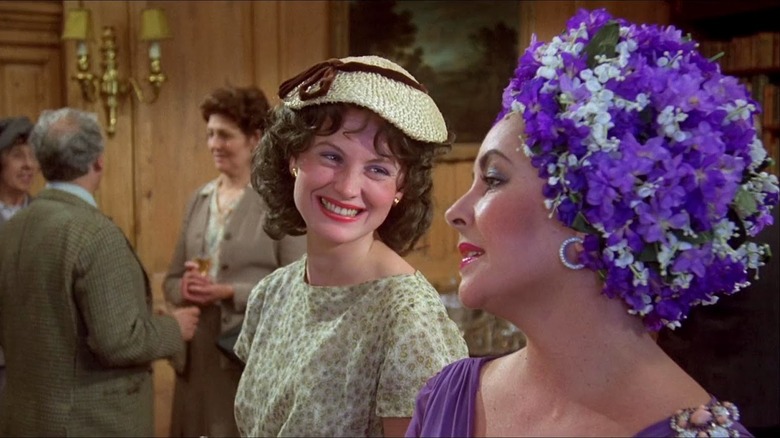 Columbia-Warner Distributors
Given that "The Mirror Crack'd" is an ensemble picture featuring acting heavyweights like Angela Lansbury, Tony Curtis, Kim Novak, and Rock Hudson, it's all the more impressive that Taylor is able to shine without overshadowing her Hollywood peers. "The Mirror Crack'd" is based on Agatha Christie's "The Mirror Crack'd from Side to Side," and is one of the few cinematic Christie adaptations starring the author's elderly amateur sleuth, Miss Marple. Typically, Marple and her Belgian counterpart, Hercule Poirot, can be found on Masterpiece Theater, but Angela Lansbury's big-screen turn as the spinster detective helps anchor a star-studded whodunit.
Here, Taylor plays Marina Rudd, a once-esteemed actress who fell upon hard times: After her son was born with severe brain damage, Marina had a nervous breakdown. She mounts a comeback at a time when she is more well known for her scandals than her acting chops; casting Taylor in this role is almost too obvious. By 1980, Taylor was on her seventh marriage, was seen as the homewrecker who broke up Hollywood golden couple Eddie Fisher and Debbie Reynolds, and was considered a has-been — she hadn't been nominated for an Academy Award in 13 years.
However, Taylor was still the epitome of celebrity, which makes her appearance in "The Mirror Crack'd" both a publicity stunt and a good call. Her performance can be enjoyed both by those who see "The Mirror Crack'd" as total camp, as well as those who treat it like a serious mystery. Either way, this is Taylor at her resilient best, delivering a great performance and reminding viewers how important it is to ignore what people are saying about you, and to be brave regardless.
10. Suddenly, Last Summer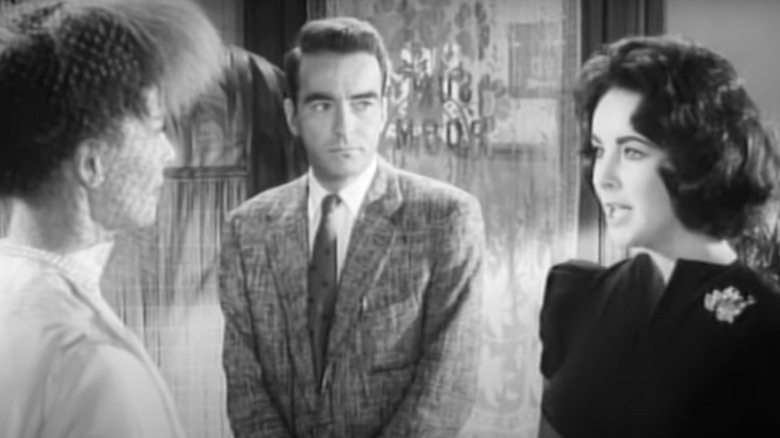 Columbia Pictures
In "Suddenly, Last Summer," the third Williams adaptation on this list, Elizabeth Taylor stars as the allegedly disturbed Catherine Holly. This was adapted from a one-act play, which I have to mention because the film employs some filler to stretch the length to two hours. Luckily, with great filler comes great opportunities, at least for Taylor. Unlike the Princess or Ms. Goforth, Catherine is probably the most reactionary and innocent of all of Williams' heroines. While certain characters in his oeuvre are often cosmically doomed, Catherine teeters on the precipice of safety, raising the stakes. Facing off against Taylor is the indomitable Katherine Hepburn, who plays Aunt Violet Venable, a rich relation hellbent on lobotomizing Catherine.
This tension is so fun because Venable represents wealth, while Catherine represents the truth. Aunt Violet is determined to literally erase Catherine's memories in order to protect the memory of her dead son. "Suddenly, Last Summer" is also notable for its climax, which is composed entirely of a monologue in which Catherine recalls her last moments with Violet's son while a vicious group of children cannibalize him. It is overdramatic. It is ridiculous. It is macabre. And it works, largely because of Taylor's prowess with the words. She seems to feel the truth in every inch of her body. With a lesser actress, this monologue might quickly devolve into camp, but Taylor keeps us grounded in the real world, and that is one of her most impressive skills.
9. The V.I.P.s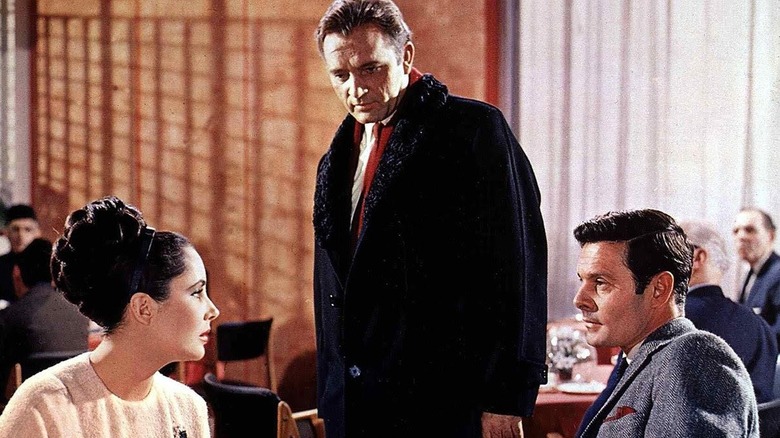 MGM
Before there was reality TV, fans had to settle for seeing their favorite movie star couples act together in films. The Taylor-Burton duo might be the most famous Hollywood pairing of them all, in part because of their disastrous love life, and in part because of their questionable taste in projects. "The V.I.P.s" lives somewhere in the middle.
With an ensemble cast that includes Dame Maggie Smith, Rod Taylor, Louis Jourdan, Orson Welles, and Margaret Rutherford (who won an Oscar for her performance), "The V.I.P.s" follows the exploits of several passengers at London Heathrow Airport whose plans are derailed due to fog. Back in the days where flying was fashionable, this film glamorizes air travel in a way that might seem humorous, if not ridiculous, to today's viewers, but Taylor manages to keep us entertained as a movie star who tries to leave her husband (Burton) and fly away with her new lover (Jourdan).
The Taylor-Burton marriages were always rocky, even when things were going well, so it does feel a little roman-a-clef to have Burton's character try to reconcile with Taylor's. While they may be playing a fictional game, it still feels like reality playing out on the screen before us. My one complaint is that this movie isn't instead a gal-pal adventure with Maggie Smith serving as Taylor's sidekick, because Maggie Smith is much more interesting to watch than Richard Burton.
8. Cleopatra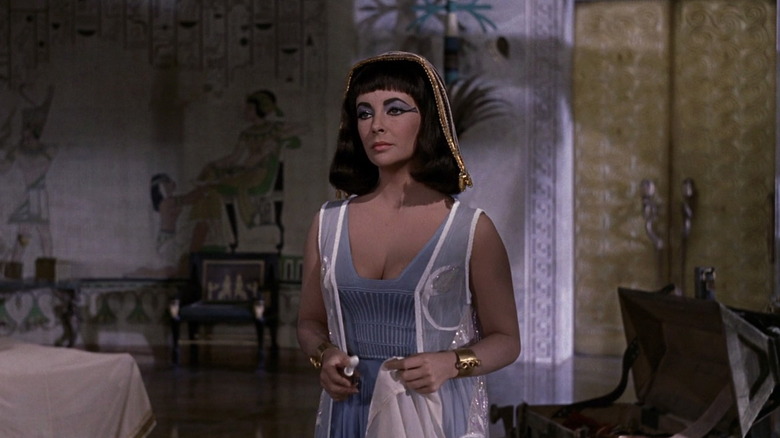 20th Century Fox
A biopic of epic proportions, "Cleopatra" is the literal embodiment of Hollywood's Golden Age: Everything is gold. Joseph L. Mankiewicz directs Taylor for the second time, and she once again stars alongside her beau, Richard Burton. The regality with which Taylor plays this role is unmatched. She is royalty. Sure, the production was fraught with delays, drama, and budgetary problems, and yes, the movie is both too long and aimless, but every scene featuring Taylor is a revelatory experience for those of us watching. I can't even imagine what it was like seeing the film in theaters.
"Cleopatra" has a lot of opulence. Taylor was paid $50,000 per week to play Egypt's young queen, who is forced to match wits with Rome. With a shooting schedule that lasted over 16 weeks, no one can ever say that Taylor didn't know her value. "Cleopatra" was also one of the most expensive movies ever made at the time, and due to its hefty advertising budget, almost bankrupt Twentieth Century Fox. The studio even went so far as to sue Taylor and Burton for $50 million for breach of contract and for, as The New York Times describes it, "depreciating the commercial value of the movie by their 'scandalous' conduct before and during the filming."
The studio was unsuccessful in its suit, and the notoriety surrounding the film's messy production only cemented Taylor's celebrity. Shoutout to a particularly saucy sequence in which Taylor's Cleopatra makes her servant poison herself.
7. Giant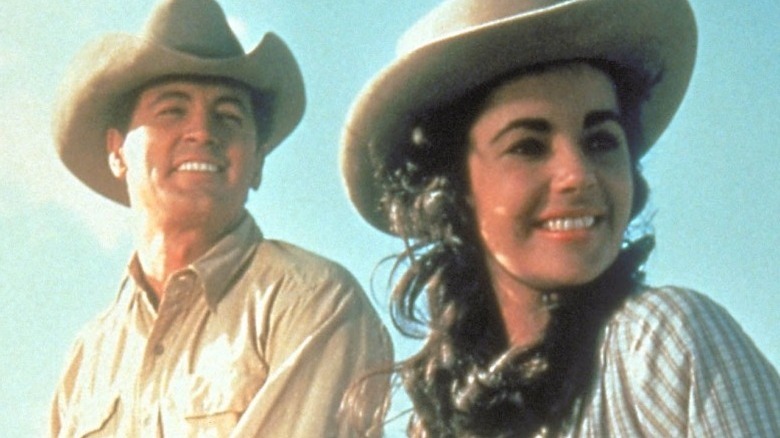 Warner Bros.
The final film that James Dean made during his short career pairs the actor with Taylor back when she was still an ingenue. Rock Hudson, Mercedes McCambridge, and Dennis Hopper round out the cast in this steamy, Texas-set melodrama.
"Giant" is an epic family saga that chronicles the life of Taylor's Leslie, who marries Hudson's rancher, Bick, and is pursued by Dean's ranch hand, Jett, who eventually strikes it rich on oil. The film goes on to document the birth of Leslie's children (one of whom ends up having an affair with Jett), as well as her husband's struggle with his own legacy. This film exists somewhere between a William Faulkner novel and an episode of "Dallas," but is that combo really such a bad thing?
When you look at the range of roles Taylor played over the following decade, "Giant" stands out as a turning point, when the young contract player for MGM first unlocked her full potential as an actress.
6. The Last Time I Saw Paris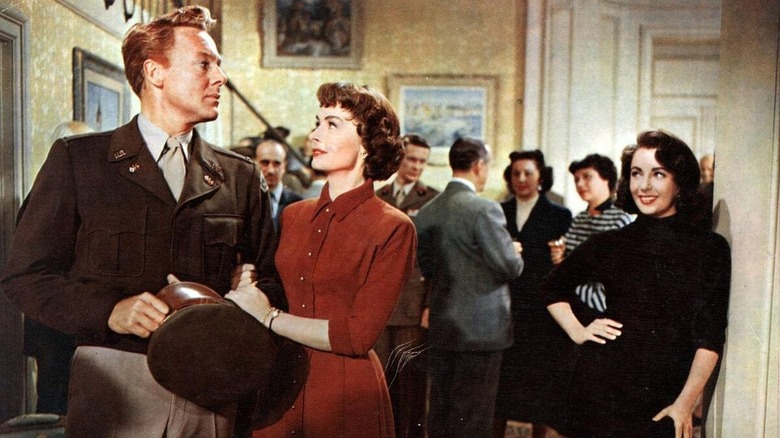 MGM
The sentence "The last time I saw Paris" lived in my vernacular long before I saw the film, which is as much a testament to its creative team as it is to Taylor's lasting impact on cinema, as well as the incredible song of the same name written by Jerome Kern and Oscar Hammerstein II.
This romantic drama loosely draws its story from F. Scott Fitzgerald's "Babylon Revisited," and pairs Taylor with Van Johnson (who also stars in "Brigadoon," a musical film adaptation that I passionately encourage all readers to watch). Johnson plays Charles, a wartime reporter who meets and falls in love with the charismatic Helen, played by Taylor. Helen is a great Elizabeth Taylor role because she's almost a youthful composite of Gloria from "BUtterfield 8" and Desiree Armfeldt. A mid-film plot twist changes the course of this narrative to give it a maudlin flavor worthy of Fitzgerald.
Taylor often plays domineering and outspoken heroines, so it's nice to see her in the quieter and more calculated role of Helen. Never for one second forget who is pulling the strings; with those piercing, violet eyes, who among us could stand in Taylor's way?
5. A Place in the Sun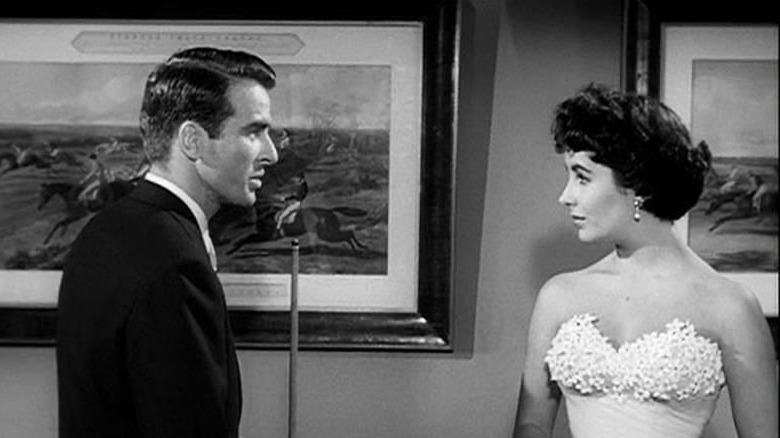 Paramount Pictures
I don't want to anger cinephiles by labeling "A Place in the Sun" as a film noir, but I do believe it lives somewhere between noir and romance. Based on a true story (and the subsequent novel by Theodore Dreiser), this early Taylor film tells the tale of a factory worker named George (played by the wonderful Montgomery Clift) who falls into parallel romances with his social equal Alice (Shelley Winters) and the rich and intoxicating Angela (played by Taylor).
While the movie might invite you to compare the virtues of its two female stars — one represents good and wholesomeness, and one represents evil and sexual temptation — it is Montgomery Clift's character who is forced to act (or, in one pivotal scene, not act), which sets the rest of the film in motion. Taylor does not pull the strings; for all the creative plot twists, her role is reactionary. "A Place in the Sun" is about a series of bad decisions and what comes of them. Mostly, Taylor stands on the sidelines being her fabulous self. I don't hate that. 
Still, it's exciting to see her in moments where she commands some serious stage presence, despite being merely an accessory to the plot. If nothing else, "A Place in the Sun" and "Suddenly Last Summer" helped establish a life-long friendship between Taylor and Clift.
4. Reflections in a Golden Eye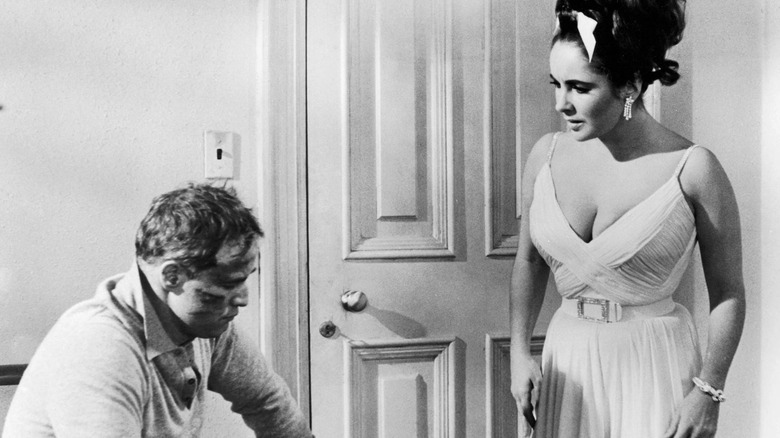 Warner Bros.
"Reflections in a Golden Eye," a melodrama adapted from the novel by Carson McCullers, is as much about the drama onscreen as the politics that went into making it. In both areas, Elizabeth Taylor excels.
The film is a violent and unwavering depiction of the dark underbelly of American life that's chock full of mutilation, sexual repression, and voyeurism. In a particularly wild and gruesome segment, Taylor's devilish and sensual Lenora strikes Marlon Brando's Major Weldon in the face with a riding crop. Arguably, the film's dark themes make it simultaneously ahead of its time and also ripe for a remake — maybe even an HBO limited series. However, while Taylor's performance shines, her off-screen behavior is what's most worthy of our attention.
Taylor was interested in starring in the film, but only agreed to sign on if the studio hired her longtime friend Montgomery Clift, who struggled with alcoholism and was no longer a bankable star. In order to make the deal work, Taylor had to agree to put up her own salary, which was almost $1 million, as insurance. The deal was set, but Clift died before shooting began, so he was replaced with Brando. While the media might have villainized Taylor for her overtly sexual lifestyle, it's moments like these I'd rather dwell on: Taylor fiercely defended her friends, even when doing so seriously risked to her own career. That, this humble writer believes, is what truly makes a star.
3. Cat on a Hot Tin Roof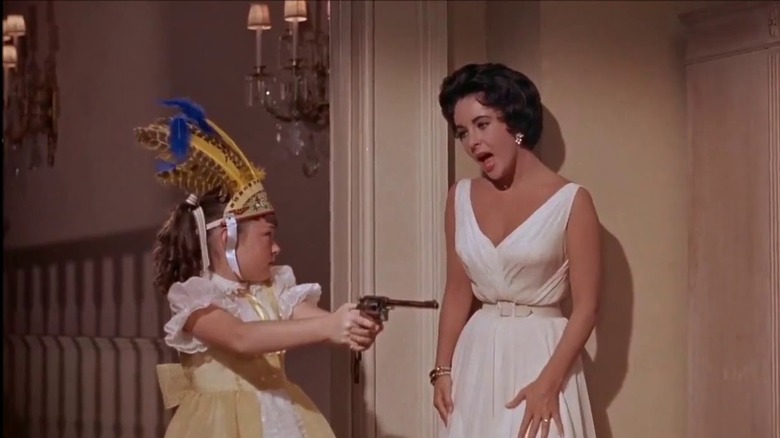 MGM
Elizabeth Taylor's turn as Maggie the Cat in "Cat on a Hot Tin Roof" is extraordinary. She embodies both a cat in heat and a woman in distress. Maggie is a woman on the precipice of disaster, hiding in the bedroom she shares with the husband who loathes her (a bedroom with no air conditioning, mind you — of course, she still looks fabulous).
Taylor stars alongside Paul Newman and Burl Ives in this adaptation of Tennessee Williams' stage play, which won the fragile author his second Pulitzer Prize. The film confronts a dysfunctional family head-on as this motley crew debates repressed homosexuality, alcoholism, and a terminal illness. Thanks to the Hays Code, the film had to be even more obtuse in its discussion of Brick's best friend, with whom he was in love. Their relationship sets much of the action in motion, even though the ill-fated lover never appears on screen. 
Taylor is acerbic and wild, calculating, and driven. Even when she is not in the scene, she is still plotting, which makes her invaluable to the film's climax. It is her best interpretation of a Tennessee Williams character.
If you or anyone you know is struggling with addiction issues, help is available. Visit the Substance Abuse and Mental Health Services Administration website or contact SAMHSA's National Helpline at 1-800-662-HELP (4357).
2. BUtterfield 8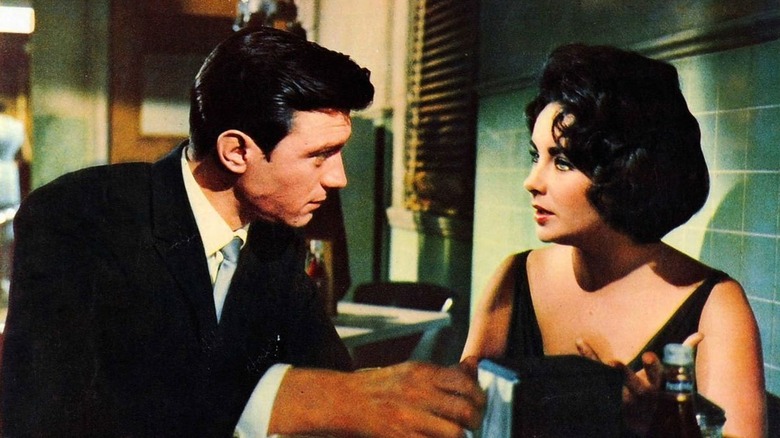 MGM
Part of me feels bad for ranking this film so high, if only because Taylor hated making it. After three consecutive Oscar nominations for her work on "Raintree Country," "Cat on a Hot Tin Roof," and "Suddenly, Last Summer," Taylor was itching for a win, but she loathed John O'Hara's script for "BUtterfield 8," the tragic chronicle of a New York call girl who falls in love with an unavailable man.
In a meeting with MGM's head of production, Sol Siegel, Taylor reportedly had this to say (via the Los Angeles Times): "This is the most pornographic script I have ever read. I've been here for 17 years and I was never asked to play such a horrible role as Gloria Wandrous. She's a sick nymphomaniac. I won't do it for anything."
While she may have only accepted the role to fulfill obligations in her contract, the film did secure her the first of two Academy Awards. This movie is basically "Not Your Mother's Breakfast at Tiffany's." Gloria's relationship with reality is much more cutting than the pink lens through which Holly Golightly sees the world (even if that viewpoint might be a defense mechanism).
"BUtterfield 8" is gritty and bold, but it still makes you fall in love with the characters, even if you know they're doomed. From the moment early in the film when Taylor's Gloria Wandrous writes "Not for sale" in lipstick on her lover's mirror, she has me hooked, and I want to follow her wherever she goes.
1. Who's Afraid of Virginia Woolf?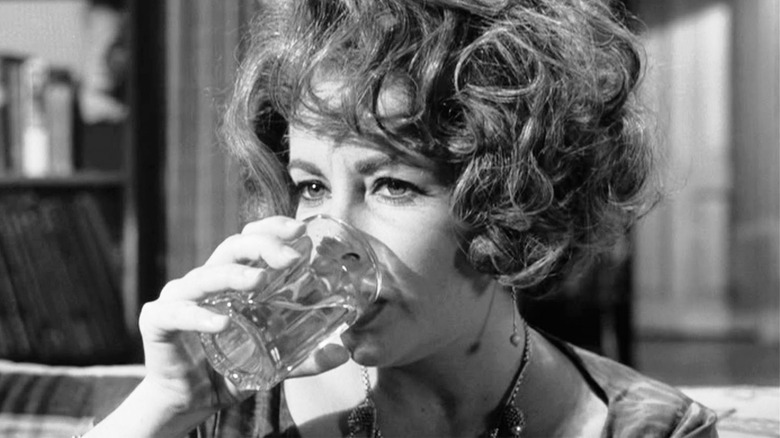 Warner Bros.
No other piece of art has so beautifully captured the potential tragicomedy that occurs when people continue to gather late at night after the parties have ended, the bars have closed, and a sense of madness pervades the air. Even Mike Nichols' opening credits, which show the dark, campus grounds on which our characters reside, reveal the terror that exists within the confines of domestic life. This was supposed to be the ideal, and playwright Edward Albee has something to say about that.
In "Who's Afraid of Virginia Woolf?," Taylor plays Martha, a professor's wife and dean's daughter who engages in a nearly three-hour argument with her husband, George (Richard Burton). The entire play (and its film adaptation) is essentially corrupt foreplay between two lost souls. When two colleagues come over for a late-night brandy, Martha and George relish the new audience and push things even further. When they discuss their unseen son, the audience is forced to wonder whether the child is real, or if it's all part of the mind games between George and Martha, who only seem able to survive if they are torturing each other.
As Martha, Elizabeth Taylor is unbeatable. She never stops working, even when she's chewing on chicken bones or playing with her ice. She gained weight for the role and wore heavy makeup. She was not trying to be beautiful. She knew Martha had a horror within her, an almost Baby Jane Hudson quality (which makes it even more fun when Martha impersonates Bette Davis early in the film). Despite the brutality that she exudes, however, Taylor still delivers plenty of pathos in the final minutes, when the audience begins to fully understand the horror they just witnessed, and the hangover starts to set in.