John Mayer Let The Office Use One Of His Songs, But He Had One Condition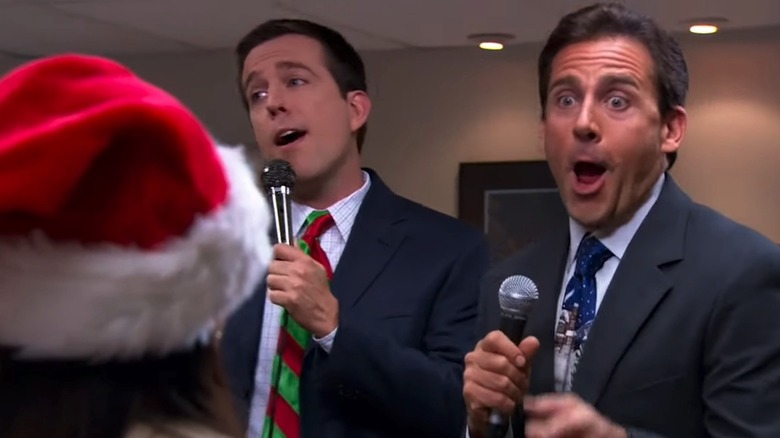 NBC Universal
The American version of "The Office" ran for nine seasons on NBC, and it won four Primetime Emmy Awards. Perhaps you're doing a rewatch along with Jenna Fischer and Angela Kinsey's podcast about the show, "Office Ladies." The podcast looks back at each episode in order, and in the one for "A Benihana Christmas," which is season 3, episodes 10 and 11, they talk about how they managed to get the rights to use John Mayer's song, "Your Body is a Wonderland." 
In the episode, set during the holidays, Michael (Steve Carell) and his girlfriend, Carol (Nancy Walls), break up. Michael, Andy (Ed Helms), Dwight (Rainn Wilson), and Jim (John Krasinski) head to Benihana for dinner to cheer him up. Michael and Andy pick up waitresses from the restaurant and bring them back to the party. During the festivities, Andy and Michael sing "Your Body is a Wonderland" to the women. (The discussion about how the actors are of Asian descent, and that different actors are used in the restaurant and office scenes as a joke is something I would encourage you to look up. It is addressed in this episode of the podcast as well.)
Getting the rights to use the John Mayer song, according to Kinsey and Fischer, involved a friend — and a very special award.
'Your Body is a Wonderland'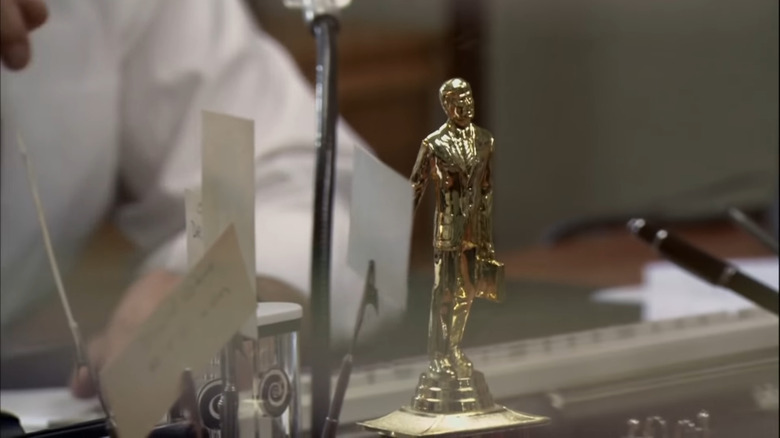 NBC Universal
During the podcast, Jenna Fischer said they wanted to use the song, and that B.J. Novak (who played Ryan, as well as serving as writer/director/producer) was friends with Mayer and asked him about it. At first, Mayer said no. Fischer explains:
"He was like, 'I don't think so.' And he actually wrote about this on his blog. He was like, 'One of my favorite shows on television, "The Office," wanted to use my song '"Your Body is a Wonderland" in a scene for their Christmas episode.' And he was like, 'Now, I'm not making apologies for my work, but it's safe to say I don't get asked to use "Wonderland" for strongman competitions and documentaries about aircraft carriers. I usually get asked so that people can goof on it. So I initially turned down their request. But after thinking about it, I decided to go for it. But with one stipulation.'"
So what was the stipulation? Fischer said Mayer wanted a Dundie. If you don't know what that is, take a look at the picture above. It's the award Michael Scott gives out annually from Dunder Mifflin Scranton for exceptional work. Of course, everyone gets one so no one feels left out. Mayer did get his Dundie from Novak, which was presented to him for being the "Tallest Music Dude." 
"The Office" is currently streaming on Peacock.