Clips Round-Up: Terry Gilliam Tilts At Windmills In He Dreams Of Giants & More [Exclusive]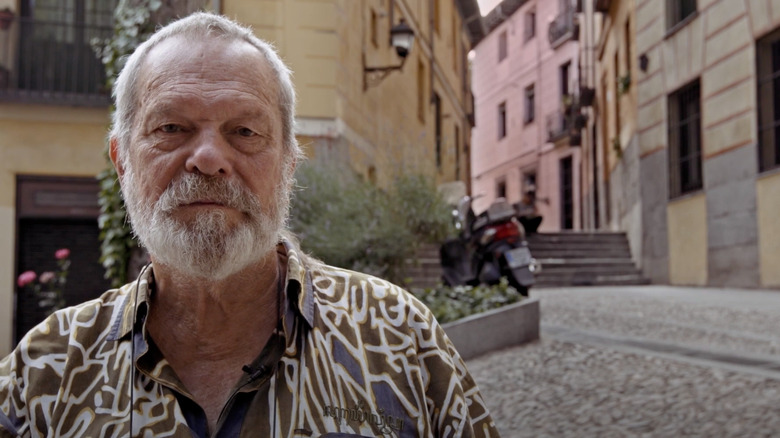 Bohemia Media
(Welcome to SlashClips, a series where we bring you exclusive clips from hot new Digital, Blu-ray, and theatrical releases you won't see anywhere else!)
In this edition:
He Dreams of Giants
Gossamer Folds
YellowBrickRoad
He Dreams of Giants
First up, we have an exclusive opening clip from "He Dreams of Giants," Keith Fulton and Louis Pepe's two-decades-later follow-up to their 2002 documentary "Lost in La Mancha." This time, they follow Terry Gilliam's final (and successful) attempt at filming 2019's "The Man Who Killed Don Quixote." After debuting at DOC NYC a few years ago, the documentary is finally available on digital and VOD today. 
Here is the official synopsis: 
From the team behind "Lost in La Mancha," "He Dreams of Giants" is the culmination of a trilogy of documentaries that have followed film director Terry Gilliam over a twenty-five-year period. Charting Gilliam's final, beleaguered quest to adapt Don Quixote, this documentary is a potent study of creative obsession. Combining immersive verité footage of Gilliam's production with intimate interviews and archival footage from the director's entire career, "He Dreams of Giants" is a revealing character study of a late-career artist, and a meditation on the value of creativity in the face of mortality.
Gossamer Folds
Next is an exclusive clip from Indican Pictures' drama "Gossamer Folds," which has an impressive cast that includes Shane West ("A Walk To Remember"), Franklin Ojeda Smith ("Boardwalk Empire"), Ethan Suplee ("Remember The Titans"), and Yeardley Smith ("The Simpsons"). The film will be available in select theaters in Los Angeles, San Francisco, Chicago, Phoenix, and Houston on August 12, 2022, and will be available on demand August 23.
Here is the official synopsis:
"Gossamer Folds" takes place during the summer of 1986 and examines the close bonds people can form in the most unexpected of places. Ten-year-old Tate Millikin (Jackson Robert Scott) is abruptly uprooted and forced to move to the suburbs of Kansas City where his transphobic father discovers that their next-door neighbor is a trans woman named Gossamer (Alexandra Grey). After learning this information, he swiftly forbids Tate to even say hello to her. As Tate's parents' marriage unravels, young Tate chooses to defy his father's orders and, instead, forms a powerful relationship with Gossamer and her father, Edward (Franklin Ojeda Smith, "Boardwalk Empire"). The beautifully woven story showcases the important role friends play as we learn who we are and who we want to be.
YellowBrickRoad
Finally, we have an exclusive clip from the re-release of the 2010 shocker "YellowBrickRoad," which has been meticulously remastered in 2K with more blood and bigger scares via enhanced visual effects. The new version arrives in a fully-loaded Blu-ray as well as on VOD and digital platforms today.
Here is the official synopsis:
The story of "Yellowbrickroad" begins in 1940 when, after a viewing of The Wizard of Oz, the residents of the small town of Friar, New Hampshire, walked up a mountain trail and mysteriously disappeared into the wilderness. There was one lone survivor who recounted stories of chaos and death before going insane. Seventy years later, a group of intrepid researchers made up of history buffs, filmmakers and psychologists, find the long-forgotten trail marker and proceed on an expedition to discover what happened to that long ago town and its inhabitants. Unfortunately, what they uncover lurking in those still New England woods is certainly not what they expected...