Silent Comedy Star Harold Lloyd Had A Somewhat NSFW Hobby
Before "Star Wars: A New Hope" became a permanent fixture in our family VHS recorder, I loved old silent movies as a little kid. Two of my earliest filmic memories are getting scared s***less by Lon Chaney's ghastly face in "The Phantom of the Opera" and crying my eyes out because I thought Harold Lloyd would plunge to his death hanging from that clock in "Safety Last!"
Lloyd was my favorite, even more than Laurel and Hardy, and his films terrified and captivated me in equal measure. His act was a young, clean-cut everyman with a bashful smile, glasses, and a straw boater, who faced life's problems with plucky resolve. He was always lovelorn and wooing the girl or frantically trying to reach his sweetheart. He seemed so fresh and innocent as if the most he'd ever want to do was hold their hand or give them a quick kiss. I thought that was Lloyd's character in real life, too, just as I grew up thinking Laurel and Hardy really lived together and slept in the same bed.
As I became an adult and found other cinematic obsessions, I never thought about those childhood assumptions long enough to break them down. This might sound daft, but because of this, I was a bit surprised when "Stan & Ollie" revealed the comic duo not only lived separately, they most likely shared their beds with their wives rather than each other. More recently still, I was a little shocked to discover that Harold Lloyd, that squeaky-clean character who seemed like the sight of a woman's breasts might make him keel over, became a prolific amateur photographer later in life. And that hobby involved looking at many, many boobs.
Who was Harold Lloyd again?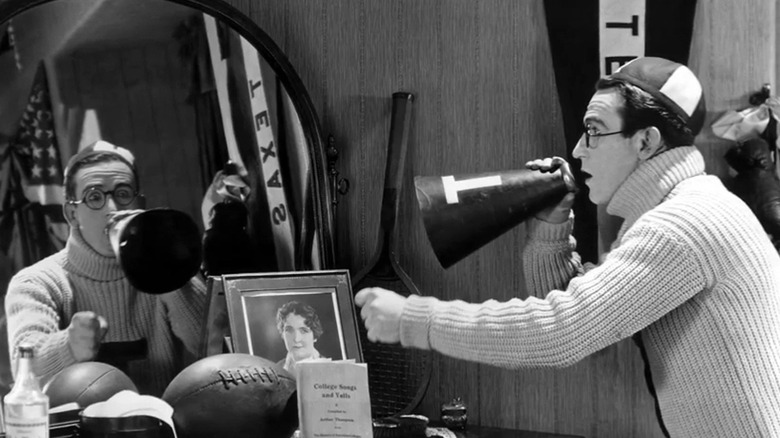 Criterion
Harold Lloyd is best known for one single image: a bespectacled man perilously dangling from a clock far above a city street in his most famous picture, "Safety Last!" He made hundreds of films but it was his handful of thrill comedies that stuck with audiences the most; even a century of cinema later, I can think of few scenes that still wrack me with such butt-clenching anxiety.
Like his more famous contemporary, Buster Keaton, Lloyd put his life on the line for his stunts. He was really out there on the side of a building without a harness, although there were some precautions. He revealed that a platform with mattresses was set up several meters below in case he took a tumble, but with nothing to stop him from tumbling off if he landed wrong.
Even more remarkably, he performed most of the stunts himself with a significant disadvantage. In 1919, he was lighting a cigarette with what he thought was a prop bomb when it exploded in his face, blowing away the thumb and forefinger of his right hand. Miraculously, he wasn't killed or blinded and he carried on working, disguising the injury with a prosthetic glove. When you see him hanging off the side of a building, he's doing it with only one-and-a-half hands.
Like many silent-era stars, Lloyd never fully managed the transition to talkies and retired in 1947. He kept ownership of his films and was very strict about re-releases, his high fees prevented television channels from airing them. As a result, he faded from public consciousness until two compilations released in the '60s helped establish him as the third genius of silent comedy alongside Chaplin and Keaton. Perhaps he wanted to recoup some of the costs of his hobby.
Harold Lloyd loved photographing women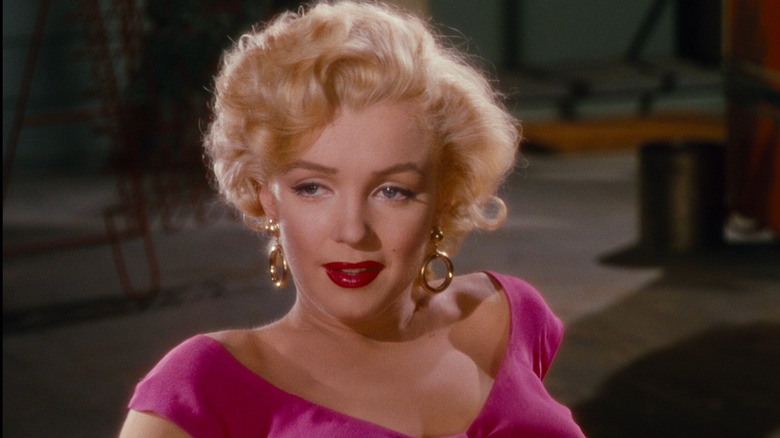 20th Century Studios
In the '50s, Lloyd became an enthusiastic photographer and invested in 3D stereoscopic images, plowing $2.5 million into his new passion (via Los Angeles Times). He photographed many things, but what he liked most was taking pictures of women (clothed and otherwise). 
Figures vary, but he photographed around 5000 models and actresses, capturing over 100,000 images. Many were women hired from modeling agencies for $25 a day, but his collection also contains famous faces including "Queen of pinups" Bettie Page, Jayne Mansfield, and Tura Satana, who played the psychotic hellraiser in "Faster, Pussycat! Kill! Kill!" Turana credited Lloyd with giving her the confidence to pursue a movie career.
Lloyd's most famous subject was Marilyn Monroe. They became friends after accompanying photographer Philippe Halsman to her apartment in 1952 for a Life Magazine photo shoot. Lloyd took some snaps of his own and they arranged several more sessions, including one at his Beverly Hills estate with her lounging around the pool in a red swimsuit. The shoot captured Monroe as she was really hitting the big time, after her first top-billing in "Niagara" and about to become a major star with "Gentlemen Prefer Blondes." She looks very relaxed in those photos, but there was a top-secret reason for the session: She was there for a propaganda film encouraging U.S. servicemen to keep quiet regarding classified information. The video puts Lloyd's seemingly carefree shots into a different context.
Lloyd's granddaughter later brought the images to the modern public's attention with a book of his photos, complete with 3D glasses. Nowadays, when explicit porn is only a quick search away, they look rather quaint, capturing the glamor of a bygone Hollywood era. You can check out some of them online, but maybe don't do it at work!