A Secret Mission: Impossible – Fallout Character Will Return In Dead Reckoning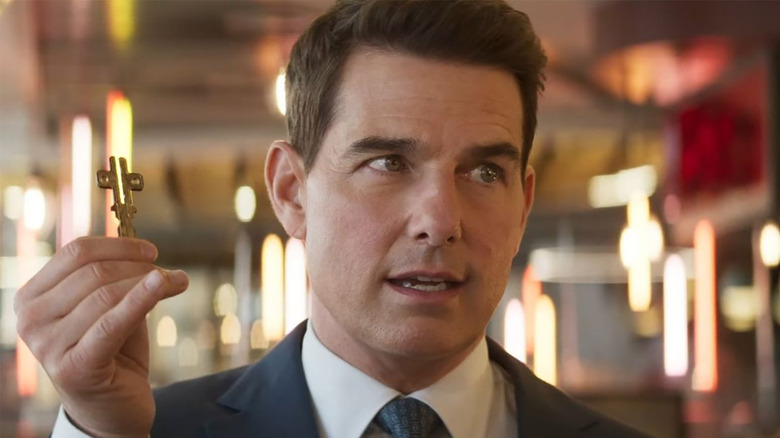 Paramount
For a long time, Ving Rhames was the only actor to traverse the "Mission: Impossible" franchise alongside Tom Cruise's Ethan Hunt. Gradually, the series has accrued a collection of characters that now you cannot imagine the movies without, chief among them Simon Pegg's Benji Dunn and Rebecca Ferguson's Ilsa Faust. Now that Christopher McQuarrie has been at the helm of the two most recent sequels and the forthcoming two-part "Mission: Impossible – Dead Reckoning," he has made a concerted effort to truly make this a serialized franchise and not an episodic one. In the trailer for "Dead Reckoning," we get to see the return of characters ranging from Vanessa Kirby reprising her role as the White Widow from "Fallout" to Henry Czerny coming back for the first time as Kittridge since the original movies from 1996.
McQuarrie was recently a guest on the 200th episode of Light the Fuse podcast, which also featured an appearance form Tom Cruise. In the hosts' pressing for information on the upcoming movie, McQuarrie teased that a familiar face was coming back for his next two films:
"There is a returning character from 'Fallout' and returning in a delightfully unexpected way... Kind of an Easter egg in 'Part One' and then in full force in 'Part Two.'"
Of course, all a statement like that does is add fuel to the fire of the Internet speculation machine. I am usually opposed to being apart of this machine, but "Mission: Impossible" is the rare blockbuster franchise I could not be more invested in. So let's wildly speculate about who the returning cast member could be!
The contenders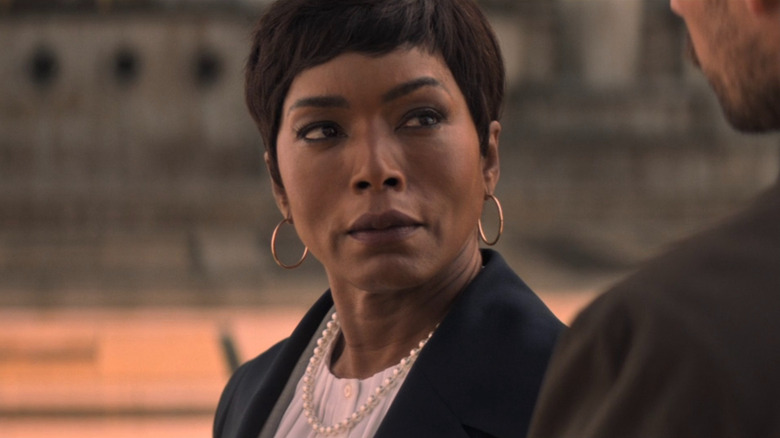 Paramount
When I first heard this quote from Christopher McQuarrie, my mind immediately jumped to Angela Bassett as Erika Sloane. At the end of "Fallout," she presumably becomes the head of the IMF, considering the fatal fate of Alec Baldwin's Alan Hunley. She has not been announced to be apart of either part of "Dead Reckoning," and it would be a shame if she didn't return. Baldwin was the first time the head of the IMF was carried over from one film to another, and going back to a rotating head would be a little disappointing with the increased serialization of the series. Also, she has been enormously busy being a major part of "Black Panther: Wakanda Forever." This fits the timeline of being a small blip in "Part One" and being able to have time as a major player in "Part Two." My money is on Bassett.
I struggle to see another cast member that makes sense. Henry Cavill's character met his end in that film. Sean Harris' Solomon Lane wasn't a new addition in "Fallout." Neither was Michelle Monaghan as Ethan Hunt's ex-wife Julia. We know Vanessa Kirby is in it thanks to the trailer. Two other actors could be it, but neither would be particularly satisfying. Maybe it's the return of Kristoffer Joner as Nils Delbruuk, who is duped in the pre-credits sequence. I don't think he had enough screen time to establish a character people would be jazzed to see again, which takes him out of contention. The other would be Wes Bentley as Julia's new husband, but "Fallout" closed the book on the Julia storyline perfectly and drudging the story back up might cheapen it. So I'm sticking with Angela Bassett.
Then again, it's always possible that a character believed to be dead comes back in some capacity. 
They could be sending the Wolf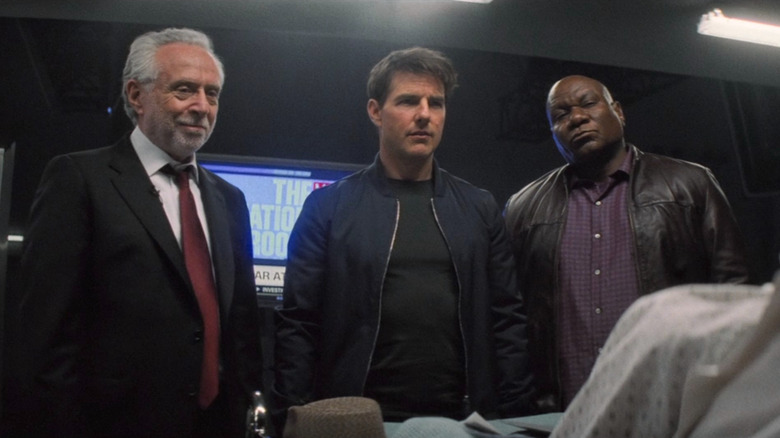 Paramount
Look, of course I am not serious about this. In what universe would Wolf Blitzer be a significant part of "Mission: Impossible – Dead Reckoning Part Two," rumored to possibly be the end of Tom Cruise as Ethan Hunt? That would be far too silly. At this point, we are just a little out of options for viable candidates, and Wolf Blitzer was crucial to one of the most exciting moments in "Fallout." But you can't go back to that well of Benji pretending to be news broadcaster. It would lose its magic. Would it be fun to see Wolf Blitzer show up as a evil turncoat or something? Sure, but it wouldn't fit the tone of "Mission: Impossible."
I, for one, hope for more cast members from previous entries in the series. I want to see Vanessa Redgrave as Max, especially because Vanessa Kirby plays her daughter. I want to see Laurence Fishburne as Theodore Brassell again. I want any of the women that somehow never got brought back before, like Thandiwe Newton, Maggie Q, and Paula Patton. Well, in reality, I want Christopher McQuarrie to do whatever he wants to do because "Mission: Impossible" under his tutelage has been some of my finest moviegoing experiences of the last decade, and I always am eagerly anticipating more.
Lastly, please go give the 200th episode of Light the Fuse a listen. It's a wonderful celebration of the film series.