The Daily Stream: Big Hero 6 Will Tug At Your Heartstrings And Give You A Warm Hug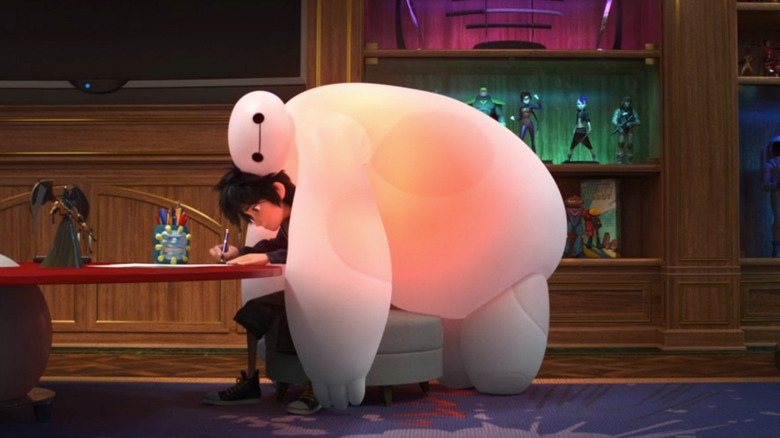 Walt Disney Animation Studios
(Welcome to The Daily Stream, an ongoing series in which the /Film team shares what they've been watching, why it's worth checking out, and where you can stream it.)
The Movie: "Big Hero 6"
Where You Can Stream It: Disney+
The Pitch: With the world in chaos right now, it's the perfect time to revisit Disney's "Big Hero 6." We've had several films and TV series that prominently deal with grief recently, from "WandaVision," to "Afterlife," but they aren't really for kids. But "Big Hero 6" is good for children of all ages, and it's pretty comforting for adults as well. It's the story of young Hiro Hamada (voice of Ryan Potter), a 14-year-old robotics genius. He lives in San Fransokyo (a beautiful mash-up of San Francisco and Tokyo) with his Aunt Cass (Maya Rudolph) and his brother Tadashi (Daniel Henney), who is a student at San Fransokyo Institute of Technology. Tadashi is the best big brother, and he brings Hiro to his robotics class to meet his friends Go Go (Jamie Chung), Honey Lemon (Genesis Rodriguez), Wasabi (Damon Wayans Jr.), and Fred (T.J. Miller ... sorry, I know). Tadashi also introduces Hiro to his latest invention: cuddly inflatable healthcare robot Baymax (Scott Adsit), who wants nothing more than to help people and give them hugs.
Hiro is pretty good at robotics in his own right, and he's managed to create something as well. He presents his own microbots at a school event, which gains him early admittance to the school from Tadashi's professor and mentor Robert Callaghan (James Cromwell). Hiro is offered the opportunity to sell the bots to a tech baron on the spot, but he says no. Smart kid! 
Then suddenly, a suspicious fire breaks out at the school, tragically leading to Tadashi dying while trying to save his mentor. It's one of the most heartbreaking things ever done in animation, outside of the opening montage of "Up." It's also an important thing for kids to learn to handle.
Why it's essential viewing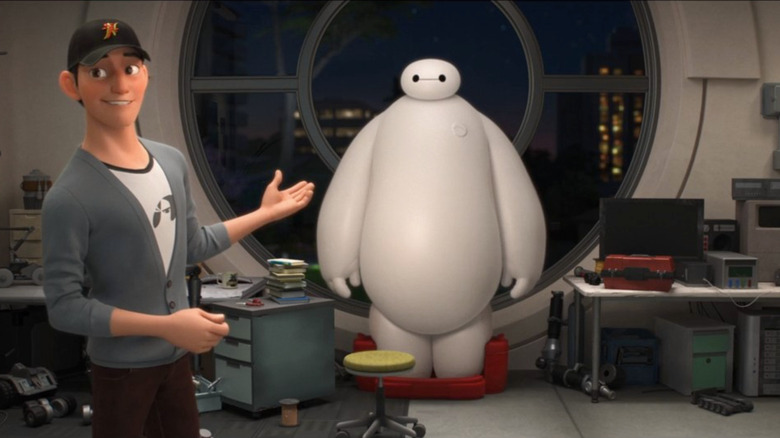 Walt Disney Animation Studios
When Hiro finds out some disturbing information about his brother's death, it sends him into a storm of anger and revenge. He suits Baymax up in armor, gathers Tadashi's friends, and sets off to discover the truth. There are robot battles and villains uncovered, but what Hiro really discovers is that Baymax is more than just a robot with a soft body. He's full of compassion, incredibly kind, and reminds Hiro that sometimes when nothing else helps, love and hugs are a much better medicine than revenge. It may sound trite in writing, but it's a beautiful message. 
Grief is a funny thing. When it hits you, logic sometimes goes out the window. Friends and family attempt to comfort you by insisting that you'll get over it or that time will heal all wounds, but that can also feel like you're being put off. It feels like people don't really know how to deal with your pain, so they're coming up with trite things that you're supposed to say when someone dies. Truthfully, that's because there is nothing that you can say to really comfort someone, and they're just doing the best they can.
Tadashi's friends, who have now become Hiro's friends, are also dealing with grief, and they really do help Hiro. But the one who really gets through to Hiro is Baymax. It's not something he says to make it better. The healing really comes from Baymax showing Hiro that all his brother wanted to do was help people and make their lives better. It's odd how humans can hear advice from all our loved ones, but sometimes hearing it from someone you don't know or expect to hear from is when it really sticks.
Cuddly robotics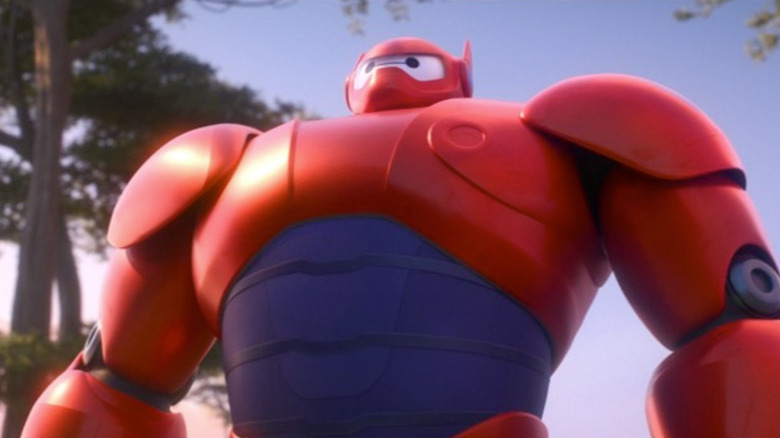 Walt Disney Animation Studios
Despite the sad beginning and heavy subject matter, "Big Hero 6" isn't a downer. It has such a positive message, and Baymax is also a hilarious, huggable robot. Just going to throw this out there — could we maybe make all of our robots cuddly? It would certainly make it easier for humanity when artificial intelligence inevitably takes over. Hugging a robot overlord seems so much nicer than bowing before one. Plus, I have called each of my cats a "hairy baby" like Baymax since the film came out. 
It should be noted that "Big Hero 6" is base on a Marvel comic book series, but it isn't one that was well-known. The story also deviates from the comics in a variety of ways, making the story you're seeing that much more enjoyable. 
Make sure to watch the after-credits scene, because there is something there that is an absolute delight. I won't spoil it for you, but it's absolutely worth sitting through for this kind of payoff.