The Secrets Behind Ian McDiarmid's Transformation Into Emperor Palpatine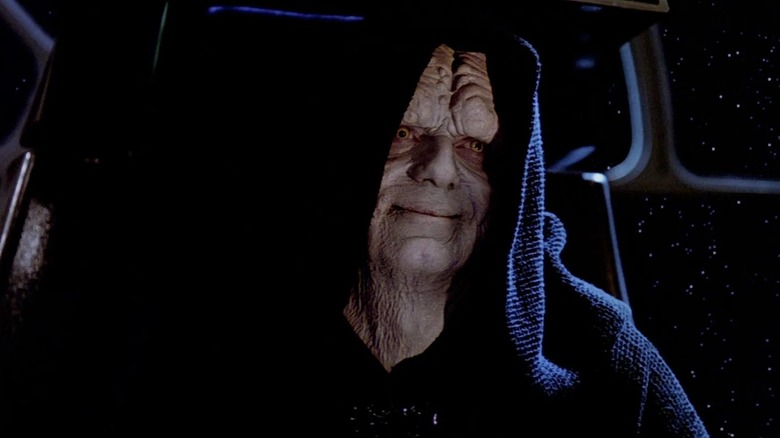 Lucasfilm, Ltd.
The character of Emperor Palpatine first appeared in Irvin Kershner's 1980 sci-fi film "The Empire Strikes Back." In that film, it was revealed that Darth Vader (embodied by David Prowse, voiced by James Earl Jones) was no mere officer of the Empire, but right hand to its ruler. In a memorable scene, Darth Vader kneeled to an outsize hologram of the Emperor, who informed him that there was a great disturbance in the Force. The Emperor was played physically by actress Marjorie Eaton, who appeared in "Mary Poppins" as Miss Persimmon, and was voiced by British acting veteran Clive Revill. 
In 1983, with the release of Richard Marquand's "Return of the Jedi," Emperor Palpatine became a larger part of the "Star Wars" story, ultimately confronting Luke Skywalker (Mark Hamill) about the possibility of giving in to the Dark Side of the Force and joining him as a protégé. Luke says "no, thanks," and the Emperor tortures him with a volley of dark magic lightning. In that film, Emperor Palpatine is played by actor Ian McDiarmid, an actor who would return to the role many times over the franchise's history, most recently seen in 2019's "Star Wars: The Rise of Skywalker."
The Emperor, as he appears in "Return of the Jedi" looks to be impossibly old. He is sits shriveled in a throne, a wicked black hood leaving his face in shadow. He has a raised forehead, pale skin, and burning orange eyes. He is the center of all evil in the galaxy. McDiarmid, only 37 at the time, had to go through an extensive makeup process to make him look like the holder of dark, galaxy-wide, eldritch magic.  
Return of the Jedi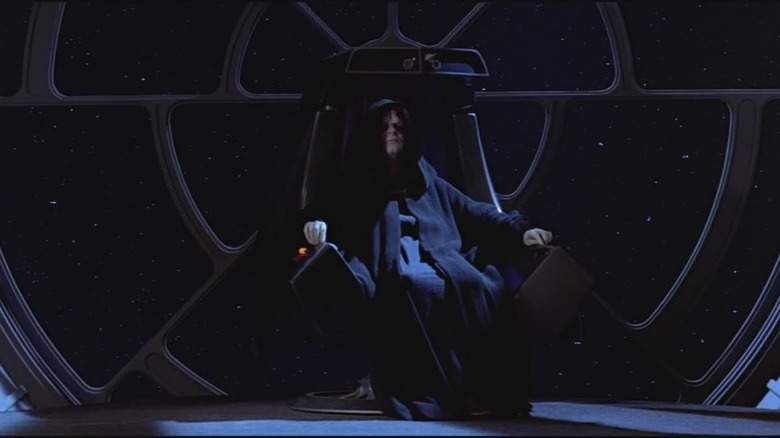 Lucasfilm, Ltd.
McDiarmid, at the Star Wars Celebration in 2022, recalled how he came to be involved in "Return of the Jedi." Casting director Mary Selway discovered him while he was playing a rendition of Howard Hughes in a production of the Sam Shepard play "Seduced." McDiarmid recalls being taken aback by the extremity of the makeup, unaware that it was meant to be so monstrous. McDiarmid quickly adapted, however, and quickly invented a voice to go with such a repellant, reptilian figure as Emperor Palpatine, a person he surmised to be about 120 years old. McDiarmid did not imitate Clive Revill, but made the Emperor all his own. 
In 1983, the latex-based makeup on Emperor Palpatine was applied by makeup designer Nick Dudman, and, according to McDiarmid, took four hours to apply, and an additional two hours to remove. Latex is a thin, stick material that requires a lot of proofing and drying time — about 10 minutes after application. Once dry, liquid latex has a rubbery consistency, only able to stretch the tiniest bit across human skin. It sticks to the skin like wax, and has been known to yank out hair if ripped too quickly. Hence why McDiarmid required such a long time to remove it. As for McDiarmid's forhead appliance, make-up trends of the day suggest that it was applied with latex, but stuffed with a thicker sculpting material like cotton or tissue paper. 
The ultimate make-up left the Emperor looking wrinkled and crackled. The orange eyes were mere contact lenses. 
Revenge of the Sith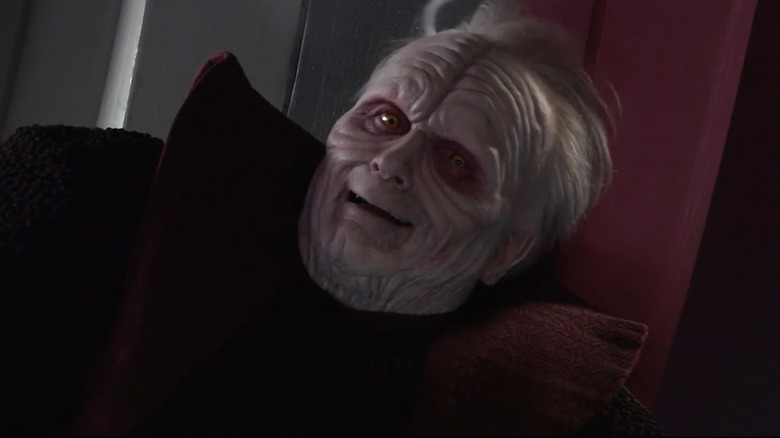 Lucasfilm, Ltd.
In 1999, McDiarmid returned to the role of Palpatine in "Star Wars: Episode I – The Phantom Menace," a film that flashed back to a time in Palpatine's life when he was a mere ambitious senator. As a senator, McDiarmid looked like an ordinary human, and his evil, secret Imperial schemes would take several films to come to fruition. Palpatine's plans finally came to light in George Lucas' 2005 film "Star Wars: Episode III – Revenge of the Sith." In that film, Palpatine is confronted by the Jedi Mace Windu (Samuel L. Jackson), and a conflagration of the Force commenced. In the fight, a great output of Force lightning mutates Palpatine's face and eyes, matching how he would look in "Return of the Jedi." Evidently, he was so evil that he transformed into a literal monster. 
By 2005, makeup technology had advanced quite a bit, and the waxy liquid latex of the '80s had been replaced with thicker, more durable silicone appliances. A "helmet" was constructed for McDiarmid that he could wear, in his words, "a bit like a balaclava." It was easier to apply and maintain, but didn't have the same sort of crackled skin quality of latex. 
When McDiarmid appeared as Palpatine in "The Rise of Skywalker," the makeup team had everything down to a science, extrapolating the look originally invented by Dudman, using smaller silicone appliances. Also, as McDiarmid was now in his mid-70s, he admits that less makeup was required to make him look older. His neck, he says, simply looks the way it looks, and they only needed to manipulate the skin that was there, rather than add anything new.