How Deadpool 2's Domino Helped Prepare David Leitch For Bullet Train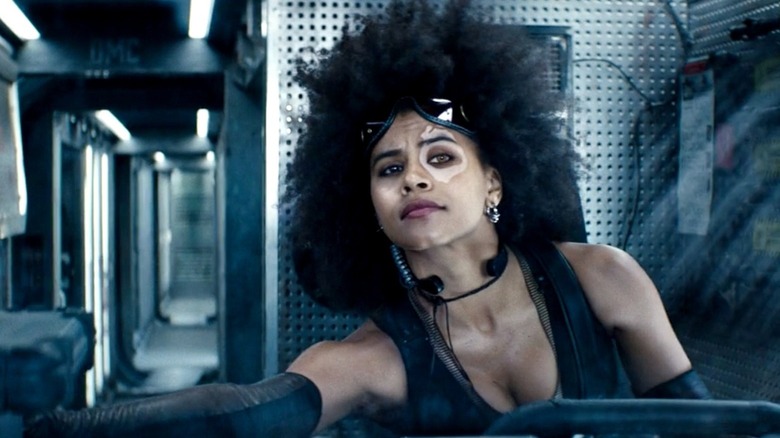 20th Century Fox
There's an old playwriting adage that cleanly breaks down narrative structure thusly: Act One — get your hero up a tree; Act Two — throw rocks at them; Act Three — get them down. Would that it were so simple, right?
Well, when you're making a mega-budgeted action movie like "Bullet Train," even if you have a wild cast of characters throwing rocks at Brad Pitt's Ladybug for seemingly disparate reasons, the primary objective is still to simply get your hero out of that tree. Or, in this case, off the train in one piece. The trick in this case is getting this forever stymied assassin out of his predicament in an intellectually and emotionally satisfying way. 
For director David Leitch, this had everything to do with Ladybug catching a break, something that never seems to happen to him. To arrive at this conclusion, he sought inspiration from the ultra-lucky character of Domino (Zazie Beetz) from "Deadpool 2."
The plight of the unluckiest assassin on Earth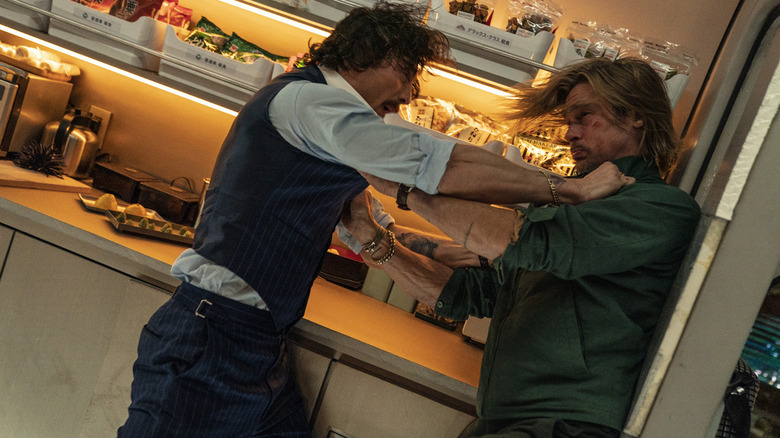 Sony Pictures
In an interview with The Upcoming, Leitch revealed that he used Domino's "luck-based action sequences" as a jumping off point for a pivotal scene near the end of "Bullet Train." He describes the scene as a Rube Goldberg "meditation on fate" where The Elder (Hiroyuke Sanada) is at last seeing his 30-year quest for revenge snap into place. At the center of this melee is Ladybug, the least lucky man on the planet. Leitch breaks it down like this:
"Everyone's playing a piece in that puzzle, and no matter how bad Ladybug's luck is, it's not going to change, you know? So you see all these good luck things happening to him because it needs to get to the final piece of the puzzle, so the Elder can have his revenge. And I think that's just sort of, like, one of those meditations or fables on fate, and you know, how the butterfly effect really does exist in this world, whether you believe it or not."
Will Brad Pitt ever catch a break?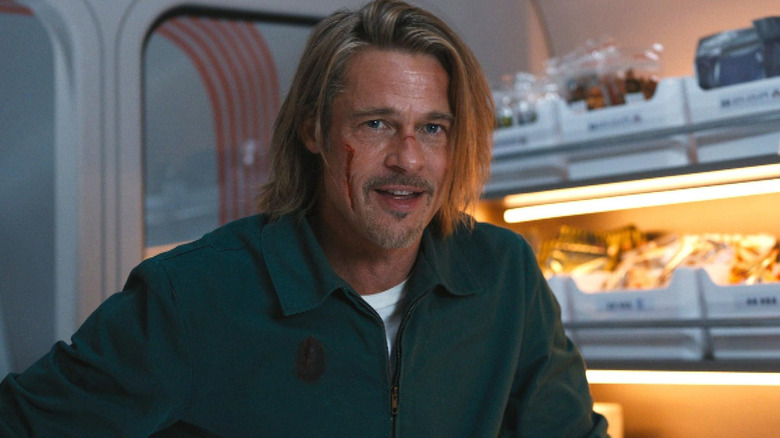 Sony Pictures
John Milton famously said, "Luck is the residue of design." In storytelling, if that design happens to incorporate a deus ex machina finale, your audience might stomp out of the theater feeling cheated. In "Bullet Train," the design is intentionally building to a madcap climax where fate might just finally break in Ladybug's favor. Given the film's goofy tone and garishly heightened aesthetic, this might go over better than it would in, say, "Die Hard," where John McClane cleverly makes his own luck.
We could ultimately disagree on the effectiveness of this climax, but, love it or hate it, you at least have to acknowledge that luck, designed or stumbled into, exists in the form of Brad Pitt. That man won the genetic lottery and then some.