Scoob 2 Writer 'Heartbroken' Over Warner Bros. Scrapping Film: 'The Movie Is Practically Finished'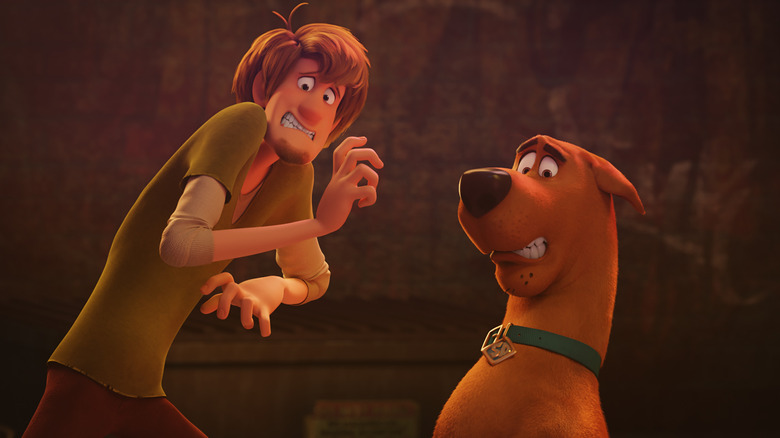 Warner Bros.
Yesterday, the devastating news that the live-action "Batgirl" movie had been canceled despite having finished shooting was a shock to the industry. Sadly, the news didn't stop there. It was also reported that "Scoob! Holiday Haunt" also got shelved indefinitely.
The film was meant to be a sequel to "Scoob!" the 2020 animated reboot of the "Scooby-Doo" franchise that also included other beloved Hanna-Barbera characters like Dynomutt, Dick Dastardly, and Captain Caveman. Though the film received lukewarm reviews that pointed out how little the film actually focuses on the "Scooby-Doo" characters, the film made $2.2 million at the box office for a worldwide total of $27 million, and became a hit on VOD where it was released simultaneously. While "Batgirl" had known characters, it was going to be the very first film featuring a new Batgirl in a brand new franchise. "Scoob!" on the other hand, was announced as a sequel to a successful film that managed to make money despite extraordinary circumstances for its release. Still, it was a commendable animated effort to bring a beloved studio back to life in some capacity.
Sadly, the $40 million sequel is apparently not seeing the light of day, even though it was practically fully finished.
'Practically finished and turned out beautifully'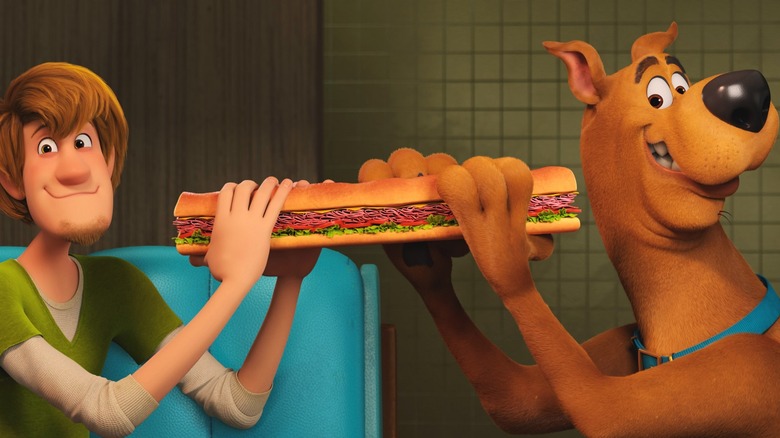 Warner Bros.
Following the announcement, several key people that worked on the film took to social media to share their disappointment with Warner Bros. Discovery's decision to cancel the film. Co-writer Paul Dini (yes, that Paul Dini, creator of "Batman: The Animated Series") tweeted in frustration over the decision. 
"Why cancel a 95% finished holiday movie this close to Fall, when you're guaranteed kids watching it from right after Halloween until at least New Years? Makes no business sense esp. as both kids & parents dug the WIP screening."
Meanwhile, co-director Bill Haller said on Twitter that he "approved the last shot of animation last week & I can't wait for all the fans to see the amazing performances from this passion project which I know will make you very happy."
Indeed, the film was all but completely finished, ready to be released this very year. Co-writer Tony Cervone, an animation veteran and Director of Animation on "Space Jam," said the film was "practically finished and turned out beautifully," on Instagram, and added, "I am beyond heartbroken."
This is a very disheartening news, and a baffling one. Hundreds of people worked on this film, including some very known names, and it wasn't in development, but almost finished. There are many question with very few answers regarding the internal decision-making at Warner Bros., but without a doubt there are big changes on the way.
Update: For those wondering, the film's cast was absolutely stacked, too. 
If you didn't know, this is the cast of SCOOB Holiday Haunt. Yes...It's incredible #SaveScoobHolidayHaunt @IainLoveTheatre @MckennaGraceful @ArianaG @ThePierceGagnon @MarkHamill @MJMcKean @cristofernandez @MingNa @mayahawke @AndreBraugher @priahferguson JB smoove Patrick Warburtin

— Michael Kurinsky (@MKurinsky) August 3, 2022