Why 3 Ninjas Recast Rocky When It Came Time For A Sequel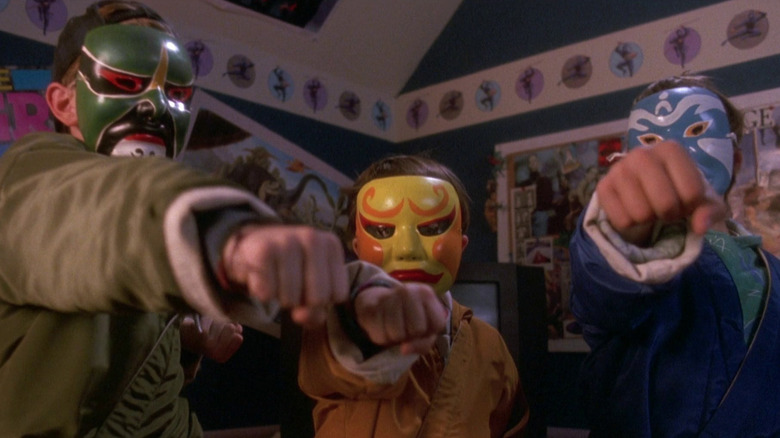 Buena Vista Pictures
The primary thing one must know about Jon Turteltaub's 1992 film "3 Ninjas" is that it contains one use of "Pysche!," one use of "Not!," and one use of "Face!" Additional details are but window dressing. 
In "3 Ninjas," the Douglas brothers — 12-year-old Rocky (Michael Treanor), 11-year-old Colt (Max Elliott Slade), and 8-year-old Tum-Tum (Chad Power) — are being trained in deadly martial arts by their affable grandfather Mori (the venerable Victor Wong). The boys' father is an FBI agent who is on the tail of a dangerous criminal mastermind with an army of ninjas. The villain also happens to be a former associate of grandpa's, and the plot will eventually come to involve kidnapping. A quick glance over any synopsis will reveal phrases like "fake pizza order" and "laxatives in soda." 
"3 Ninjas" was unashamedly a twofold knockoff movie, cashing in on the popularity of two of 1990's biggest hits: "Teenage Mutant Ninja Turtles" and "Home Alone." Ninjas, as the Turtles taught us, were capable in fighting, but also laidback, hip-talking, pizza-eating party dudes. "3 Ninjas" was careful to give the titular ninja kids their own patois ("Face!," etc.). As Kevin McCallister taught us, all kids aged 12 and under were unexpectedly skilled in the construction of traps and/or schemes to harm any potential home invaders, and the titular pint-sized warriors capably employed laxatives to great effect. 
The film is fondly remembered by children of the early 90s, and it remains a relative obscurity to this day. This, despite having warranted three sequels: "3 Ninjas Kickback" (1994), "3 Ninjas Knuckle Up" (1995), and "3 Ninjas: High Noon at Mega Mountain" (1998), co-starring Hulk Hogan. 
However, despite focusing on "3 Ninjas," the casting of the primary trio for these films are a little all over the place, so follow closely.
3 Ninjas Knuckle Up came first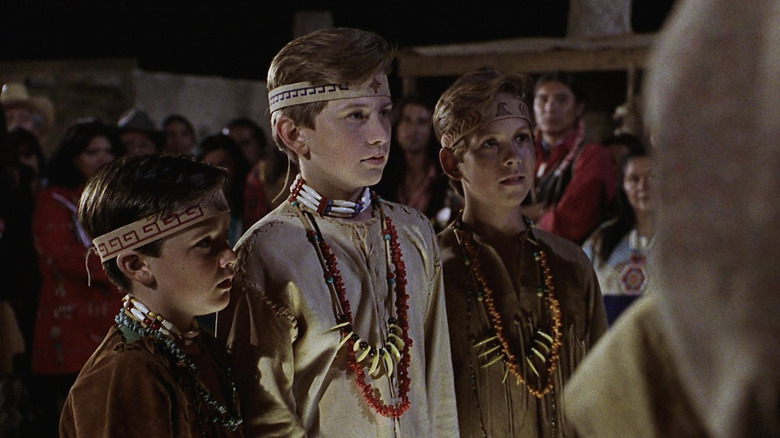 TriStar Pictures
"3 Ninjas" was hardly a critical success, but it did manage to make a decent $29 million on a $2.5 million budget, leading to sequels almost immediately. Curiously, only the first "3 Ninjas" film was put out by Disney, with the rest made by TriStar Pictures. 
The second film made, "3 Ninjas Knuckle Up," was directed by Korean film veteran Shin Sang-ok, operating under the pseudonym Simon Sheen. Shin had an incredibly eventful life (as chronicled in Paul Fischer's 2015 book "A Kim Jong-Il Production: The Extraordinary True Story of a Kidnapped Filmmaker, His Star Actress, and a Young Dictator's Rise to Power."), having initially made movies in an area of North Korea that was then occupied by Japan. Throughout the '50s and '60s, Shin made a great deal of successful classics, attracting the attention of, of all people, Korean dictator Kim Jong-Il. In 1978, Shin and his wife were kidnapped and "re-educated" by Kim, and Shin was forced to make movies for the state. Years later, in 1986, Shin and his wife eventually escaped Kim while attending the Vienna Film Festival and came to the United States. "3 Ninjas Knuckle Up" was his last film as director. 
Although shot at the same time as the original "3 Ninjas," "Knuckle Up" was kept on the shelf due to some labyrinthine distribution deal. It wouldn't see light of day until 1995. A second sequel, Charles T. Kanganis' "Kick Back," was then made, this time with Rocky played by an actor named Sean Fox, and Tum-Tum replaced by J. Evan Bonifant. Slade remained. Because of the expediency of shooting, "Kick Back" was released first, in 1994. Fans of the original Rocky were likely confused by the rotating cast between the first three films. 
Where is the first Rocky?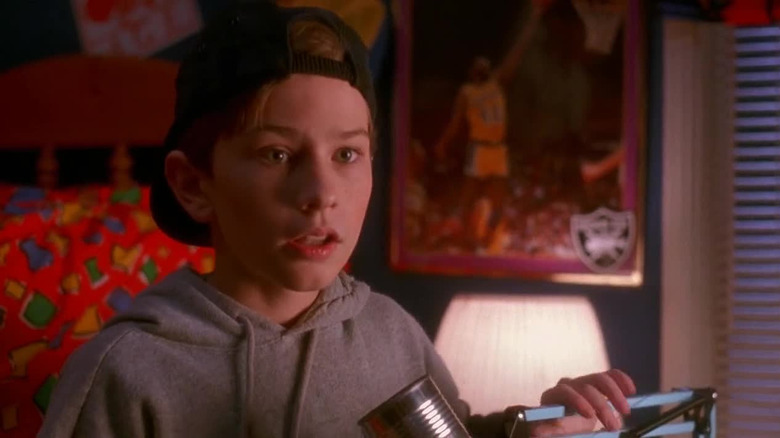 Buena Vista Pictures
Notable: None of the same actors returned for "Mega Mountain" in 1998. By then, all five of the previous ninja actors would have outgrown the "kids do ninjutsu" gimmick anyway.
Of course, the question remains, why did Rocky leave after the first two movies (or the first and third, as release order dictates)? After the two "3 Ninjas" films, Treanor (above) decided not to pursue a showbiz career. In 2013, MTV bothered to look into why. Treanor was a perfectly capable martial artist and potential child star in the making, possessed of a similar charm to other child stars of the day. MTV even compared Treanor to "Home Improvement" star Jonathan Taylor Thomas, but the Hollywood lifestyle didn't appeal to the young martial artist. Treanor, 45 this year, still practices martial arts as a hobby, and as MTV found, he now works in finance in Washington DC. 
The other original ninjas have similarly humble transitions out of showbiz. Slade appeared in two Ron Howard movies — "Apollo 13" and "Frost/Nixon" — graduated from USC, and now teaches yoga in his hometown of Pasadena, CA. Power, meanwhile, took a job as a high school football coach in Camarillo, CA. The modest cult success of a trio of cheapie ninja kid flicks from the 1990s didn't exactly spell permanent success for anyone. 
The exception was Turteltaub, the original film's director, who would move into an auspicious career directing affable genre hits like "Cool Runnings," "While You Were Sleeping," "National Treasure" and "The Meg." Until a fifth "3 Ninjas" film is announced, however, the entire series will remain a pleasant memory for the kids who managed to catch them in theaters. In this way alone, "3 Ninjas" lives on.