How Apollo 13 Helped Ron Howard Prepare For Making Thirteen Lives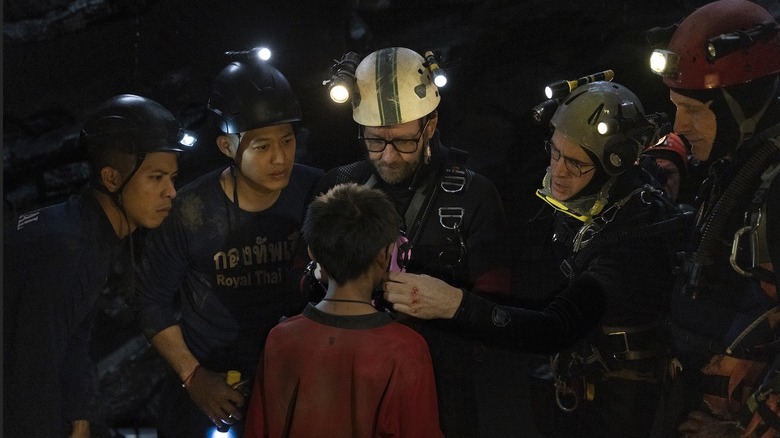 Vince Valitutti / Metro Goldwyn Mayer Pictures
On June 23, 2018, a Thai youth soccer team and their assistant coach went spelunking in the Tham Luang Nang Non cave after practice. Heavy rains trapped them in the cave, with no one able to contact them for almost two weeks. A worldwide operation began to get the trapped players out, through flooded and dangerously narrow cave tunnels.
Four British divers and a large support crew risked their lives to rescue everyone. The effort, which took 18 days, involved over 10,000 volunteers, with additional well-wishes coming in from all over the world. Director Ron Howard has brought the story to the screen with his new film "Thirteen Lives," showcasing the group of brave individuals whose efforts saved the day.
Howard is no stranger to shooting films about harrowing adventures in inhospitable environments. His 1995 film "Apollo 13" told the story of the astronauts on the abandoned lunar mission of the same name, who almost died trying to return home. Looper spoke to Howard about "Thirteen Lives," and asked him if shooting "Apollo 13" helped him hone the techniques to create the sense of claustrophobia in his latest film.
'Capturing a real environment'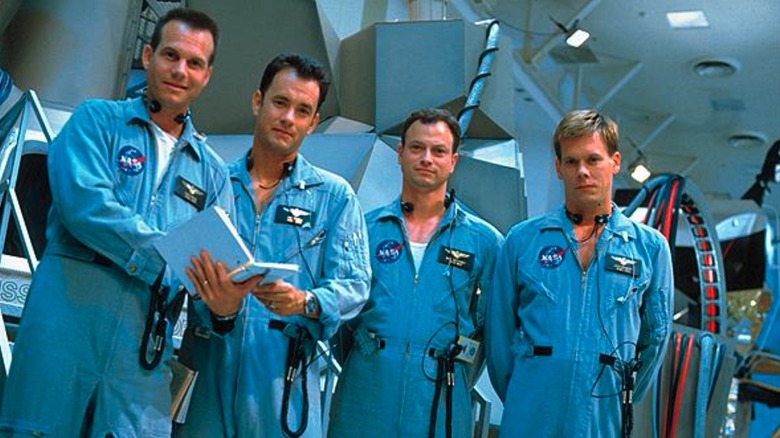 Universal Pictures
Though Howard said that they didn't use "similar shooting techniques" in both films, he did speak about how they got the "Apollo 13" shots, and the way in which this prepared him to shoot "Thirteen Lives." Howard explained what it was like shooting the weightless scenes in space:
" ... when we shot the weightlessness in Apollo 13, we were actually in an airplane, nicknamed The Vomit Comet, which flies parabolas out over the Gulf of Mexico. And on the dive, it creates 23 seconds of weightlessness. And so, we shot all of our wide shots during those 23 seconds of diving. We did 10 or 12 days of this kind of shooting, and it was really intense."
It kind of makes you want to rewatch "Apollo 13" now, doesn't it? In terms of what connected the shoots, Howard said:
"And so there was a feeling of discovery, surprises... Sometimes things would shift in the shot in interesting, very realistic ways. And that was similar, in a lot of ways, to underwater shooting and that sense of really capturing a real environment like with 'Thirteen Lives.'"
How Howard went about capturing these dangerous situations in space and underwater on film reminds you that these are both real environments in which humans weren't meant to survive.
'What an experience'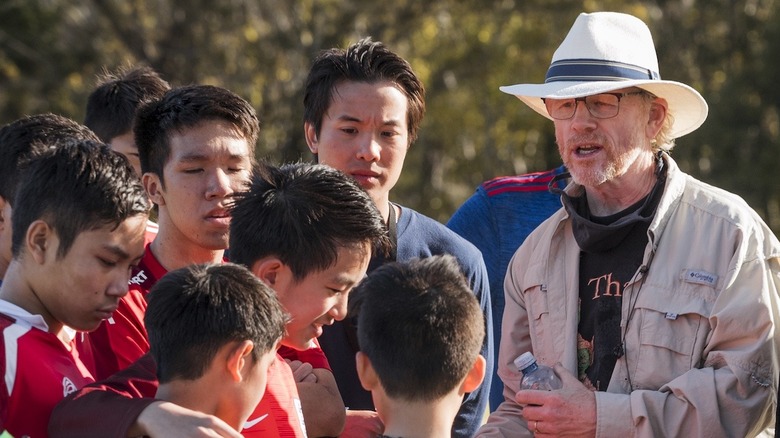 Vince Valitutti / Metro Goldwyn Mayer Pictures
Even the actors working on the film were aware of the danger, with star Colin Farrell (who plays rescue diver John Voltanthen) recently telling Variety that he had anxiety attacks under the water, despite the safety divers able to watch them through holes in the sides of the tunnels they were shooting in. Tom Bateman, who plays rescue diver Chris Jewel, said he did as well. 
Difficult as it was to shoot both projects, it must have been an incredible thing to be a part of. Recently "Apollo 13" star Kevin Bacon visited "Hot Ones," and said of the Vomit Comet that Howard mentioned, that he never takes things like this for granted, saying, "What an experience!" 
"Thirteen Lives" stars Viggo Mortensen, Colin Farrell, Joel Edgerton, Tom Bateman, Paul Gleeson, Pattrakorn Tungsupakul, Tui Thiraphat Sajakul, James Teeradon Supapunpinyo, Sahajak Boonthanakit, and Weir Sukollawat Kanaros. The film hit select theaters on July 29, 2022, and will premiere on Prime Video on August 5, 2022.