The 10 Best ADAs In The Law & Order Universe Ranked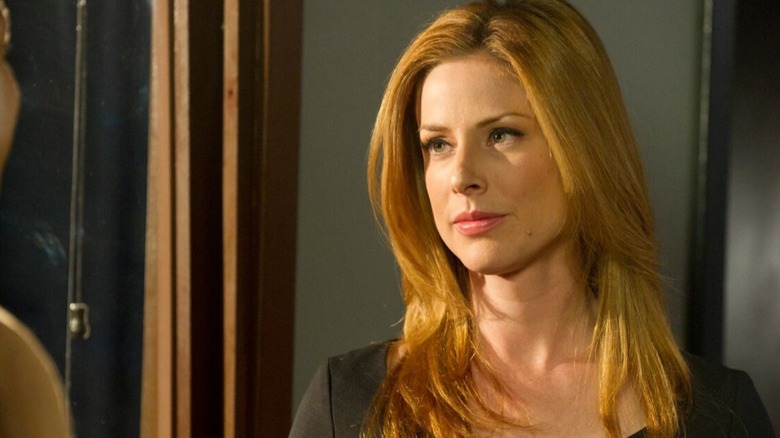 NBCUniversal Syndication Studios
The original "Law & Order" is second only to spinoff "Law & Order: Special Victims Unit" as one of the longest-running scripted primetime television series ever. Twelve years after going off the air, the original series was revived in 2022, with a forthcoming season already announced. Love it or hate it, that's an incredible feat, especially when accounting for the success of subsequent spinoffs. While not every entry has matched the original, "Law & Order: Criminal Intent" and the aforementioned "Special Victims Unit" are part and parcel with the universe itself. When a viewer mentions "Law & Order," they could reasonably be talking about any number of shows.
As a police procedural, the series and its spinoffs follow a similar template. While overarching narratives help to propel the action, the series follows a case-a-week template — like "The X-Files" but with criminal trials instead of monsters. The first half of the episode is usually the police investigation, while the second half sees a fictionalized, speedy trial wherein the accused is either convicted or acquitted, often after a final act twist. We'll be looking at the 10 best assistant district attorneys in the series and its spinoffs overall. Central to the series' trials, these ADAs are fan favorites who balance vulnerability with quick wit and legal expertise.
10. Sigrun Borg — Law & Order: Trial by Jury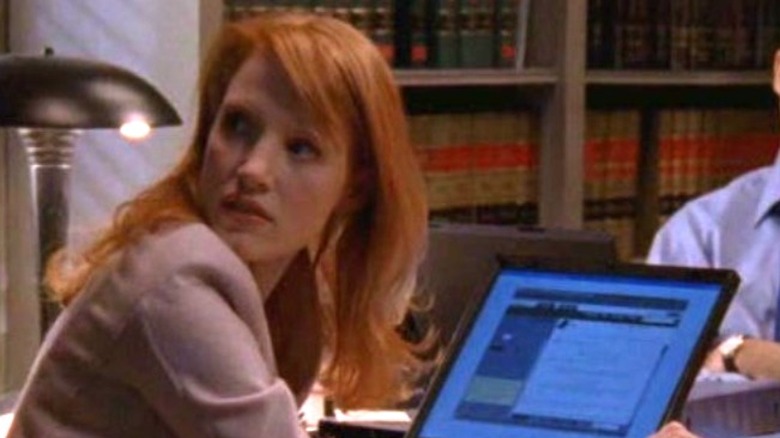 NBC Universal Television
"Law & Order: Trial by Jury" was a rough patch in creator Dick Wolf's attempts to expand his ever-growing "Law & Order" enterprise. Lasting only one season, the spinoff was met with lackluster reception from critics. "Trial by Jury" endeavored to distinguish itself with a preeminent focus on the criminal trials themselves, all but removing the police procedural elements and focusing chiefly on the prosecution and the defense as they prepared for trial.
It wasn't a bad idea in theory. Still, "Law & Order" is most effective when the entire justice system is at play, and removing a core component of what has historically worked didn't do the shows any favors. Nonetheless, its brief run at least introduced audiences to Jessica Chastain's Sigrun Borg, an assistant district attorney who popped in for four episodes to assist in cases ranging from a man accused of murdering a pedophile to a man accused of killing a homeless person to save a woman's life. While Chastain was never a mainstay, playing second fiddle to more prominent district attorneys, she was one of the spinoff's best additions. Had the show centered on her, there might have been more "Trial by Jury."
9. Jamie Ross — Law & Order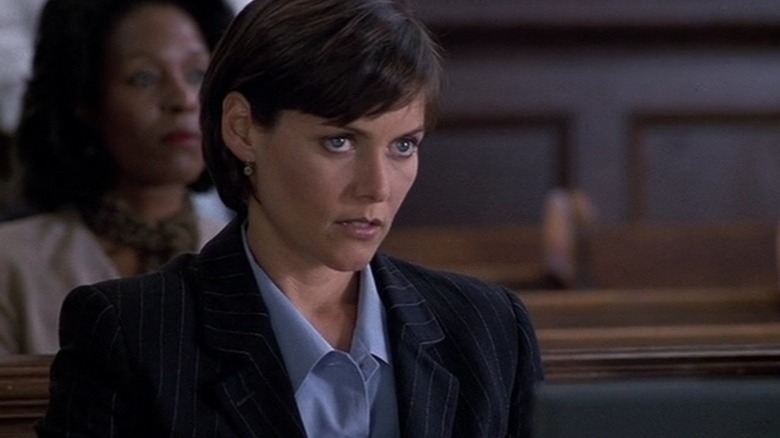 NBC
Carey Lowell's Jamie Ross hasn't just been in "Law & Order." As famous as Dick Wolf is for spinoffs, he's no less inclined to cull his cast and place them wherever he sees fit. Assistant District Attorney Jamie Ross appeared in 50 episodes of the original show, though she also appeared in an episode of "Homicide: Life on the Street" and two episodes of "Trial by Jury," by which point she had become a judge. In the original series, fights with District Attorney Jack McCoy (Sam Waterston) were part of life in the office, but Jamie Ross was one of the best at managing the vagaries of McCoy's moods.
Fans of the show know how often chief players are censured, called before a committee, or otherwise admonished for problematic behavior in pursuit of justice. However, Ross remained a consistent benchmark of equitable justice. Throughout her tenure, Ross shifted her position on the death penalty, moving from a proponent to critic, and easily adjusted to the role despite replacing Jill Hennessy's Claire Kincaid after she was killed in an auto accident. Replacing a dead character is never easy, but Jamie Ross was more than up for the task.
8. Dominick Carisi Jr. — Law & Order: Special Victims Unit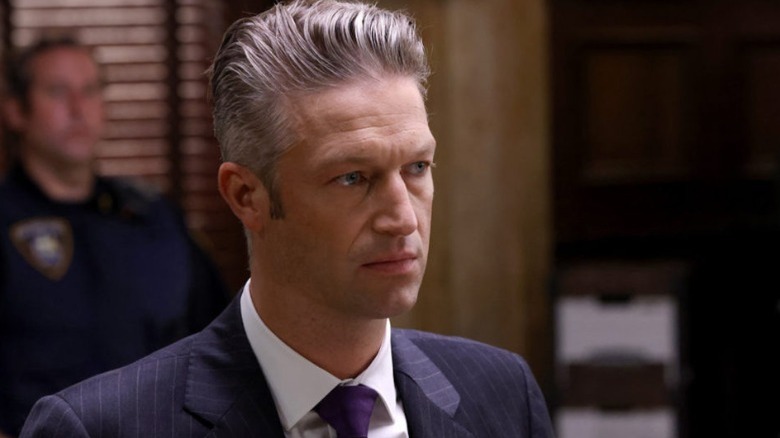 NBC Universal Syndication Studios
"Law & Order: Special Victims Unit" might have arguably superseded the original "Law & Order" as the premier version of the show. Known by its full title, "Law & Order: SVU," or even simply "SVU," the spinoff distinguished itself with a preeminent interest in sex crimes, a theme that is no less urgent now than when the series premiered in 1999. While mainstay Mariska Hargitay as Olivia Benson has been around since its inception, "SVU" similarly cycled through assistant district attorneys, though it did so with notably less regularity than its forebear.
Peter Scanavino's Dominick Carisi Jr. was first introduced after the departure of Detective Nick Amaro (Danny Pino), who was brought in to replace Christopher Meloni's Elliot Stabler. While Carisi is first introduced as a detective, he soon studies for the bar under the tutelage of ADA Rafael Barba (Raúl Esparza), eventually becoming the assistant district attorney for the special victims unit. Scanavino easily harnesses the kind of serious-yet-cool energy the original series was known for at its prime.
7. Paul Robinette — Law & Order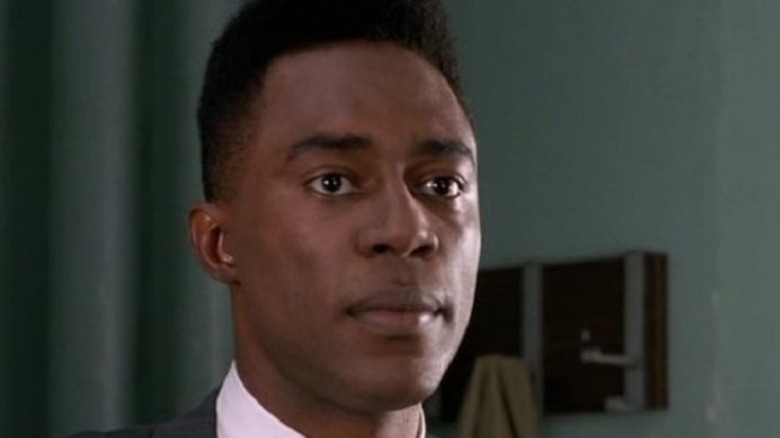 NBC
Paul Robinette, played by Richard Brooks was the first regular ADA in the "Law & Order" universe, and that's a noteworthy feat on its own. Additionally, as a Black man, Robinette stands out, adding valuable perspective to a sea of pretty homogenous district attorneys. Robinette first appears in the show's pilot episode, maintaining the role until the Season 3 episode "Benevolence" whereupon he is unceremoniously removed from the lineup, only to later return as a defense attorney.
It's an odd departure, though there is considerable growth for Robinette in the series. At first, his race often places him at odds with his role in the justice system and the perpetuation of racial inequality. When Robinette returns as a defense attorney, he principally defends and advocates for clients who are victims of institutional racism, a stark, yet necessary, departure from his introduction. Robinette is one of the most multidimensional characters on the show. He's also the first, and after decades of replacements, still one of the best.
6. Rafael Barba — Law & Order: Special Victims Unit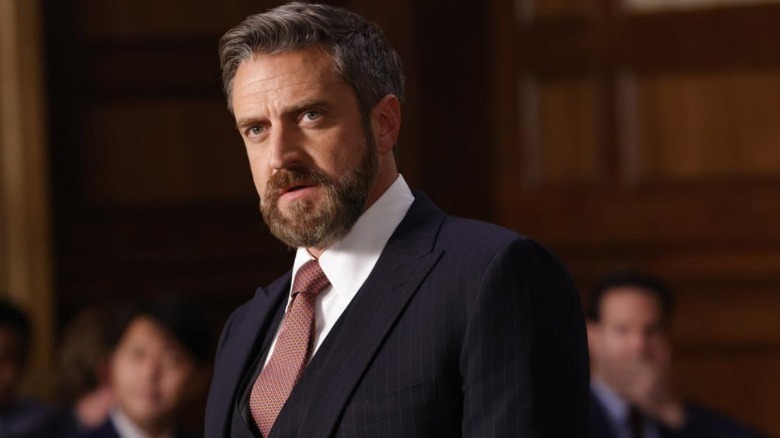 NBC Universal Syndication Studios
Actor Raúl Esparza, who played Assistant District Attorney Rafael Barba for six seasons, isn't just an actor. He's also Broadway star, talented singer, and all around versatile performer. And he's easy on the eyes, a quality "Law & Order: Special Victims Unit" is well aware of given how often his character is centered as the stylish lynchpin that holds the entire special victims unit together during his tenure.
Barba was considerably more effective during his time in the department, often nipping problematic behavior in the bud, something past ADAs struggled with. His signature suspenders stand out, and his unorthodox trial tactics make for gangbusters television, including an appearance in which Barba compels a defendant to choke him out with a belt to prove a point. There's never been another ADA like Barba, and Esparza adroitly encapsulates just how lucky the "SVU" spinoff has been with regard to its ADAs. They don't make them like they used to.
5. Ron Carver — Law & Order: Criminal Intent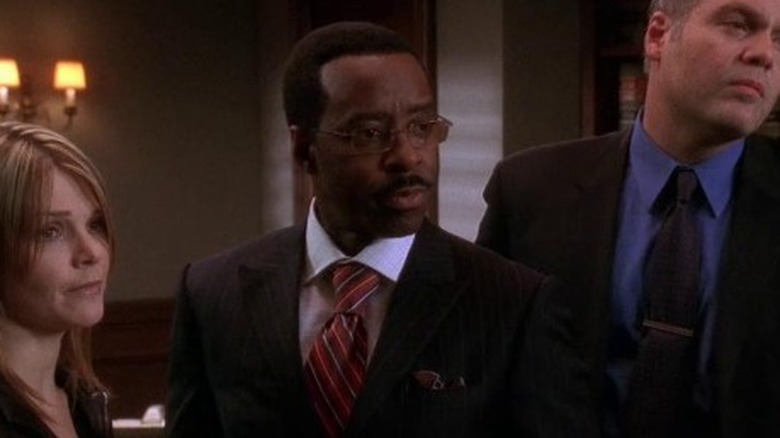 NBC Universal Television Distribution
Courtney B. Vance is a performer to be reckoned with. Audiences who caught FX's "American Crime Story: The People v. O.J. Simpson" know this well, especially since Vance's Emmy-winning turn as Attorney Johnnie Cochran was arguably the best part of the show. In "Law & Order: Criminal Intent," a spinoff centered on the major case squad and ubiquitous "ripped from the headlines" cases, Vance plays Assistant District Attorney Ron Carver.
Second only to "SVU's" Casey Novak (Diane Neal), Ron Carver is the longest-serving ADA in the franchise, appearing in 111 of "Criminal Intent's" 195 episodes. As the principal ADA on the show, Carver is hard-hitting and often unsympathetic to criminals. He works hard to ensure harsh sentences for the criminals brought to trial, but his unyielding nature often puts him at odds with the detectives of the major case squad, many of whom contextualized investigations around how Carver is poised to respond. While his demeanor and approach to justice are considerably harsher than most, he's a standout ADA and one of "Criminal Intent's" best characters.
4. Serena Southerlyn — Law & Order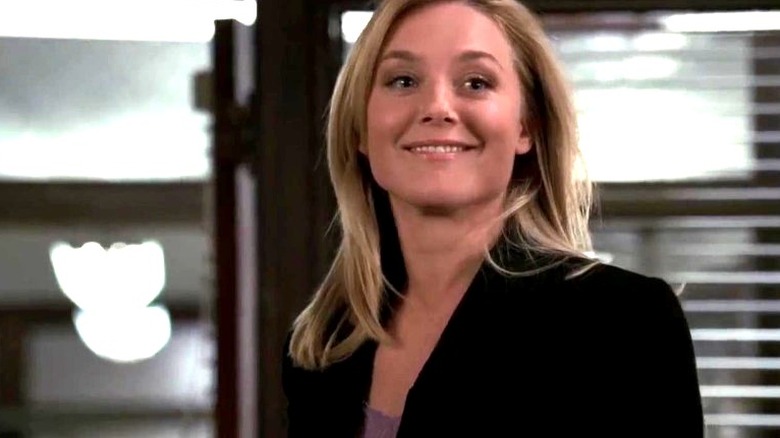 NBC
Elisabeth Röhm's Serena Southerlyn might not like Miranda warnings all that much, but she does like being an unstoppable force in the courtroom. As a replacement for Abbie Carmichael (Angie Harmon), Southerlyn joined the district attorney's office in the Season 12 premiere, staying for 85 episodes until the end of Season 15. Southerlyn is noteworthy for perhaps being the most antagonistic of the ADAs toward McCoy. Her liberal ideals often clash with the office's hardline approach to justice. Often, Southerlyn is inclined to identify and explore social ailments behind the cases she's handed.
Most notably, however, is Southerlyn's sexuality. Though alluded to throughout her tenure on the series, Southerlyn confirmed her sexuality in Season 15's "Ain't No Love," remarking explicitly that she is a lesbian. It's a small moment, but in 2005, it was quietly groundbreaking, adding necessary diversity and representation to the long-running series.
3. Alexandra Cabot — Law & Order: Special Victims Unit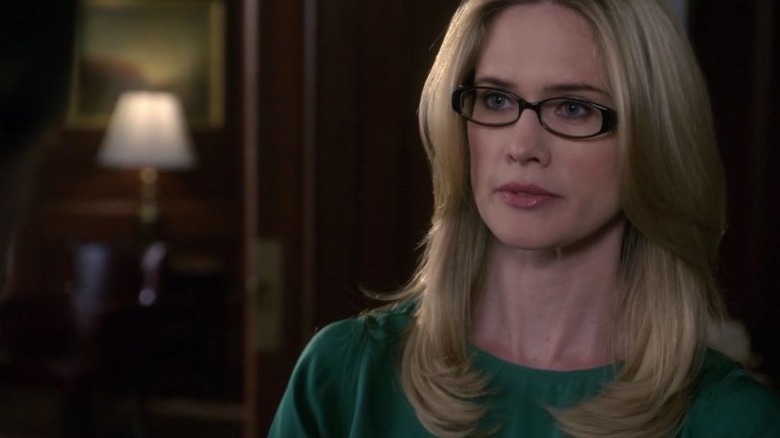 NBC Universal Syndication Studios
Fans of "Law & Order: Special Victims Unit" know just how much of a fearless icon ADA Alexandra Cabot is. Going full Persephone, Cabot is ostensibly killed by drug traffickers after taking a case and prosecuting one of their own. Though the episode caps with both Benson and Stabler being notified of Cabot's transfer into witness protection, it's a tense, heartbreaking sendoff for one of the franchise's best ADAs.
However, Cabot doesn't stay dead. She returns in Season 6 to testify against the man who allegedly killed her. It's par for the course for Cabot, a beacon of justice who frequently advocates for the underdog and never allows her job to interfere with her clear convictions. Cabot takes on virtual pornographers, child murderers, and every horrible criminal imaginable. She always does so with an inimitable commitment to the law during her 97-episode tenure, making her the third longest-running ADA in the franchise. Plus, Cabot got a short-lived spinoff with "Conviction." Like "Trial by Jury," it didn't last long, but it furthers Cabot's reach as a touchstone of the franchise.
2. Abbie Carmichael — Law & Order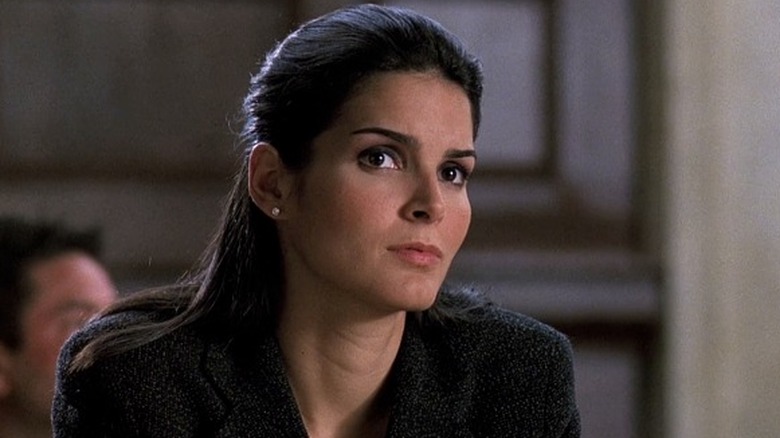 NBC
Angie Harmon's Abbie Carmichael was brought in to replace Carey Lowell's Jamie Ross. A stark departure from ADAs past and present, Carmichael is considerably more conservative. Among other things, she opposes abortion and gun control, and unlike her predecessors, she is in favor of capital punishment. Despite some questionable politics, Carmichael is a beacon of equitable justice, often altering her worldview when the cases demand it.
As more is revealed about Carmichael's backstory, including an assault she suffered in college, her rougher edges are smoothed, and she fights courageously for justice. Additionally, while she still frequently butts heads with those in the district attorney's office (especially McCoy), there is considerably less conflict with Abbie Carmichael than there had been with past ADAs. Appearing in 78 episodes, Carmichael's subversion of past ADAs has rendered her an easy fan favorite and a hallmark of "Law & Order" during its heyday.
1. Casey Novak — Law & Order: Special Victims Unit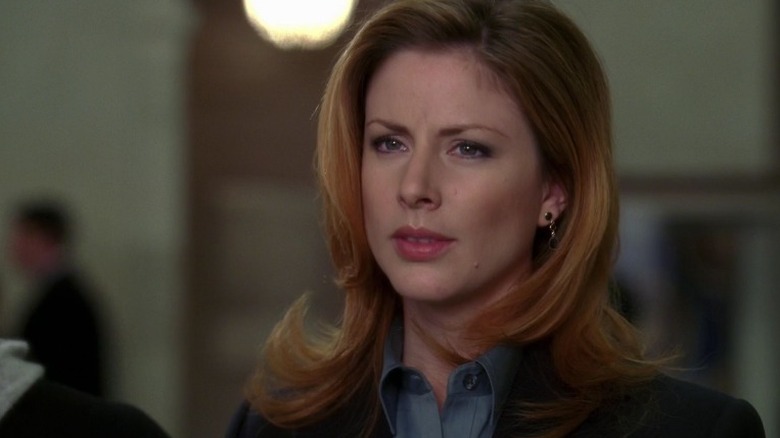 NBC Universal Syndication Studios
Casey Novak, portrayed by Diane Neal, isn't just the series' longest-running ADA, she is also quite simply its best. Alexandra Cabot is a close second, but nothing quite matches the inimitable, fearless conviction of Casey Novak. A chief distinction is how often "Special Victims Unit" explores the inner workings of Novak as not just ADA but as a person in and of herself. Past relationships and professional traumas are dredged up to fully contextualize Novak and her commitment to justice.
Novak largely informs her legal ethics and approach to cases with calls for leniency. Yet, at the same time, those ethics light a fire within her as seen in the Season 7 episode "Gone," a Natalie Holloway-type case in which Novak endeavors to prosecute the boys behind a young girl's mysterious disappearance. Her moxie is evident every time she's in the courtroom. She cross-examines like a boss, introducing compelling evidence and molding her cases into surefire convictions. She's the best at what she does.