The Daily Stream: Smiling Friends Is A Funny, Messed Up, And Horrific Adult Animation Series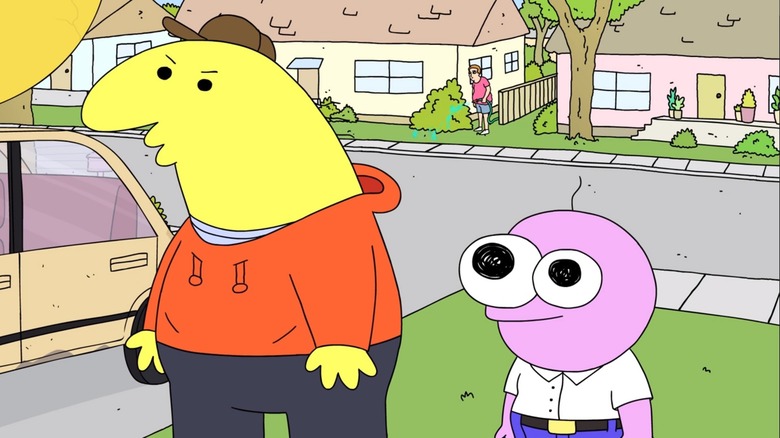 Adult Swim
(Welcome to The Daily Stream, an ongoing series in which the /Film team shares what they've been watching, why it's worth checking out, and where you can stream it.)
The Movie: "Smiling Friends" (2022)
Where You Can Stream It: HBO Max
The Pitch: The premise of this new animated Adult Swim series is simple: A bunch of random creatures work together to make people smile as employees at a company (aptly called Smiling Friends) where that is, quite literally, their job. There's Pim, the tiny go-getter who loves to bring about joy, and Charlie, his co-worker and close pal who begrudgingly helps with their assignments. Rounded out by other employees Alan, Glep, and The Boss, the group does their best to make as many folks smile as possible, with varying (and usually horrifically surreal) results.
Why it's essential viewing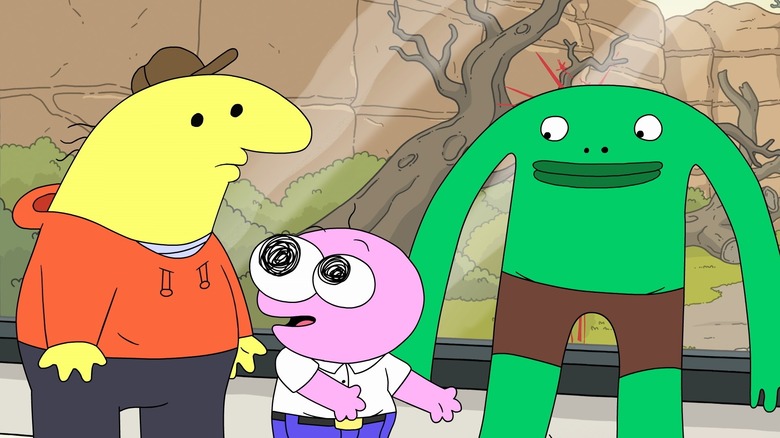 Adult Swim
The adult animation landscape is vast and we're spoiled for choice. There's something for everyone, from the comedic to the dramatic (you guys have seen "Primal," right?) to the existential. Like live-action television these days, it's becoming hard to figure out exactly what the heck I'd like to watch when I want to put on an animated series, what's going to be my speed. I'm big on recommendations, which is why I was eager to jump into "Smiling Friends" and try it on for size when horror YouTuber Nick Nocturne, aka NightMind, tweeted about it just after its January 2022 premiere. I have come to discover several top notch pieces of horror media through his channel, so I jumped into this one without a second thought. And I'm incredibly glad that I did.
Creators Zach Hadel and Michael Cusack have a very specific comedic voice, a lot of which stems from their Australian culture. Specificity is the key to authenticity in film and television, and Hadel and Cusack's specific callbacks to different aspects of Australian life stand out despite the fact that those allusions might not necessarily be universal. After all, Australia plays by its own rules, but they apply well to this unnamed world where the Smiling Friends live. Weirdness really knows no bounds in this series, but it's also undeniably smart and well-written. It's definitely worth about 90 minutes of your time — and maybe another 90 minutes after that. It's so good, I promise you'll want to rewatch it.
Weird, wild, and messed up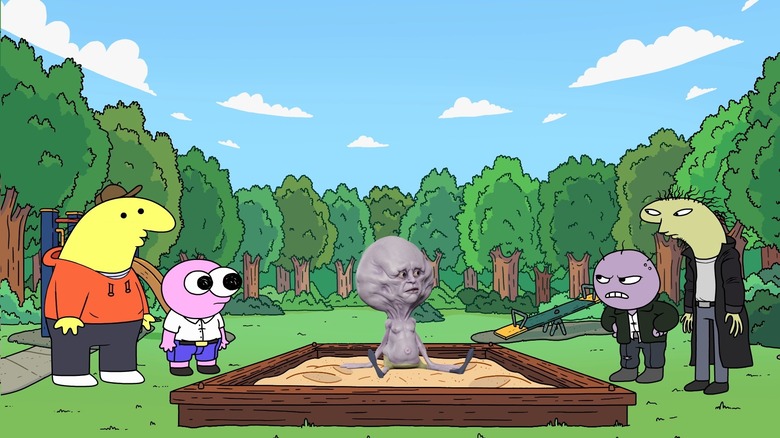 Adult Swim
"Smiling Friends" is probably the weirdest, most wild, and most messed up animated series I've ever seen. Period. It's hilarious and ridiculous, but it is also mind-blowingly surreal, existential, and deeply angsty. It'll make you very uncomfortable in one second, and fill you full of belly laughs in the next. Take, for example, the scene where we meet the Boss, the man who runs the Smiling Friends corporation. His office is an endless black abyss with a small desk in the center. Weird. And in that first scene, we also see him breastfeed a small alien-like creature. Yeah, you read that right. Unsettling. The inclusion of that weird clay-looking guy in the above image also leans into the surreality of the show's tone. His name is 3D Squeldon, and he makes an entirely random appearance in one of the season's later episodes, noticeably out of place among his 2D counterparts in the scene. 
And if you're into horror, you'll be delighted by the horror tropes and tones throughout the season. There's a Halloween episode that is particularly delicious when it comes to how it approaches creature design and jump scares. Oh, and another plus about this show? It consists of eight 11-minute episodes. Talk about easily digestible. 
The series isn't for everyone, that's for sure. But those who connect with it, like I did, will find solace in the midst of an all-too-depressing world. The series is hilarious, but it doesn't sugarcoat anything, and that is a huge part of what makes it so palatable in 2022. Between the surreality, the horror, the comedy, and the deeply realistic themes, you'll find yourself smiling with "Smiling Friends."