Joseph Fiennes' Time On The Handmaid's Tale All Led Up To One Scene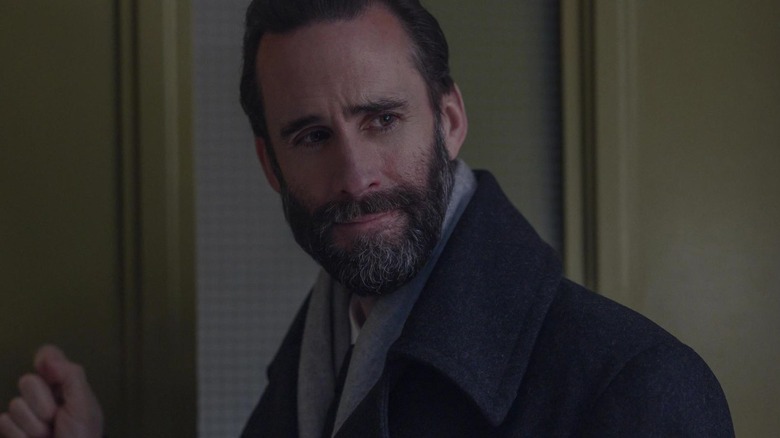 Hulu
Commander Fred Waterford is one of the many bad guys in "The Handmaid's Tale," and the first to receive a well-deserved ending. English actor Joseph Fiennes, who has earned an Emmy nomination for his outstanding performance on the show, bid goodbye to the character after a four-season stint on the Hulu series last year. The consequences of his demise will continue to plague the show's upcoming fifth season, as his wife, Serena (Yvonne Strahovski), endeavors to get revenge, and June (Elisabeth Moss) persists in her attempt to rescue her daughter from the precarious state of Gilead.
As the fate of season 5 rests in the hands of the two incredibly talented acting powerhouses, we can't honestly say we're going to miss Fiennes' character, a dangerous man with way too much power for his own good. While the actor was well-prepared to say goodbye to Fred Waterford, he went over his preparation process for the final few scenes and detailed them in an interview with Vanity Fair. As per the actor, his efforts throughout his four years on the show all came down to one scene.
'The past four years have been preparation'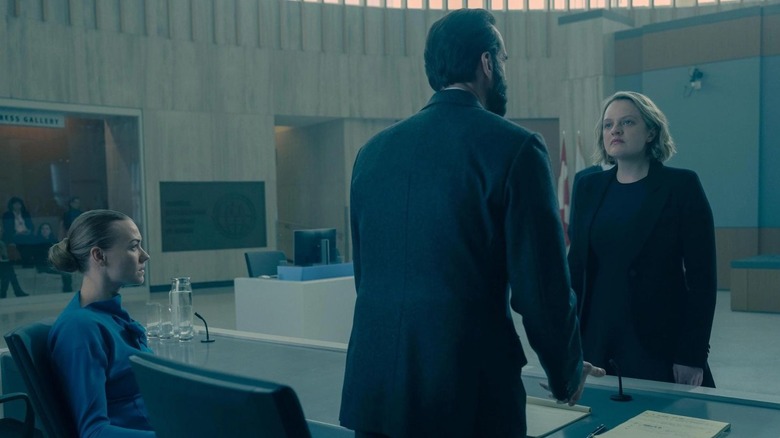 Hulu
Joseph Fiennes had known for a long time that the end for Fred Waterford was coming. The actor revisited his preparation process, revealing he had been working toward the moment for the past four years. Fiennes described how his character hadn't changed — Fred Waterford's a complex personality who often hides behind the "nice guy" front he is quick to put on. In reality, Fred is aware of the horrors he has inflicted upon June (Elisabeth Moss) and the systemic injustices he has played party to. And being in Canada, away from Gilead's ruthless, prying minds, Fred is forced to look at his wrongdoings through the circumstances he finds himself in.
"In many ways, the past four years have been preparation. I didn't really need to psych myself up. What I was really reaching for — and maybe this is too detailed for the answer — but: I don't think Fred has become a different person by any means. But I think he is forced to take a look at himself through the circumstances he finds himself in, which wouldn't necessarily have happened if he was in Gilead."
He feels no remorse, though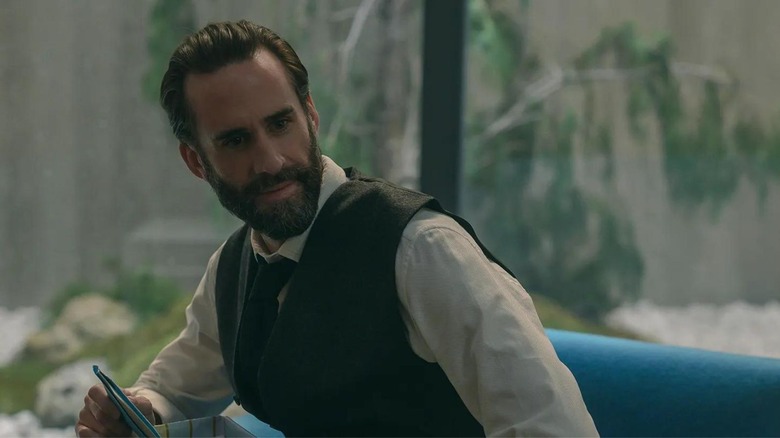 Hulu
After being arrested for being a war criminal (among other things), Fred is held in a Canadian cell. He has a conversation with June, who appears to have visited him to forgive him (albeit reluctantly) and move on with her life. This is where Fred has a real chance — for the first time — to beg for forgiveness from June. But instead, he refuses to see the consequences of his actions. He engages in a conversation that illustrates just how much power he still holds over his former handmaid, even months after she has escaped. Joseph Fiennes continued to Vanity Fair:
"My favorite scene of the whole season is when June visits Fred in his cell. It's a complex one — victim and predator — and I think there's a part where Fred does seek forgiveness, and thinks he gets it. At the same time, we've got to do a scene where June feels justified to do what she ends up doing."
Fiennes shared how there were moments when Fred recognized his brutality, but he's so comfortable in his ideals that he would've inflicted the same horrors again under the right circumstances.
"It was a delicate walk to have someone cognizant of the horror he's inflicted, wanting forgiveness and being remorseful — but at the same time, there was a sense that he would do it again if given the chance."
While Fred is dead at the end of "The Handmaid's Tale" season 4, his demise will continue to plague the show's leading characters in the upcoming season 5. Judging from the trailer, it seems like he won't be the first main character to have had his blood shed.