Nichelle Nichols, Star Trek's Lt. Uhura, Has Died At Age 89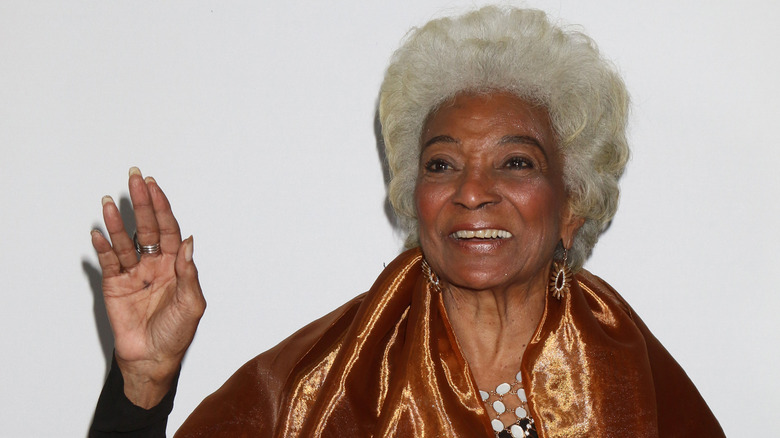 Joe Seer/Shutterstock
The Star Trek family has lost another icon: Nichelle Nichols, who played Nyota Uhura in "Star Trek: The Original Series," has died at the age of 89. Although Nichols had many great accomplishments in her life, including working for NASA and being awarded a star on the Hollywood Walk of Fame, she will always be remembered for playing Lt. Uhura — a groundbreaking role that showed millions of girls that women could do more than be secretaries and sales girls. 
It's difficult to overstate just how influential Uhura was; she was a Black woman in a role that placed her on equal footing with her white, male colleagues. She was charming, she was skilled, and she was a brilliant member of the Enterprise crew. The character appeared on televisions across America during a time when the civil rights movement was working to abolish segregation and the second-wave feminism movement was fighting for equal pay and equal opportunity. Countless women, from Whoopi Goldberg to Mae Jemison, the first Black, female astronaut to go into space, credit Nichols for inspiring them to pursue their dreams. That generation went on to inspire the next, and so on and so forth.    
The news of Nichols' death was posted on the actor's official Facebook page, with a tribute written by her son, Kyle Johnson:
I regret to inform you that a great light in the firmament no longer shines for us as it has for so many years.

Last night, my mother, Nichelle Nichols, succumbed to natural causes and passed away. Her light however, like the ancient galaxies now being seen for the first time, will remain for us and future generations to enjoy, learn from, and draw inspiration.

Hers was a life well lived and as such a model for us all.
Her star will shine bright for years to come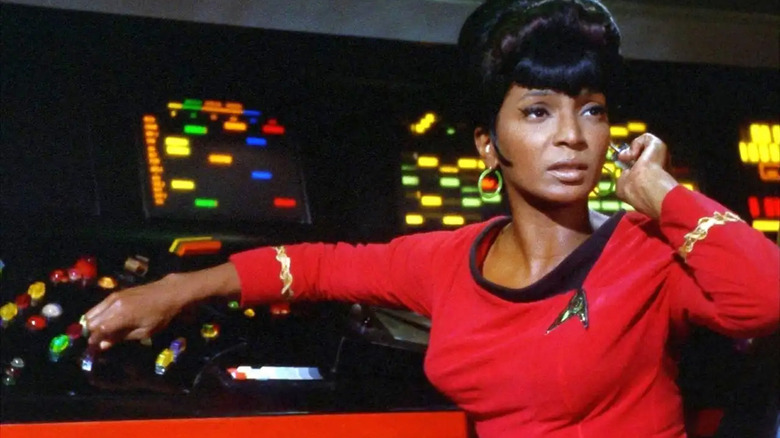 Paramount
In his message on Facebook, Nichols' son cited "natural causes" for her passing. He added that, for the time being, any planned memorial services would not be open to the public:
I, and the rest of our family, would appreciate your patience and forbearance as we grieve her loss until we can recover sufficiently to speak further. Her services will be for family members and the closest of her friends and we request that her and our privacy be respected.
I am sure there are countless fans devastated by the actor's death. Nichelle Nichols remained active, even after suffering a stroke in 2015, until she opted to retire due to a dementia diagnosis in 2018. Although she had stepped out of the limelight over the last few years, her legacy shines as bright as ever: both for her acting and her volunteer work. 
On a personal note, I see this conclusion to Nichols' story as a bittersweet ending for a remarkable woman. My own grandmother recently died of natural causes stemming from dementia, and my reaction to that has been a mixture of relief and sadness. Although I did not know Nichols personally, I feel similarly about her death: I grew up watching her on TV, as well as the women she inspired — would we have had a Captain Janeway without a Lt. Uhura? How many little girls saw themselves in those characters, and went on to pursue careers in male-dominated industries? I'm certain there was a cumulative effect over generations, and the world is a more equal place today than it was 50 years ago because of it.
Her legacy is one that inspires me to go where women haven't gone before.