Avengers: Quantum Encounter Combines Ant-Man And Dinner Theater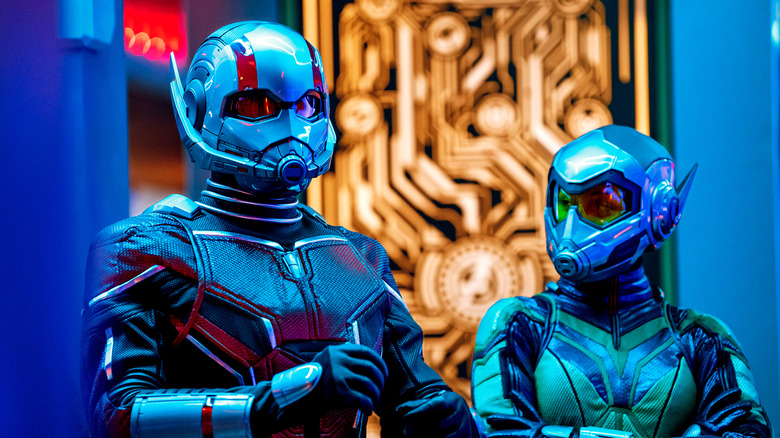 Disney
Ant-Man and the Wasp won't return to the big screen until early next year, when they officially kick off Phase Five of the Marvel Cinematic Universe in "Ant-Man and the Wasp: Quantumania." But Scott Lang and Hope van Dyne's biggest fans can get their fix ahead of the film's release aboard the Disney Wish.
Disney Cruise Line's latest vessel features the company's first Marvel interactive dining experience, dubbed "Worlds of Marvel – Avengers: Quantum Encounter," and it stars Paul Rudd and Evangeline Lilly in their popular, Pym tech-wielding roles. I recently took in the show on the ship's christening cruise and returned with all the details ... and a souvenir Quantum Core sipper cup.
New Pym tech, same Pym problems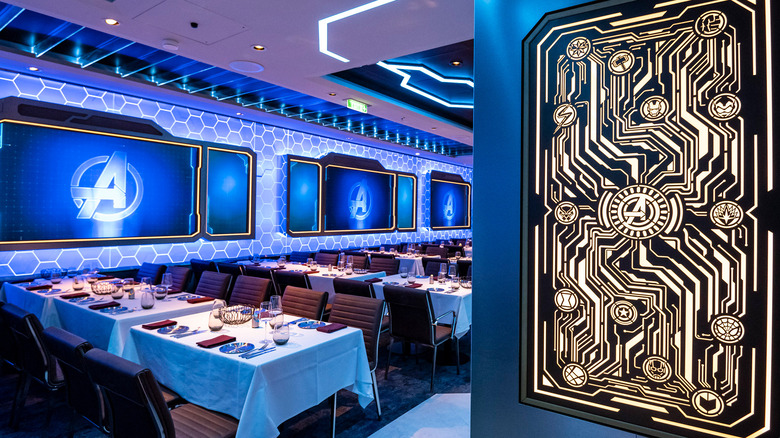 Disney
Quantum Encounter takes place in a massive, multi-room dining space that wouldn't look out of place in Stark Tower. It sports lots of hexagonal designs, slick lighting, metallic surfaces, and over 100 wall-mounted screens. The latter is where most of the show unfolds, as prerecorded story segments (starring Rudd and Lily) are interspersed with a sort of "greatest hits" loop of MCU moments. As the set-up goes, guests have been invited to a special presentation, where Lang and van Dyne are excited to show off a brand new technology called "Quantum Core." The tech is represented by sci-fi-looking cylindrical devices, which sit at the center of each table in the dining room. The canisters are capable of shrinking and growing items remotely, a process guests seemingly assist with — by pressing buttons on the illuminated device — when directed by Lang.
Most of the presentation is played for laughs and smartly leans into the characters' charm and great comedic chemistry. There's plenty of adorable banter between the stars, and some fun sight gags, including a towel swan getting super-sized. Of course, things don't go as planned and one of the experiments soon shrinks the entire cruise ship down to the size of a toy boat. At least, that's how things appear on-screen, as the vessel is shown amusingly dwarfed by a floating seagull.
Lang, with another button-pressing assist from the audience, is able to reverse the flub, but it's not long before things go from bad to much worse. Ultron and his robot minions are after the tech, obviously, and their arrival kicks the show into high gear. The dining room's displays show the baddies infiltrating the ship and generally wreaking havoc. Thankfully, back-up arrives in the form of Captain America, Ms. Marvel, and Captain Marvel, all of whom are reprised by Anthony Mackie, Iman Vellani, and Brie Larson, respectively.
Battle Ultron before dessert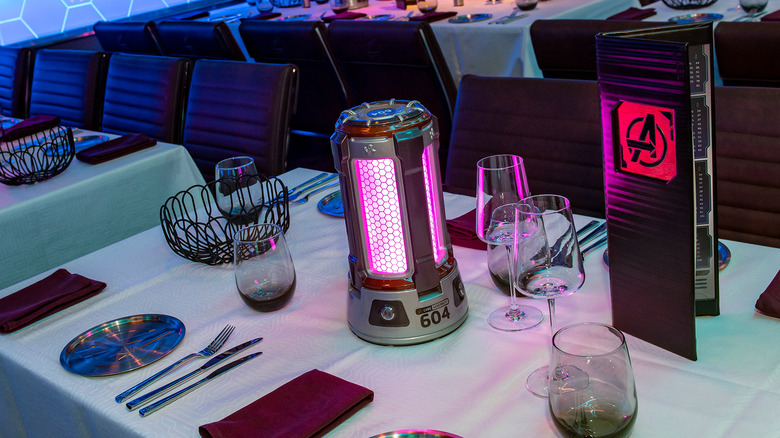 Disney
While the trio helps the Wasp battle flying bots on the ship's upper decks, Ant-Man trades blows with Ultron right outside the restaurant. Lang shrinks down to insect-size, executes a last-ditch plan, and calls on the audience one final time to activate their Quantum Cores. The day is saved and dessert is served.
But before diners can dig into a serving of tiny cookies — another apparent Pym tech mishap — Ant-Man and the Wasp enter the room to show their gratitude. The characters are now masked, so no, Rudd and Lily are not full-time performers on the Disney Wish. Still, it's a cool moment and a great photo op for fans. The finale's also accompanied by prerecorded audio from the actors, so while they're not technically under the suits, the live performers playing them "sound" just like them as they point, wave, and thank guests. 
Quantum Encounter works well because it doesn't so much try to emulate the experience of an MCU film, but rather spins a tale that's very organic to its at-sea audience. It's a bite-sized story that literally unfolds on the Disney Wish, incorporating familiar locations from the ship and containing plenty of "inside" cruise jokes and references. It also requires minimal participation and is more lighthearted than tense, so you can save the day while also enjoying a multi-course meal. Your mileage will vary if you're a Marvel fan who's not particularly fond of Ant-Man and the Wasp. They are the stars of this show, and their signature chemistry is a highlight. Beyond that, just be mindful that you may wind up dropping an extra $20 on that aforementioned souvenir light-up cup if, like me, you're accompanied by a young Marvel fan.