Jon Favreau Tried To Stop The Russo Brothers From Killing Off Tony Stark In Avengers: Endgame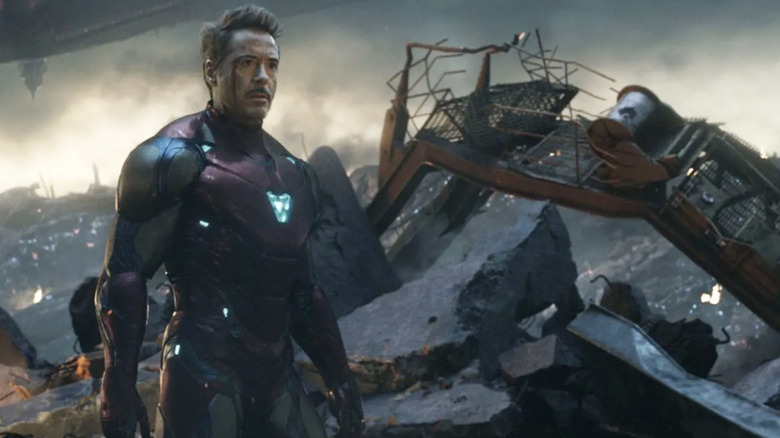 Marvel Studios
"Avengers: Endgame" filled its marketing with the promise of closure. "Part of the journey is the end," Tony Stark would say, in a myriad of TV spots and trailers as the film inched closer to its release date. If the title "Endgame" wasn't enough indication, the fourth Avengers film was meant to conclude a 20-movie arc known as "The Infinity Saga." An epic conclusion for the original six Avengers, "Endgame" saw the end of many journeys; one, in particular, being Robert Downey Jr. as Tony Stark, who helped to kickstart the Marvel Cinematic Universe with 2008's "Iron Man," directed by Jon Favreau.
Tony Stark would meet his end in "Avengers: Endgame," wielding the Infinity Stones and sacrificing his life to stop Thanos. This conclusion was conceived by directors Joe and Anthony Russo and screenwriters Christopher Markus and Stephen McFeely, with all four working on "Avengers: Infinity War" and "Avengers: Endgame." Not everyone behind the scenes was happy with the decision to kill off a character as iconic as Iron Man, with one person in particular against the idea when first reading the script for "Endgame."
The pressure of handling Tony Stark's ending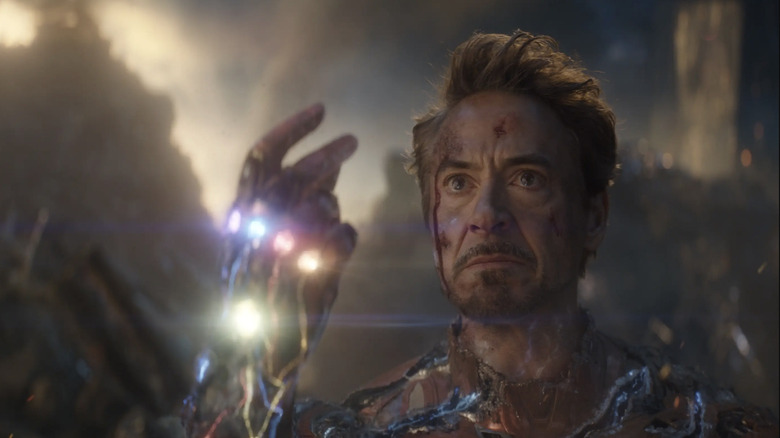 Marvel Studios
While giving notes on scenes from their filmography for Vanity Fair, the Russo Brothers began to recount when Jon Favreau, director of "Iron Man" and actor for Happy Hogan, had initially found out they were going to kill Tony Stark.
Anthony: "Part of the pressure came from Jon Favreau, who called us up after he read the script... and said to us, 'are you really going to kill Iron Man?"

Joe: "He did. Yeah. And I remember pacing on the corner of a stage on the phone with Favreau trying to talk him off a ledge. 'Cause he's like, 'You can't do this. It's gonna devastate people, and you don't want them, you know, walking out of the theater and into traffic.' We did it anyways."
Favreau's hesitancy to agree with this story decision is understandable. Tony Stark had been a character initially brought to life in live-action 10 years before "Endgame" in a collaboration between himself and Downey. 2008's "Iron Man" has always been painted as the humble beginnings of the MCU, a production that figured it out as they went along. At the end of the day, the Russos were the directors of "Endgame," and although they tried to talk down Favreau as a sign of respect for what he created, the directors made their decision.
Reaching a logical conclusion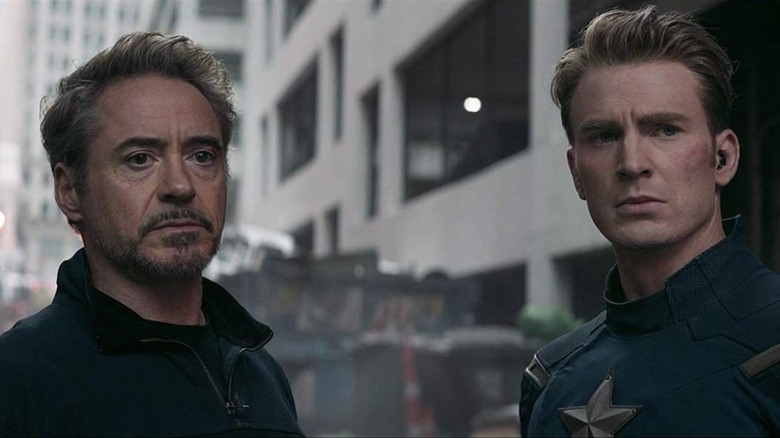 Marvel Studios
The Russo brothers were confident in their decision on Tony Stark's death, seeing it as an arc they earned:
Anthony: "Yeah, we did it anyway. And, and to Jon's credit, he hadn't stepped through the process in the way that we had. So we would've had the same reaction if somebody had dropped that."

Joe: "We felt like we had earned the arc that, you know, would feel redemptive and emotional and uplifting and hopeful, even though he had, he had sacrificed his life.
Favreau may have been part of Tony Stark's journey when directing " Iron Man" 1 and 2, but it was the Russos who had been continuing the narrative since 2016's "Captain America: Civil War," the first film in which Downey worked with the Russo brothers. Phase 3 of the MCU radically transformed the character of Tony Stark from where he was at in "Iron Man 2," which was the last time Favreau directed a MCU film.
Moreover, Favreau's pessimistic outlook on Tony Stark's death differs from the Russo's. Tony's death is an uplifting sacrifice play that subverts what you expect from one of the main Avengers. The dichotomy of Steve Rogers being the one to see a happy ending and Tony giving everything up to save the universe is a beautiful way to cap off the story of the original Avengers. While Favreau may have been initially against the idea, the Russo's work with the character up to that point made his sacrifice both a logical and emotional conclusion.