Star Wars: Hyperspace Lounge Sets A New Standard For Disney's Themed Bars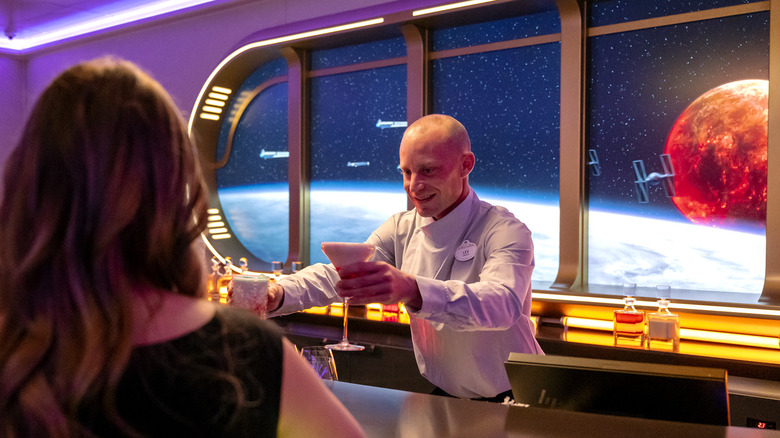 Disney
The new Disney Wish cruise liner recently set sail on its maiden voyage, offering a complete Caribbean cruise experience crossed with plenty of Disney-flavored fun. But if a Bahamian getaway aboard Disney Cruise Line's biggest, most modern ship doesn't sound exotic enough for you, the latest vessel in its fleet also offers voyages to a galaxy far, far away ... sort of.
Once the Wish hits the high seas, guests can head for space via the Star Wars: Hyperspace Lounge, a cozy, libation-serving intergalactic spot catering to fans of the iconic sci-fi saga. Like Oga's Cantina in Walt Disney World's and Disneyland's Galaxy Edge areas, the bar isn't so much "Star Wars"-themed, but rather offers an in-universe experience meant to make visitors feel like they're actually enjoying adult beverages in the cinematic world George Lucas created over 45 years ago.
Unlike Galaxy Edge's take on the concept, however, the Hyperspace Lounge doesn't deliver a bustling, Mos Eisley cantina vibe, but a more sophisticated, high-end atmosphere. Inspired by Dryden Vos' yacht-class First Light ship (of "Solo: A Star Wars Story" infamy), the bar doesn't have a droid DJ, but does feature plenty of gold accents, mood lighting, and intimate nooks where patrons can relax or maybe plot the galaxy's destruction.
While sipping a Star Wars-inspired cocktail or beer (I went with the Mustafarian Black Ale during my visit,) guests can also ogle a variety of collected relics and artifacts. Displayed in museum-like enclosures, these include a musical instrument from Naboo called a hallikset, a sculpted Togruta bust that looks like (but is not) Ahsoka Tano, a creepy looking Hawk-bat, and some lava crystals from Mustafar.
Faster-than-light-speed luxury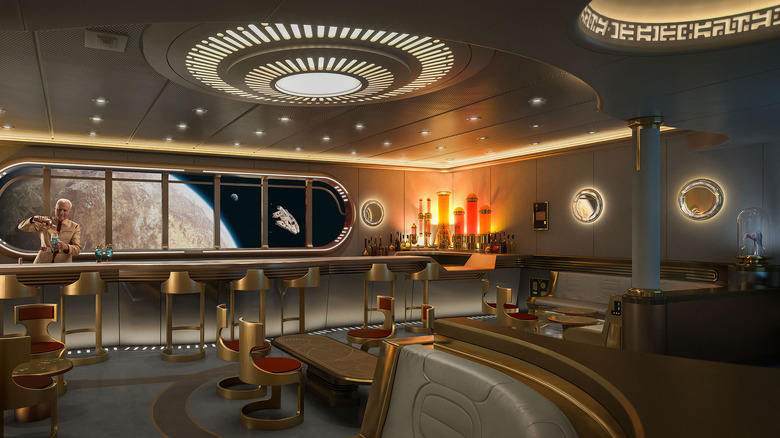 Disney
There's also a slick hologram-like device displaying familiar ships and vehicles from various "Star Wars" eras. The machine's rotation of highlighted crafts is also synced with the lounge's namesake, a stretching display behind the bar mimicking a panoramic view into space. While flying among five familiar locales — Tatooine, Endor, Batuu, Coruscant, and Endor — from different timelines, customers can spy over 40 starships, including X-wings, TIE fighters, Star Destroyers, the Millennium Falcon, and the Mandalorian's Razor Crest. Sharp-eyed patrons can even spot the Starspeeder 3000 from Disney's Star Tours attraction.
While this seven-pane "window" into space offers some breathtaking views — and even the occasional skirmish between Resistance and First Order fighters — the real draw is that hyperspace travel effect. Every few minutes, bright, blue lights stream, at seemingly ludicrous speeds, across the display, while amped audio effects and a subtle vibration fill the lounge, selling a surprisingly realistic sense of hurtling through the stars. It's an incredibly cool, Industrial Light and Magic-fueled trick that momentarily makes you forget there's an entire cruise ship just outside the establishment's entrance.
Speaking of the door leading into the lounge, it opens and closes with that signature Star Wars' "whoosh," another immersive touch fans should appreciate. The Hyperspace Lounge is filled with these sorts of details, like a cluster of glass tubes and containers displaying bubbling concoctions, and a kid-friendly drink topped with a kiwi slice and pineapple leaves fashioned to look like Grogu. On the subject of younger "Star Wars" fans, families can check out the intergalactic watering hole during daytime hours, but it is reserved for adults after dark.
Of course, that's not to say fans of a certain age, who don't drink, can't fully enjoy the experience once the twin suns go down. In fact, you can save yourself some credits by enjoying that Baby Yoda-inspired mocktail (it's actually quite tasty,) while whispering "punch it!" under your breath whenever it's time to make the jump.