Disney Wish Delivers Magic Without Drowning In Pixie Dust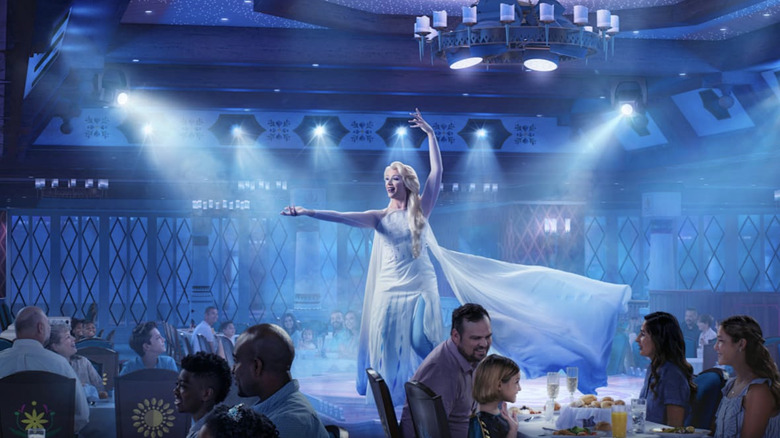 Disney
The Disney Wish is Disney Cruise Line's latest ship in its fleet of five. It's also its biggest and the first to be built in the last decade. As such, its design is the most modern, trading the classic maritime aesthetic of its sister ships for a more contemporary, elegant style.
This updated take also extends to the vessel's many posh amenities. It features all the expected cruise ship comforts and services — and then some — from fine dining and high-end adult lounges to a luxurious spa and infinity pool. All this is to say, the Disney Wish is not the floating theme park you might be expecting.
Disney magic, understated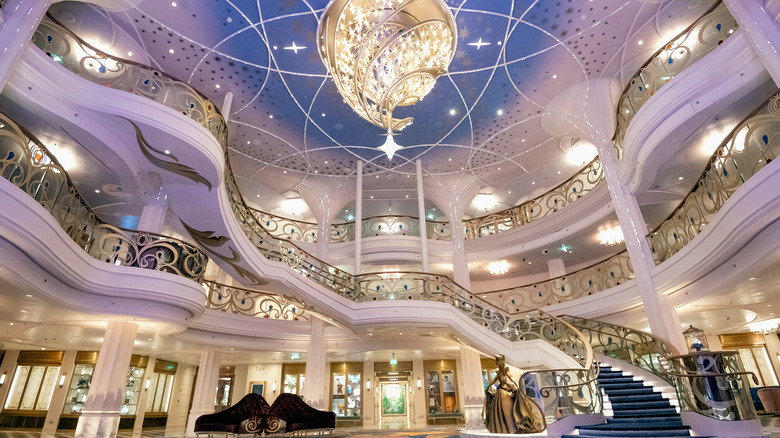 Disney
Of course, while the Wish is more sophisticated than, well, Goofy, it's still absolutely brimming with the signature magic and fan-pleasing experiences Disney park enthusiasts might be craving. It's often just more understated and, in some cases, takes some digging to discover. The ship's "The Princess and the Frog"-themed lounge exemplifies this appealing sense of being immersed in the magic without being photo-bombed by Mickey Mouse. Dubbed "The Bayou," the adult-aimed hangout (kids are welcome during the day) features lush greenery trailing from the ceiling, lily pad light fixtures, and a cool effect mimicking the twinkling of fire flies. There's also live music on its small stage and beignets served at the bar. But if not for Mama Odie's name on the New Orleans-inspired menu and the presence of small statues of Tiana and Naveen — in frog form — you might not immediately realize the cozy social spot's based on a Disney film.
The stunning, "Cinderella"-themed Grand Hall similarly immerses and enchants without hitting you over the head with call-outs to the animated classic. Decorated with fan-servicing, albeit subtle, details, the atrium includes beautiful bronze statues of the princess and Lucifer the cat, a winding, three-story stair case, and an ornately-designed chandelier adorned with a "Wishing Star." There's also plenty of Easter egg-like inclusions, such as mice Gus and Jaq peeking from beneath Cinderella's ballgown. Disney can also crank up the magic in this space if it so chooses, utilizing its performance stage, balcony — where favorite characters can greet fans — and a stretching ceiling embedded with a sparkling light show. 
From Marvel to Mickey Mouse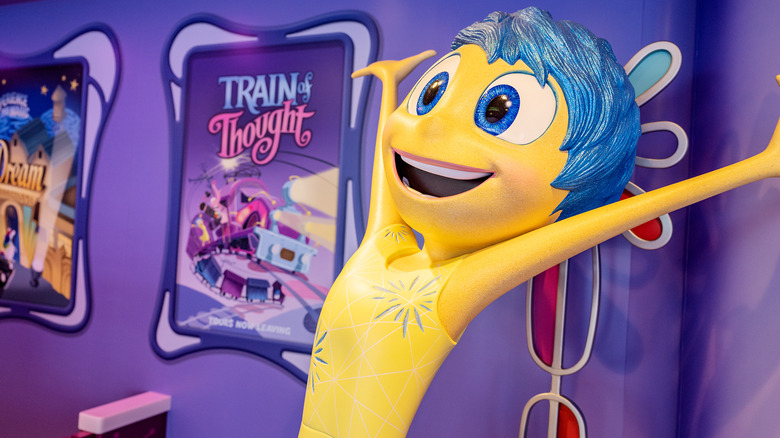 Disney
While the Grand Hall is equipped to offer both fairy tale-tinted elegance and more traditional Disney park-flavored entertainment, the Wish also offers plenty of experiences that lean more into the latter. Marvel fans can become fully immersed in an interactive dinner show featuring "Ant-Man and the Wasp," the faithful "Frozen" following can attend a multi-course meal celebrating Anna and Kristoff's engagement, and anyone who's ever wanted to imbibe in the galaxy far, far away can head to Star Wars: Hyperspace Lounge.
There are also Broadway-style shows, a pair of movie theaters playing first-run Disney releases ("Lightyear" and "Doctor Strange and the Multiverse of Madness" were screened on my christening cruise,) and dedicated kids areas where young Marvel and Star Wars fans can hang with characters and tackle themed activities based on the respective franchises. Those craving some Pixar treats can head to the "Inside Out"-inspired Joyful Sweets shop, while fans of Disney attraction-fueled thrills can brave the AquaMouse, a water coaster based on "The Wonderful World of Mickey Mouse" animated shorts.
Fresh takes on familiar favorites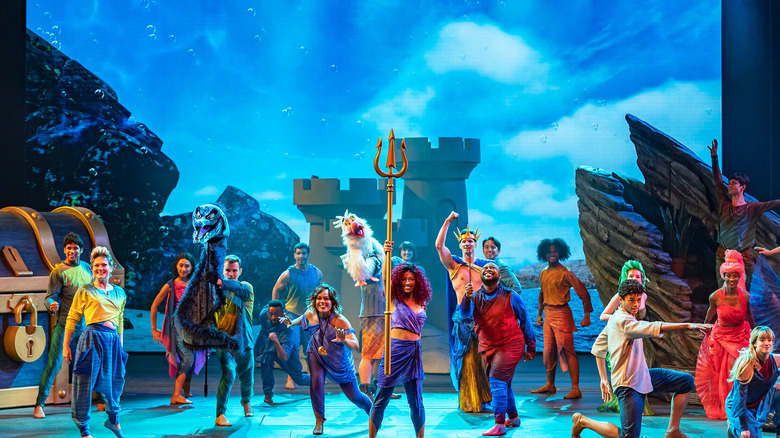 Disney
But even when the Wish sticks closer to Disney's themed-entertainment playbook, it often subverts expectations in welcome ways. Among those aforementioned shows, for example, is a new production of "The Little Mermaid." Disney could have effortlessly delivered a familiar take on Ariel's popular tale, recycling well-known tunes, set-pieces, and characters for easy applause. Based on my brief sneak peek, which included a few segments from the final production, though, this new version is offering a refreshing spin on the classic story, complete with reinterpretations of its script and reworked versions of the film's most popular songs.
The "Frozen"-themed dinner, officially titled Arendelle: A Frozen Dining Adventure, similarly deviates from the expected template. Rather than presenting yet another opportunity to hear Elsa belt out "Let It Go" or laugh at Olaf's familiar shenanigans, the show doesn't lean on the film's "greatest hits." Sure, all the main characters are present and accounted for, but series' side character Oaken is the real star of the Nordic-inspired dinner celebration. The scene-stealing shopkeeper even manages to make the franchise's signature song feel fresh again with a new, hilarious rendition of Idina Menzel's ubiquitous hit.
Whether you're getting a haircut and hitting the hidden whiskey bar at Hook's Barbary, a high-end barbershop based on the "Peter Pan" baddie, or getting a fuller dose of Disney magic during The Pirates of the Caribbean-themed dance party and fireworks show, the Disney Wish seemingly has something for everyone. But more than its bow-to-stern variety of offerings, it's the ship's ability to subvert expectations, scale back the "Disney" without skimping on the fan-service, and wrap it all in high-seas elegance that already has me looking to book my next voyage.