Paul Wesley Couldn't Ask William Shatner For Any Captain Kirk Advice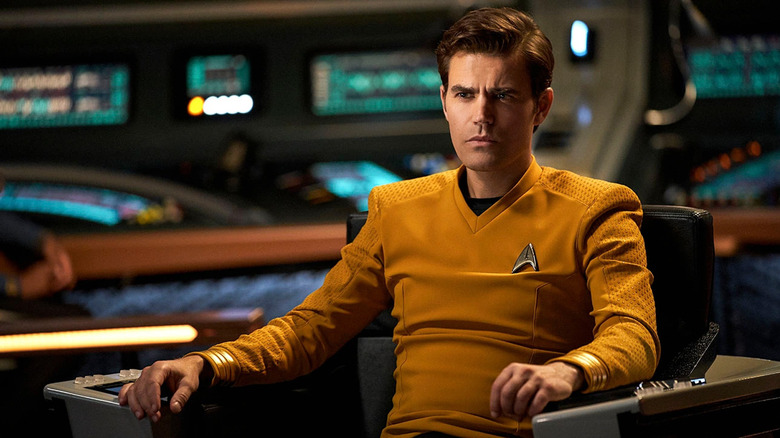 Paramount+
"Star Trek: Strange New Worlds" may boldly go where no man has gone before, but actor Paul Wesley wasn't quite so bold when it came to approaching a certain captain. Wesley plays Captain Kirk — the same Captain Kirk played by original series star William Shatner. But when the 40-year-old actor found himself seated next to the "Star Trek" veteran aboard a recent flight, he found that he simply couldn't start talking shop.
"I was still playing a little bit coy about it," he told Collider. "I was under this sworn secrecy, NDA madness, so I wasn't able to be like, 'Hey, so, as you know, I'm playing Kirk, give me the tips.' I had to kind of tiptoe, and I had to really play it dumb in a way."
Keeping your upcoming role a secret from friends and family is one thing, but keeping it from Captain Kirk himself? That must have taken a lot of restraint. "I wanted so badly to just talk to him about it so openly," he added.
If there's one thing Shatner could have helped him with, it's the role of Captain Kirk. After all, he played the iconic starship captain for almost 30 years, from the original series debut back in 1966 to "Star Trek Generations" in 1994. Unfortunately, it wasn't meant to be, and Wesley instead held onto his secret casting. But there's another good reason not to bother the "Trek" icon.
Not-so-boldly going where Shatner had gone before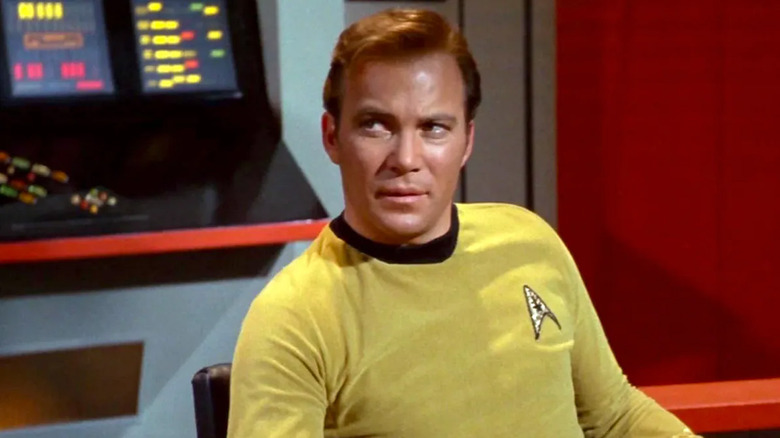 NBC
Although Wesley was about to board the USS Enterprise for the first time, William Shatner had just come back from a real-life space mission: a space flight aboard Jeff Bezos' rocket, New Shepard. Wesley continued to Collider:
"I didn't want to bother him. He literally just got back from space, and he was on this plane, and we happened to be sitting next to each other. I also didn't want to sit there and talk his ear off for four hours."
That's right — at the age of 90, Shatner joined the Blue Origin space flight to become the oldest human in space.
"I'm so filled with emotion about what just happened," said Shatner following the 11-minute flight. "It's extraordinary, extraordinary. It's so much larger than me and life. It hasn't got anything to do with the little green men and the blue orb. It has to do with the enormity and the quickness and the suddenness of life and death. To see the blue color whip by you, and now you're staring into blackness ... everybody in the world needs to do this."
Ultimately, Wesley chose not to quiz Shatner about his time as Kirk, instead having a more casual chat with the man who boldly went there before. Wesley went on:
"We talked a little bit, but it was really less about Kirk. I'm sure he's been talking about Kirk for the last however many years and I think it was really more about just sort of chatting ... "He's a classy guy. When the announcement came out that I was playing Kirk, he tweeted, 'Congratulations.' I just thought that was such a classy move. He didn't have to do that at all."
"Star Trek: Strange New Worlds" season 1 is out now on Paramount+.