Little Demon: Everything We Know So Far About FX's Devilish New Comedy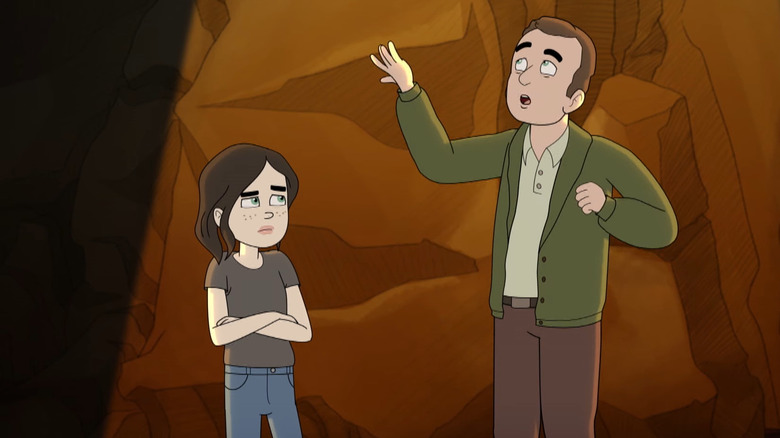 FXX
Here's a show that seems appropriate for the darkest timeline that we seem to be living in. In the new FXX animated series "Little Demon," Satan has impregnated a human woman. She wants them to live a normal life in Delaware, but Satan wants to hang out with his kid. That actually sounds pretty funny, especially once you find out who's doing the voices. Aubrey Plaza, Danny DeVito, Arnold Schwarzenegger, Michael Shannon, and even the legendary Mel Brooks, according to Deadline's reporting from the show's San Diego Comic-Con panel. 
The series comes to us from Darcy Fowler, Seth Kirschner, and Kieran Valla, and will be executive produced by Dan Harmon, who is also working on another animated series, "Krapopolis" as an executive producer. 
"Little Demon" will premiere with two back-to-back episodes airing on Thursday, August 25, 2022, at 10 p.m. ET/PT on FXX. It will stream the next day on Hulu. Let's get into the details of this devil of a show. (Note: The Comic-Con clip below has a warning about adult language and cartoon nudity, in case that matters at your workplace.)
What we think Little Demon will be about
We have a synopsis for "Little Demon" for you:
Thirteen years after being impregnated by the Devil (Danny DeVito), a reluctant mother (Aubrey Plaza) and her Antichrist daughter (Lucy DeVito) attempt to live an ordinary life in Delaware, but are constantly thwarted by monstrous forces, including Satan, who yearns for custody of his daughter's soul.
Danny DeVito, who plays Satan (and whose real-life daughter Lucy DeVito plays his ... um, demon spawn) said at the panel, "I think you're gonna find that in the show Satan is really a good guy. The guy was deprived of his spawn— who is a girl— but of course, I thought it was gonna be a boy. But the future is female."
It will also reteam DeVito with his "Twins" co-star Schwarzenegger. The site reports that DeVito said that he was there when Schwarzenegger recorded his lines. 
"He's wonderful in Little Demon; he's very strong. We're good buddies, we're very, very close. We're thrilled he will be part of our show. Sometimes you gotta lean on your friends to appear in your shows."
In the clip, we find out that Satan couldn't even find his daughter until she got her powers. When she does, he gives her a tour of the metaphysical realm, which hipsters apparently call "the Fringe," which makes him want to punch a hole in his face. I like what I'm hearing.
What we know about the cast and crew of Little Demon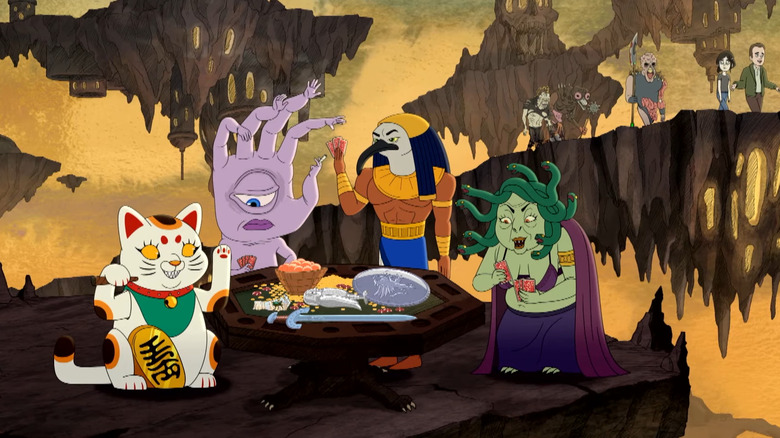 FXX
There are a ton of major names doing voices for this series. I guess everyone wants to work in their pajamas these days. (That seems to be the route answer when any celebrity is asked about doing voiceovers.) Animation was the order of the day for a lot of the pandemic since many voiceover roles could be recorded from home studios and sent in. 
We've got Danny DeVito as Satan, Lucy DeVito as the 13-year-old Antichrist, and Aubrey Plaza as her mom. I would submit that just saying "13-year-old" is the equivalent of saying "Antichrist," but perhaps that's just kids in my neighborhood. As I mentioned, Mel Brooks and Arnold Schwarzenegger will voice roles, and so will William Jackson Harper, Pamela Adlon, Rhea Perlman, Shangela, Dave Bautista, Patrick Wilson, June Diane Raphael, Toks Olagundoye, Lamorne Morris, Sam Richardson, Eugene Cordero, Lennon Parham, and Michael Shannon who will play the recurring role of "Unshaven Man." 
Plaza will executive produce with Fowler, Kirschner, Valla, and Harmon, with Jersey Films 2nd Avenue's Jack, Lucy, and Danny DeVito. Monica Mitchell, Corey Campodonico, and Alex Bulkley from Shadow Machine will also executive produce. Producing is Steve Levy and FX Productions. 
This cast is pretty spectacular, and I'm totally down to hear DeVito voice Satan. This sounds like a lot of fun.