Where You've Seen Dren From Splice Before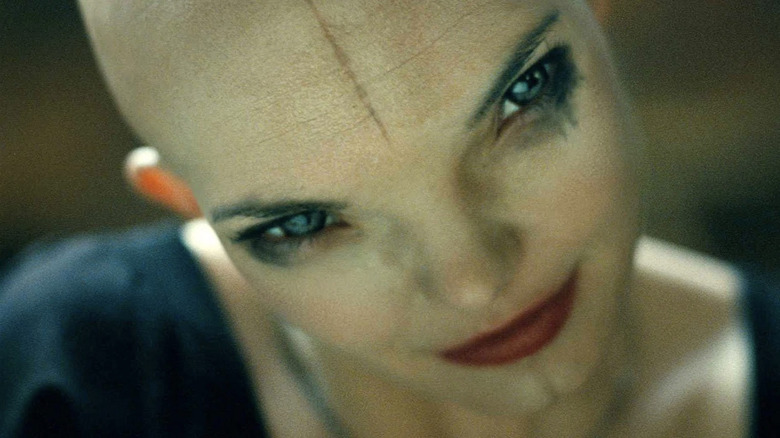 Warner Bros.
Director Vincenzo Natali first appeared on the horror scene in 1997 with the sci-fi horror flick "Cube," a Kafkaesque nightmare where a group of strangers discover they're locked in a labyrinth of cube shaped rooms that pose the risk of bringing them all to a grizzly fate. Over the years, the film has developed quite a cult following, but France has been on board with Vincenzo Natali from the very beginning. The French film distribution company Metropolitan Filmexport invested over a million dollars in marketing, and "Cube" eventually became the second-highest grossing film in France during the summer blockbuster season. Natali continued making low to mid-budget films in the following years, but everything changed in 2009 when Guillermo del Toro, Don Murphy, and Joel Silver signed on to produce his film "Splice."
The film stars Adrien Brody and Sarah Polley as genetic engineers Clive Nicoli and Elsa Kast, who hope to achieve infamy by successfully splicing animal DNA to create hybrid creatures for medical and research purposes. After successfully mating two vermiform creatures named Fred and Ginger, the duo decide to create an animal-human hybrid. Against all odds, the creation is a success, but the female hybrid creature physically ages much faster than human beings, despite having the brain development of a human child. They name the creature "Dren," and as she matures to resemble a beautiful, young woman, her animalistic tendencies rapidly evolve into something dangerous. 
The role of Dren was played by French actor, model, and deejay Delphine Chanéac, and here's how she came to star in "Splice."
How Delphine Chanéac got her start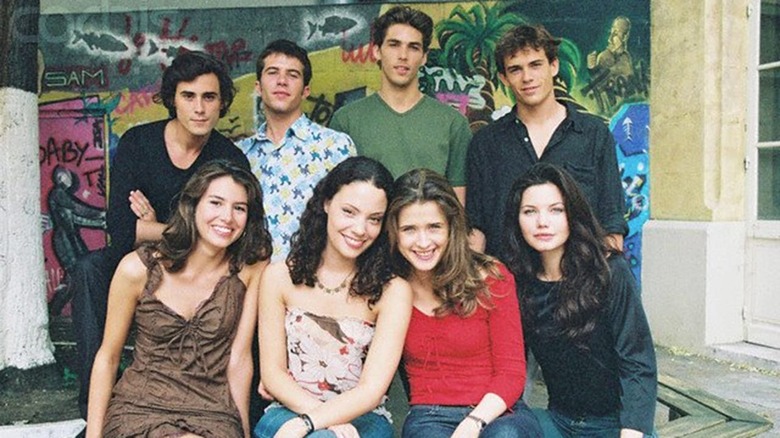 TF1
Delphine Chanéac has been acting professionally on screen since she was a teenager, getting her start in one-off roles on television and frequently appearing in French arthouse films. Her breakthrough role came in 2002, when she played Pauline on the popular teen series, "La Vie Devant Nous." Despite the show only lasting for one season, the series made a massive impact on French teen culture, and could be viewed as the French contemporary to shows like "Dawson's Creek" or even "Skins." Chanéac continued acting, nabbing her first role in an American film by playing the ticket checker in Shawn Levy's 2006 remake of "The Pink Panther." As Inspector Jacques Clouseau of "The Pink Panther" is French and the various versions of the story all take place in France, it was the perfect opportunity to utilize the local French talent, Chanéac included.
The role was small and Chanéac continued working on projects made in France and Germany in the years that followed, but a chance meeting with a casting director put her on the radar of Vincenzo Natali. "I met a girl who was a casting director for another movie and I was in a scene on my back doing a pose and she said I had a lot of muscle," Chanéac said in an interview with Coming Soon. Chanéac was informed of a Canadian director coming to France and looking for someone who could handle a physically demanding role. "I was going to Germany the next day but she told me to go to the audition early," said Chanéac.
How Delphine Chanéac was cast in Splice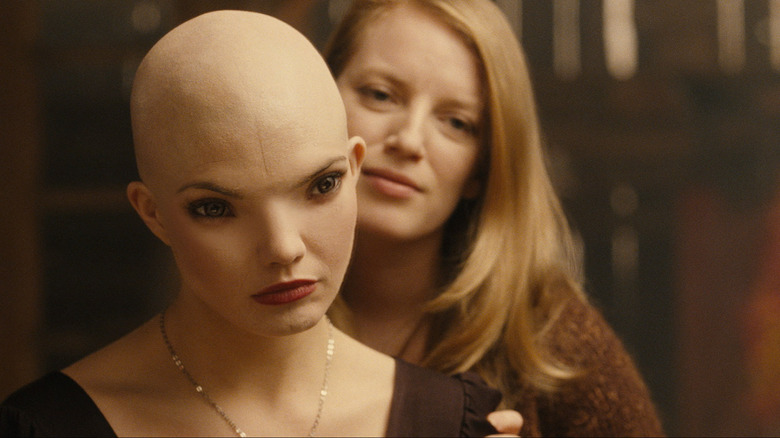 Warner Bros.
Chanéac wisely made the decision to show up to auditions early. "I knew of 'Cube' and fell in love with that movie," she said. "I thought Vincenzo was crazy, but it was an amazing movie." Given the popularity of "Cube" in France, it was Chanéac's French connection to his work that helped motivate her to audition for "Splice." Upon arrival, Natali asked Chanéac to act as if she were a girl mixed with a bird. This sounded weird at first, but Chanéac pushed through and gave it her best birdgirl shot. "I did my thing and when I opened the door to leave there were 20 girls waiting to audition," she said. "Vincenzo told me they auditioned a lot of girls but they kept thinking about me, the first girl." Her need to arrive early to auditions meant that Chanéac set the bar for the rest of those auditioning, and no one else was able to deliver a performance quite like hers.
Chanéac went to Canada to meet with the stunt coordinator for a week in order to experience the intense physicality required of the role before agreeing whether or not to sign on. "My muscles were shaking during that whole time, it was so hard," she said. "Little by little my body became more lean with muscle." Chanéac eventually took on the role, and successfully portrayed the animal-human hybrid Dren with ease. Even audiences and critics that felt neutral to negative about the overall film hailed Chanéac's performance, and her character work underneath monstrous prosthetics.
Where else you can see Delphine Chanéac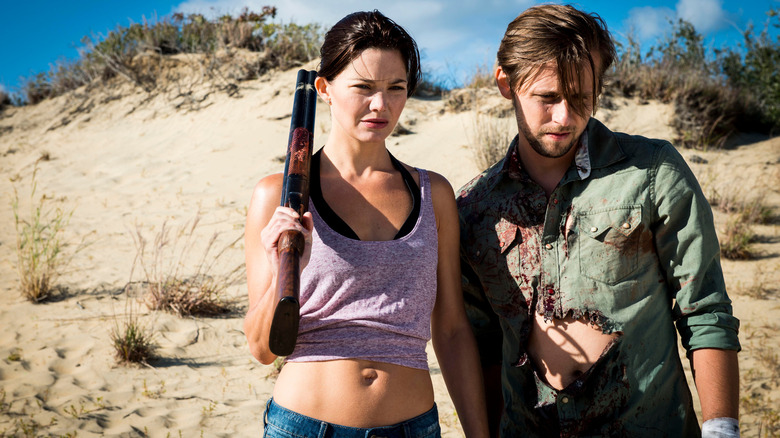 Broadview Features Development
While Chanéac hasn't been seen much in American cinema since "Splice," she certainly hasn't stopped acting. The same year, she starred in the crime thriller "Verso," about a cop that goes through extreme measures to protect his family after his former partner joins the mafia. A few years later, she appeared in the Ellie Kanner action drama "For the Love of Money," alongside James Caan, Paul Sorvino, Edward Furlong, and Jonathan Lipnicki. Chanéac also starred in the spin-off series "Transporter: The Series," based on the film series from Luc Besson and Robert Mark Kamen. For the most part, Chanéac continues to work in France on TV series, short films, and made for TV movies, as well as independently released features like Nicholas Bushman's "Stranger in the Dunes." Dren may be the role most English-speakers know Chanéac from, but it certainly isn't the only role she's played. Natali was wise to cast such a gifted French actress in "Splice," and it's a shame that we haven't seen more from her stateside. Then again, Chanéac certainly doesn't need the validation of the American entertainment industry to continue her already successful acting career.