Clips Round-Up: Control Trailer Locks You In, Sharks Attack In The Reef: Stalked & More! [Exclusive]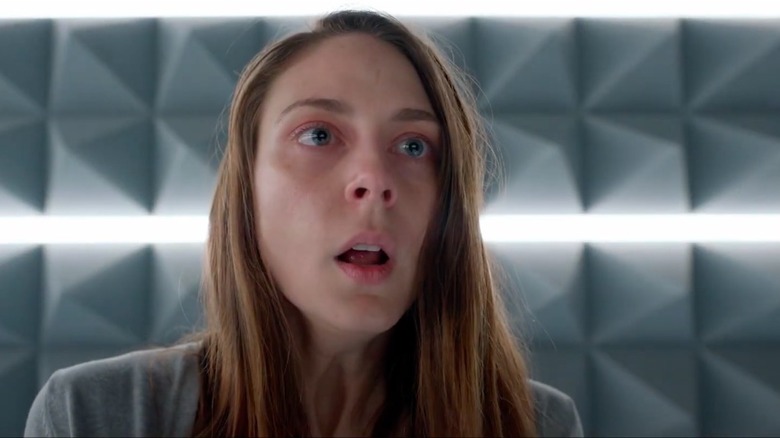 Saban
(Welcome to SlashClips, a series where we bring you exclusive clips from hot new Digital, Blu-ray and theatrical releases you won't see anywhere else!)
In this edition:
Control 
The Reef: Stalked
It Snows All the Time
The Moderator
Hypochondriac
Control Trailer
First up, Saban has provided us with the exclusive trailer for their forthcoming supernatural sci-fi thriller "Control," starring Sara Mitich, George Tchortov, and Evie Loiselle. Directed by James Mark, the film will be available in select theaters on September 23, 2022 as well as on demand and digital starting September 27.
Here is the official synopsis: 
A mother locked inside a stark room is tasked by an unknown voice to complete increasingly difficult challenges if she wants to save her daughter's life. As the frequency and intensity of the tasks threaten to overwhelm her, she must piece together half-remembered chapters of her life before imprisonment if she wants to secure her freedom, rescue her child, and escape this waking nightmare. "Control" is an intensely thrilling sci-fi mystery that will keep you guessing until the final moments.
The Reef: Stalked
Next up is "The Reef: Stalked," the new horror flick from RLJE Films and Shudder that arrives in theaters, on VOD, digital, and streaming on Shudder starring July 29, 2022. The film is directed by Andrew Traucki (who helmed 2010's "The Reef") and stars Teressa Liane, Ann Truong, Saskia Archer, Kate Lister, and Tim Ross.
Here is the official synopsis:
In an effort to heal after witnessing her sister's horrific murder, Nic travels to a tropical resort with her friends for a kayaking and diving adventure. Only hours into their expedition, the women are stalked and then attacked by a great white shark. To survive they will need to band together and Nic will have to overcome her post-traumatic stress, face her fears and slay the monster.
It Snows All the Time
Next we have an exclusive clip from "It Snows All the Time," the upcoming Gravitas Ventures film starring Brett Cullen ("Joker") and Taryn Manning ("Orange is the New Black") that is inspired by a true story of a family dealing with an Alzheimer's diagnosis. The film opens in select theaters and on VOD July 29, 2022.
Here is the official synopsis:
Paul did everything he could to keep his mind healthy, so his Dementia diagnosis at age 58 was the last thing anyone expected. As his disease progresses, his family comes together to decide what to do. Confusion, commitment, love, and one last fishing trip bring him closer to his wife and children.
The Moderator
Following that we have an exclusive clip from Saban/Paramount's action film "The Moderator," starring Gary Dourdan ("CSI"), Robert Knepper ("Prison Break"), and Irma Lake. The movie will be available in select theaters, on demand, and digital July 29, 2022. 
Here is the official synopsis:
When the senseless murder of her friends is left unsolved, a covert assassin decides to take justice into her own hands. Discovering the crimes were just the latest in a long streak of sadistic murders by an underground crime syndicate, she will take no prisoners in her blood-soaked mission for revenge as she hunts them down, one target at a time.
Hypochondriac
Finally we have an exclusive clip from the LGBTQ+-themed horror film "Hypochondriac," starring Zach Villa, Devon Graye, Paget Brewster, Marlene Forte, Madeline Zima, Yumarie Morales, and Chris Doubek. The film opens in theaters on July 29, 2022 and on digital and on demand August 4, 2022.
Here is the official synopsis:
Will, a young Hispanic gay potter, is one gregarious guy. His boss is terrible, but he's got a great boyfriend and a great job. Unfortunately, behind that veneer is a dark past of violence and mental illness that he is desperate to keep hidden. When his bipolar mother comes out of the woodwork after ten years of silence, he begins exhibiting unexplainable symptoms and spirals into an obsession, determined to solve this mystery of his own.