Paul Sorvino's Short Law & Order Stint Still Left A Mark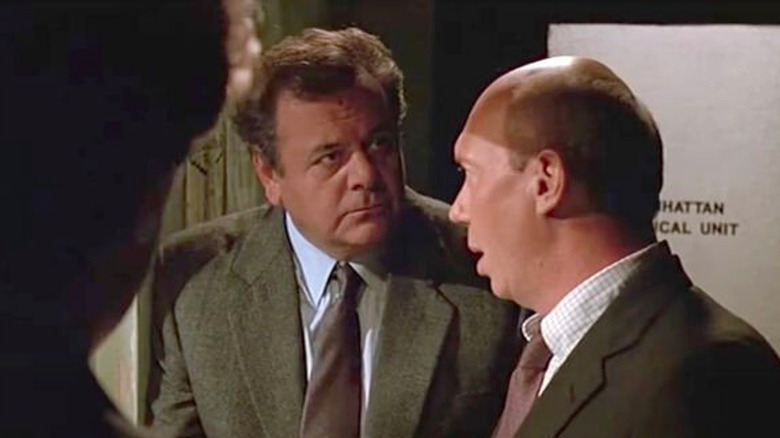 NBC
In the many, many years it's been on the air, NBC's "Law & Order" has seen many talented actors come and go — and although the late, great Paul Sorvino was only on the crime procedural for a single season, he ranks among the best. 
Sadly, after living a long and full life, Sorvino died at the age of 83 on July 25, 2022. Sorvino, who is perhaps best known for his iconic performance as Paulie Cicero in "Goodfellas," was a commanding presence on the screen. He typically played confident, aggressive men — cops, gang bosses, thugs, etc. — but in life, he was quite the opposite. As he once said in an interview with "Orlando Weekly":
"Most people think I'm either a gangster or a cop or something, but the reality is I'm a sculptor, a painter, a best-selling author, many, many things – a poet, an opera singer, but none of them is gangster, but, you know, obviously I sort of have a knack for playing these things."
He certainly did "have a knack" (although he did play other roles, like Dr. Kissinger in "Nixon"). Perhaps that is why, despite only appearing in seasons 2 and 3, he's still remembered as a core part of early "Law & Order." He played Sergeant Phil Cerreta, the new partner assigned to the young hot shot Junior Detective Mike Logan (Chris Noth) following the death of his former partner, Max Greevey (George Dzundza). Like Greevey, Cerreta was a veteran on the force, is Catholic, and served as a mentor to Logan (both are even shot during the series). But even with Cerreta filling the same archetype as Greevey, Sorvino brought a very different energy to the series than Dzundza did, changing the dynamic of the series going forward.
The man could command a scene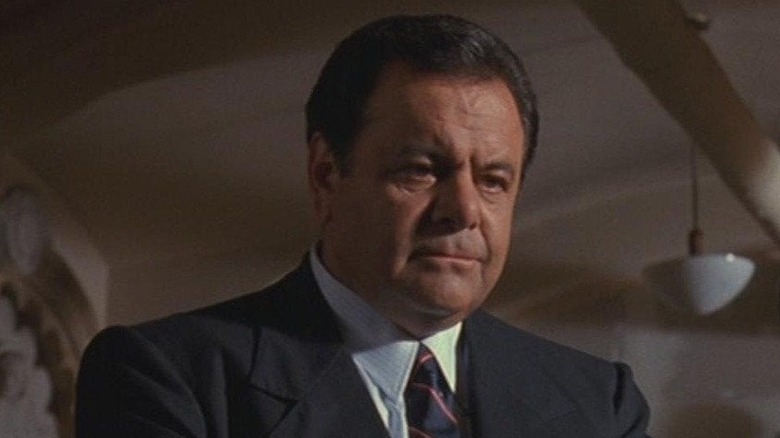 NBC
George Dzundza is in no way a bad actor, and some of his episodes in "Law & Order" season 1 rank among the best of the series, thanks to their moral ambiguity. Greevey was one of the show's "good guys," but he was also often conservative, judgemental, and biased. At times, his job duties conflicted with his religious background, like in "Life-Choice" when he and Logan are investigating the bombing of an abortion clinic (which provides a medical service he is opposed to). Greevey wasn't vilified in these scenarios, but he was the voice of an old-fashioned and problematic mindset. 
The issue was: Mike Logan was also prone to making rash judgments and coming across as, to put it lightly, kind of a jerk. This worked for Noth's character since he was young and inexperienced, and him making these kind of mistakes fits with the narrative of him learning on the job. So rather than having two leads share this flaw, Logan needed to be balanced out by a partner who was more mature and wise. Sorvino replacing Dzundza was a stroke of genius because it took what worked about Greevey and added some much-needed soft-spoken authority.   
What makes Cerreta great is his gentle strength and quiet confidence. When he speaks, he commands attention — all without raising his voice. The senior officer could be intimidating in one scene and warmly compassionate in the next; the latter was especially true when talking to female victims of assault — there was a kindness in his voice that was firm but empathetic. Cerreta threaded that needle arguably better than any other detective on "Law & Order" — Lennie Briscoe (Jerry Orbach, who died in 2004) being a close second, but even he was oftentimes prickly with victims. 
Sorvino was one of the greats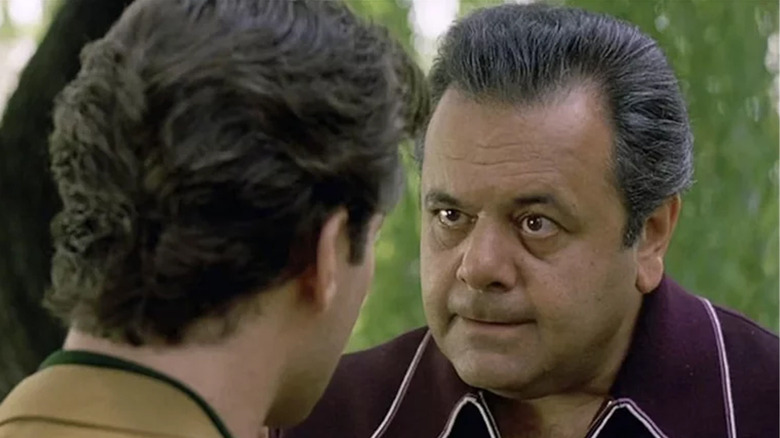 Warner Bros.
Although Paul Sorvino left "Law & Order" to pursue his opera career (as stated in his interview for Orlando Weekly), he undoubtedly played a key role in perfecting the show's formula. Long-time fans of the series typically view Mike Logan and Lennie Briscoe as the dream-team pairing, and there's good reason for that. Orbach played a likable, believable New York cop. Still, I can't help but wonder what could have been; I think if Sorvino had continued on in the series longer, he would be higher on the average fan's "best detectives" list. We saw glimmers of him being a great officer, but not very many moments of character growth. In short, I think Sorvino brought a lot to a character that wasn't written particularly well — and given better material, he could have delivered an Emmy-worthy performance.   
Appearing in numerous brilliant TV shows and movies, Paul Sorvino was an accomplished character actor and a master of his craft. His role in "Goodfellas" is iconic for a reason; even when sharing scenes with major stars like Ray Liotta and Robert De Niro, Sorvino held his own, enriching his scenes with that personal blend of simmering ferocity. He had the eyes of a true film star — there's an intensity there that's hard to look away from. Even watching these old episodes of "Law & Order," I often found my eyes drawn to him in the background. Somehow, Sorvino made standing quietly a compelling performance.
In the wake of an actor's death, it's easy to feel despondent (I am still sore that Sorvino never collaborated with "The Sopranos" creator David Chase). I think in this case, though, we can look back with joy. I'm thankful that Sorvino helped steer "Law & Order" in the right direction. I'm glad that he was cast in "Goodfellas" — I literally can't think of another actor who could have pulled off the old-school, patriarchal Paulie Cicero as well as he did. And I'm thrilled to be rediscovering roles that I had forgotten he'd done (like "The Stuff" — one of my favorite B-movies). Sorvino left an indelible mark on Hollywood, and he did so by being true to himself — an emblem of living life to the fullest and being true to one's self.