Tár Trailer: Cate Blanchett Composes Music To Make Us Mad With Power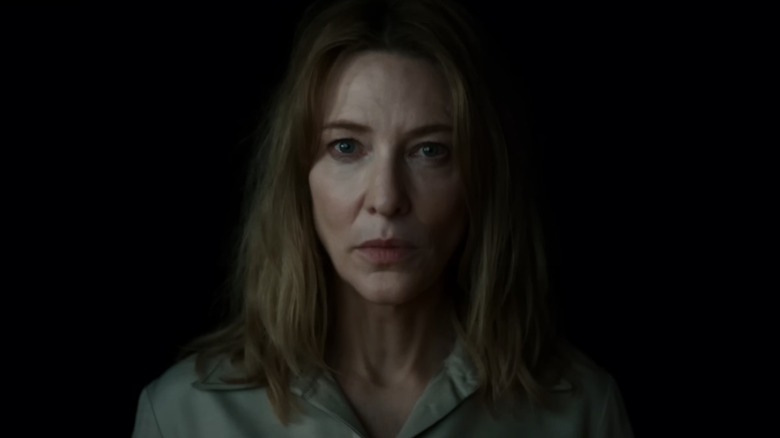 Focus Features
Focus Features has released a very enigmatic trailer for the upcoming film "TÁR," starring Cate Blanchett. It's directed by Todd Field, who is back a decade-and-a-half after his Academy Award-nominated films "Little Children" and "In the Bedroom." There isn't a ton of information yet, but the simple trailer has me intrigued.
"TÁR" is the story of Lydia Tár, a fictional woman who, according to the short synopsis, is "widely considered one of the greatest living composer/conductors and first-ever female chief conductor of a major German orchestra." It's not a lot to go on, and the trailer is what was shown at CinemaCon back in April. 
It's a very long, slow-motion shot of Blanchett blowing smoke out of her mouth, then a cut to her wildly conducting an orchestra at regular speed. There is a voice over though, that tells us that the global pandemic "has had an enormous impact on our world, our culture, and our very belief systems." It says that there are other plagues that visit us though, and it makes me wonder exactly what sort of person Lydia Tár is. The next part of the voice over says:
"And whom the gods would destroy, they first make mad with power. The mills of God grind slowly and exceedingly small. The bee fertilizes the flower it robs. Power, true power, requires camouflage. And if you want to don this mask, dance this masque, you must sublimate yourself and your identity. You must, in fact, stand in front of the public and God, and obliterate yourself."
'There are other plagues'
Oof, that's pretty intense. Considering the power that Blanchett brings to the screen, I'm now dying to know more. Is Lydia Tár mad with power? Will it be a slow burn with her rise to great heights, and then crashing? Or is she going to slowly and silently plot her way past the gatekeepers to ultimately take over? 
We know the music is going to be amazing; Icelandic composer Hildur Guðnadóttir, whose score for "Joker" won the Academy Award, will be responsible for the soundtrack. Field has also written the script and will produce. According to Deadline, the film will follow Tár "during her daily life in Berlin, leading up to the recording of her latest symphony."
The film also stars Nina Hoss, Noémie Merlant, Mark Strong, Julian Glover, Allan Corduner, Sophie Kauer, and Sylvia Flote. Other producers include Alexandra Milchan and Scott Lambert. Variety says the film is likely to debut at the Venice Film Festival, which takes place between August 31 through September 10, 2022.
"TÁR" will release in the U.S. on October 7, 2022.