Atlanta Season 4 Teaser Reveals Release Date For The Final Season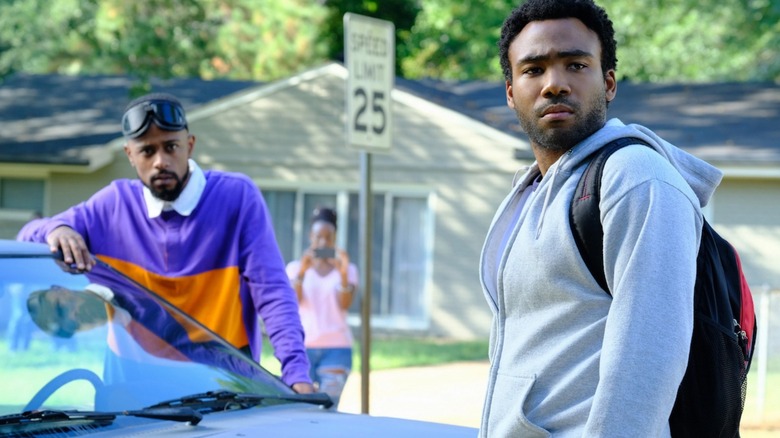 FX
The end of "Atlanta" will arrive sooner than fans may have thought: The FX series has just dropped the first teaser for its fourth and final season, and it reveals that the show's last batch of episodes is due to begin airing in September. It's also one of the ever-evolving series' most surreal promos to date, and is jam-packed with callbacks to major "Atlanta" moments and lesser-known references. As usual with the surprising series, there's not much indication of where the show might be going here, but there's a lot to take in. You can watch the teaser below.
An ultra-meta promo
In the promo, Donald Glover's Earn and Zazie Beetz's Van step outside of a convenience store — but it's not just any late-night stop: It's the place where the series first started, where Alfred (Brian Tyree Henry) shot someone in the opening scene of the pilot episode, "The Big Bang." The pair look on in confusion as circles fall from the sky. Oh, wait, those aren't circles, but Coconut Crunch-O's, the breakfast cereal featured in a super-dark fake commercial during the show's controversial episode "B.A.N." A second later, a full box of the cereal floats by with the mascot clearly visible.
The rest of the one-minute teaser trailer overflows with references to "Atlanta" episodes: There's the alligator from "Alligator Man," the now-hatched ostrich egg from "Teddy Perkins," and a tree that grows, blooms, and gets chopped down by a chainsaw, a nod to an episode from the most recent season. Darius (LaKeith Stanfield) shows up in an invisible car, a throwback to one of the show's first hilariously surreal moments, in season 1's "The Club."
The Easter eggs just keep coming, but the landscape of the scene also grows strange, as if it's a wavy artificial backdrop rather than a real place. All four members of the main cast assemble, but when Paper Boi (Henry) tries to drop a microphone, the floor drops out from under them and it's the characters who fall while the mic sits hovering in the air. It's a short but loaded clip that boils down the wild history of "Atlanta" into one sped-up and disorienting minute.
Hopefully, this familiar setting means that "Atlanta" is poised to return to the land of its title for its last season, after an uneven third season took place mostly in Europe. The promo doesn't feature a detailed release date, but ends by revealing that the fourth season will debut in September on FX and Hulu.