Marvel's Moon Girl And Devil Dinosaur: 7 Things We Learned From The Comic-Con Panel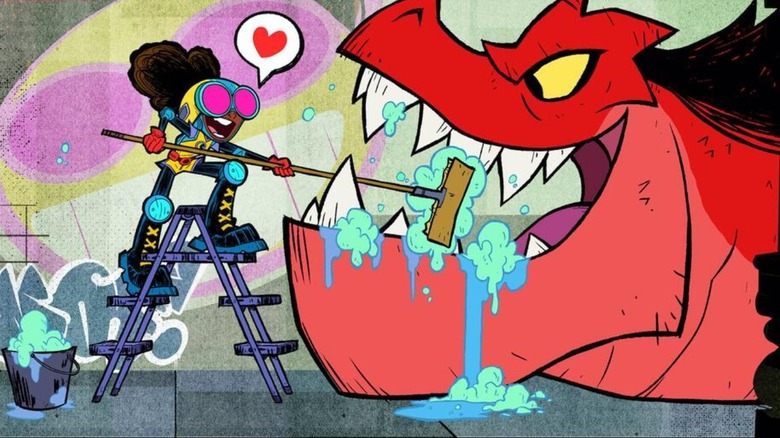 Marvel
Marvel is more than just the live-action movies that make up the Marvel Cinematic Universe. More than that, it extends beyond even the live-action shows that have increasingly become a larger part of the equation on Disney+. Animation is becoming a bigger part of the whole for the House of Ideas, and to that end, we are getting the animated series "Moon Girl and Devil Dinosaur" next year, which is based on the acclaimed Marvel Comics series of the same name. 
Ahead of the show's launch next year, the creators and actors descended upon San Diego Comic-Con 2022 to pull back the curtain and tell us all about the forthcoming adventures of Lunella Lafayette and her 10-ton dino pal, Devil Dinosaur. We were on hand at the panel and are here to deliver everything we learned about the show to you, dear reader. Let's dig in.
It all happened because of Laurence Fishburne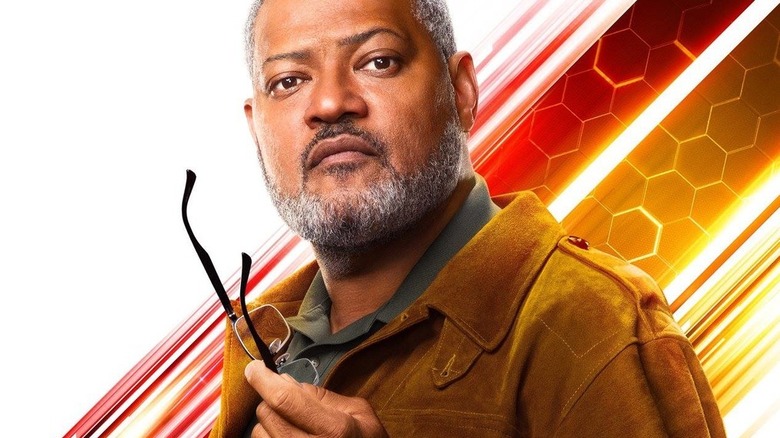 Marvel Studios
Laurence Fishburne is no stranger to the MCU, having appeared as a major character in "Ant-Man and the Wasp." But, according to "Moon Girl and Devil Dinosaur" executive producer Steve Loter, he's also an "avid comic book fan," and the notion of turning this comic into a show started with Fishburne in a comic book store. He fell in love with the book and set about trying to turn the book into a show. Luckily, in getting in touch with Disney about it, they were receptive to the idea, as was Marvel. 
Fishburne, for his part, is an executive producer on the project and will also be recurring as the voice of The Beyonder.
It will reflect a real, artsy version of New York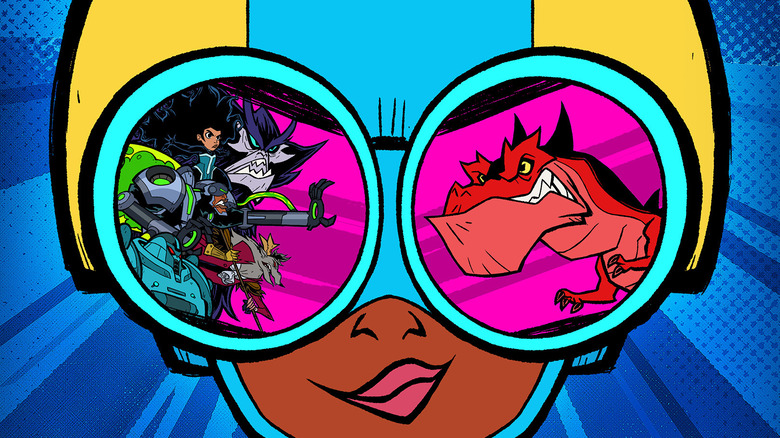 Marvel
Supervising Producer Rodney Clouden touched on how they came up with the look of the show, which is very unique, colorful, and, perhaps for lack of a better term, comic book-y. But Clouden says the idea was to capture a more authentic version of New York City within the series. "New York is gritty, it's not shiny or slick," he said. As far as specifics, they focused a lot on pop art, as well as graffiti and street art to inspire the look of the adaptation.
The show is incredibly diverse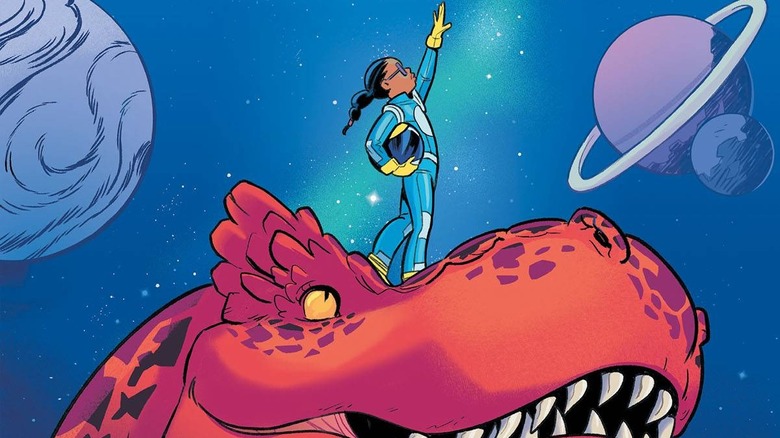 Marvel Comics
Producer Pilar Flynn spoke a great deal at the panel about the lengths the team went to in order to try and showcase authentic, well-rounded diversity in the show. That starts with the title character, voiced by Diamond White, who is the youngest member of a Black family living in NYC. As Flynn tells it, they set out to recruit a team that would feel connected to the material and characters. "We are a cast and crew made up of mostly persons of color," Flynn says, as well as women and members of the LGBTQ community. "When you see the show, you will be able to feel that connection and passion," Flynn added.
But the diversity reflected in the show extends well beyond just the producers and cast. "We left it open to everybody and anybody who wanted to weigh in," Flynn noted. To that point, Clouden pointed out that members of the crew were even able to contribute to help make more authentic changes. White, for her part, added that they would even ask her, "How does this make you feel?" To top it all off, they brought in consultants and even had a spreadsheet to keep track of what types of characters they already had on screen and how often. 
The main takeaway: they took this element of the show very seriously.
The cast will include tons of big guest stars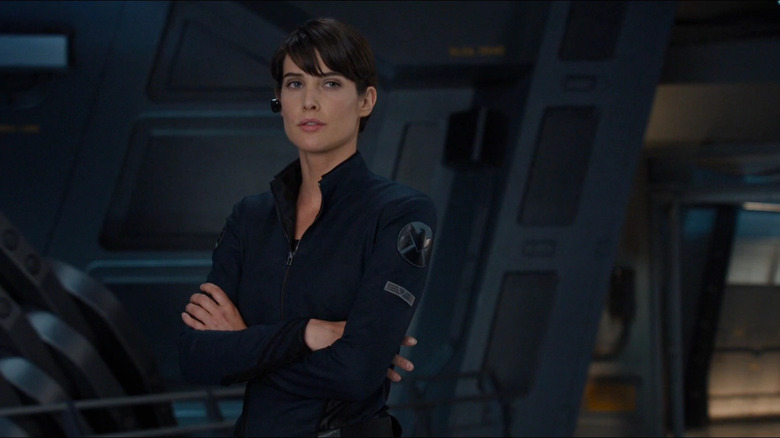 Marvel Studios
While the main cast is indeed stacked, the roster of guest stars revealed at the panel is truly impressive. To start, Alison Brie ("GLOW"), Andy Cohen ("Watch What Happens Live"), Daveed Diggs ("Hamilton"), Maya Hawke ("Stranger Things"), Jennifer Hudson ("Respect"), Method Man ("Power Book II: Ghost"), Cobie Smulders ("How I Met Your Mother") and Wesley Snipes ("Blade") serve as some of the major guest stars. They also have Omid Abtahi ("The Mandalorian"), Utkarsh Ambudkar ("Ghosts"), Michael Cimino ("Love, Victor"), Indya Moore ("Pose"), and Craig Robinson ("The Office") set to play recurring characters on the show. 
But that's not all! Gideon Adlon ("Pacific Rim: The Black"), Pamela Adlon ("Better Things"), Anna Akana ("Youth & Consequences"), Ian Alexander ("The OA"), May Calamawy ("Moon Knight"), Wilson Cruz ("Star Trek: Discovery"), Asia Kate Dillon ("Billions"), Luis Guzmán ("How to Make It in America"), Josh Keaton ("Marvel's Spider-Man"), June Diane Raphael ("Grace and Frankie"), Paul Scheer ("The League"), Tajinae Turner ("Meet the Voxels"), and even astronaut Mae Jemison will voice characters in the show as well. That's one heck of a cast.
Devil Dinosaur is more than just roars and growls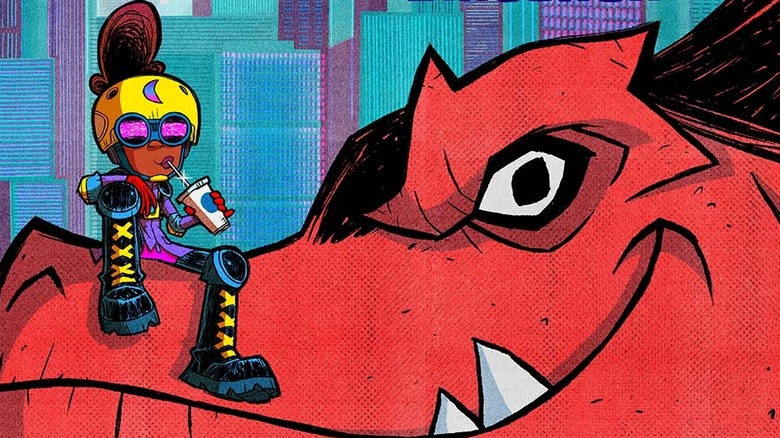 Marvel
Legendary voice actor Fred Tatasciore is the one tasked with bringing Devil Dinosaur, a 10-ton prehistoric beast who appears through a portal of some kind, to life in the show. 
Now, even though Tatasciore is going to use some of his more beastly talents to give the character life, he didn't want it to be just grunts and roars. Loter explained that he actually requested that there be dialogue written for Devil Dinosaur, despite the fact that he is just making noises. "We start with the sentence and then get down to its bare essence," Tatasciore said. So, while this could have probably been an easier gig, Tatasciore brought much more to the table, it seems.
Music is very important to the show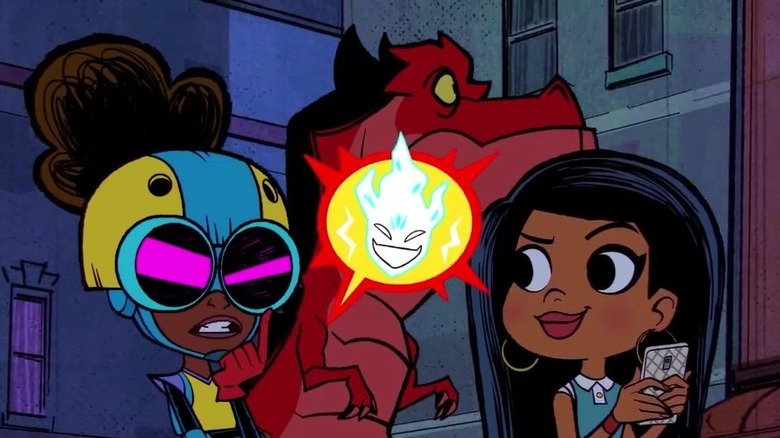 Marvel
Music can sometimes just be a bit of background to help set a mood or what have you in a TV show or movie, but not in "Moon Girl and Devil Dinosaur." Raphael Saadiq, of Tony! Toni! Tone! fame is working as the music producer for the series.
Loter said that "music plays a very large part in the show" and he went out of his way to try and get Saadiq involved — so much so that he waited in line at one of the artist's signings and quickly pitched him the show while waiting for an autograph. "Meet your heroes, and sometimes they'll do music on your show," he quipped. 
Beyond that, Moon Girl will actually make use of music personally in the series, playing specific songs during her battles to help set the mood.
The show will be complementary to the MCU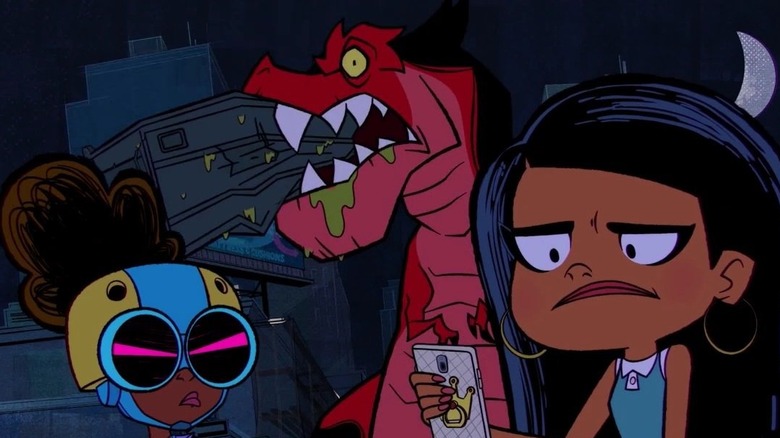 Marvel
Now for the big question: does the show connect to the MCU, and if so, how? 
Well, according to Loter, the show will be "complementary to the MCU." He and the other producers added that MCU fans will have plenty of Easter eggs and other goodies to be on the lookout for. They were extremely candid about saying which familiar heroes or villains (if any) will appear in the series. 
Flynn did say, though, that Marvel Studios served as excellent partners and were incredibly supportive of the project the whole way. Loter also added that one of the bigger things for them was to be able to explore characters that aren't currently being considered for the MCU. Specifically, he said that "recognizable villain characters" who you won't see in the MCU for the foreseeable future will appear in the series. As for who? Our lips were sealed. Loter also stated that Moon Knight was "on a wishlist."
"Moon Girl and Devil Dinosaur" is set to premiere on Disney Channel and Disney+ sometime in 2023.