Dungeons & Dragons Has A Steven Spielberg Energy To It, According To Chris Pine [Comic-Con]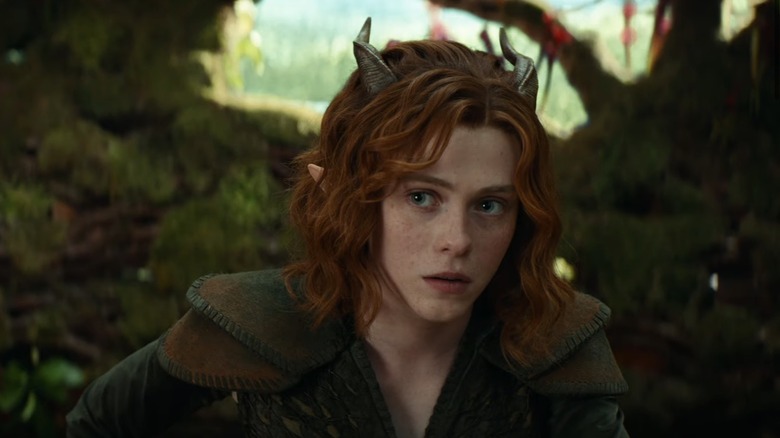 Paramount Pictures
Comic-Con is happening right now in San Diego, and /Film has a team on the ground, ready to bring you every juicy detail from the event. Our own Jacob Hall was in Hall H for the "Dungeons & Dragons: Honor Among Thieves" panel, where he learned all about the film based on the roleplaying game. Not only did they release a trailer, but they had some of the cast on the stage, talking about what we're going to see in the film. 
The cast includes some big names, including Chris Pine, Michelle Rodriguez, Regé-Jean Page, Justice Smith, and Hugh Grant. Pine told the crowd that the film shot in Northern Ireland during the UK lockdown for Covid, so they had nothing to do but work. 
That didn't make it dour, however. It helped them bond. He said, " ... by virtue of that kind of containment, we were our own self-sufficient band of misfits, and set chemistry is a difficult thing ... I think we all got along well together and passed the time." 
When it came to the story, Pine referenced a big filmmaker to give us an idea of the feel of "Dungeons & Dragons: Honor Among Thieves." It was none other than film legend Steven Spielberg. 
'Spielbergian energy'
Pine said of the energy of the film:
"There's a — I guess I would kind of call it — it's like a Spielbergian energy to it. It's the films that I grew up with in the '80s. It just feels open, light, and buoyant, and your job is to — like good improv, just kind of keep it alive — keep the energy and music of the scene alive ... And I like that kind of filmmaking, and it makes for a nice energy on set, because you're not trying to fix all of the world's woes, the deep sadness or whatever. There's a certain pathos and deep and great emotion in this, but I would say I guess the word I think of is kind of buoyant, keeping it fun — lively, popping energy to it that I think we all glommed onto."
Between this statement from Pine, Hugh Grant saying it "had a real Monty Python vibe," and the trailer itself, you really get a sense of what we're going to see. 
The Paramount Pictures film also stars Sophia Lillis, Chloe Coleman, and Daisy Head. It's directed by Jonathan Goldstein & Jon Francis Daley, who wrote the screenplay with Michael Gilio, from a story by Chris McKay and Gilio. Here is the official synopsis:
A charming thief and a band of unlikely adventurers undertake an epic heist to retrieve a lost relic, but things go dangerously awry when they run afoul of the wrong people. Dungeons & Dragons: Honor Among Thieves brings the rich world and playful spirit of the legendary roleplaying game to the big screen in a hilarious and action-packed adventure.
"Dungeons & Dragons: Honor Among Thieves" will hit theaters on March 3, 2023.