Doctor Strange In The Multiverse Of Madness Almost Cut Its Best Character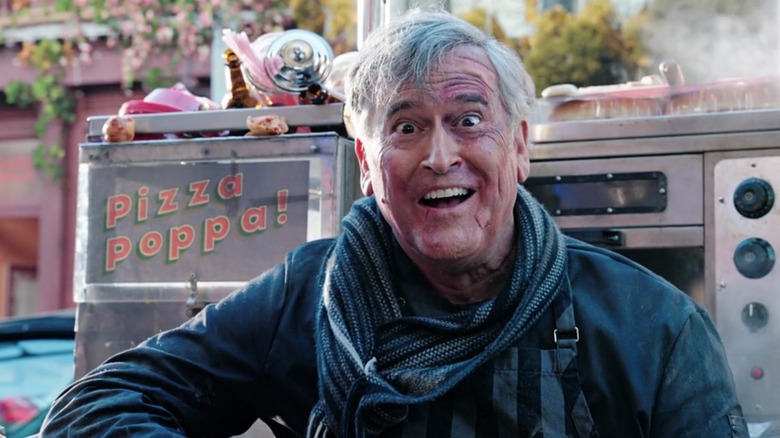 Marvel Studios
"Doctor Strange in the Multiverse of Madness" is a film filled to the brim with colorful characters. You've got the titular sorcerer (Benedict Cumberbatch), the Scarlet Witch (Elizabeth Olsen), America Chavez (Xochitl Gomez), Mordo (Chiwetel Ejiofor), Sorcerer Supreme Wong (Benedict Wong), and Michael Stuhlbarg wearing one of the crustiest wigs you've ever seen. 
However, you can forget about all of those characters right now. None of them come close to the man, the myth, the legend known as Pizza Poppa, played by Sam Raimi's best friend, Bruce Campbell. As soon as he appeared on screen, it was like every world in the multiverse finally was at peace, if only for a moment's time. Am I exaggerating for comic relief? Am I being deadly serious? The truth lies somewhere in the middle.
Campbell's appearance in the film came as no surprise to anyone who is a fan of Raimi's work. The actor has had either major roles or cameo appearances in nearly all of his movies dating back to the late 1970s. However, if the stars had aligned differently, Pizza Poppa might not have been in the final cut of "Multiverse of Madness," according to the latest "Marvel Studios: Assembled" documentary on Disney+.
Pizza Poppa always gets paid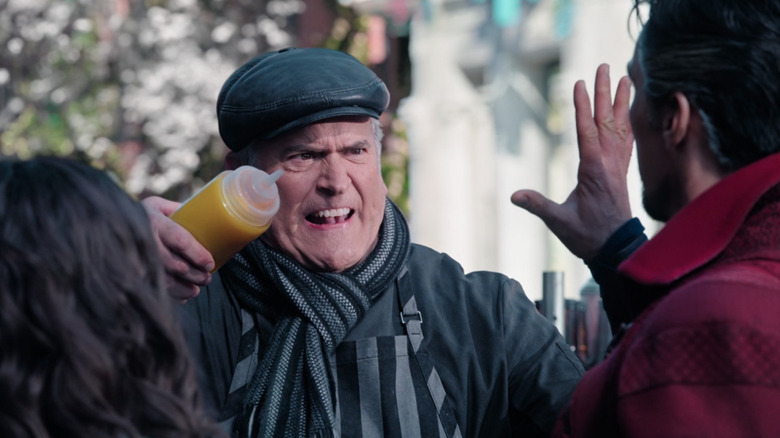 Marvel Studios
According to Campbell, he was going to appear in "Doctor Strange in the Multiverse of Madness" no matter what. He credits the threats by himself and Raimi to "the head of Marvel" (presumably Kevin Feige) for his casting in the film. While that secured him a spot on set, it didn't guarantee that he would make it into the movie. Several major cameos were cut from "Thor: Love and Thunder," and Pizza Poppa almost met the same fate.
"He was actually on the cutting room floor for a while," editor Bob Murawski explains in "Assembled." "But we ended up putting him back in at the last minute."
It was already bad enough that Sam's other collaborator, his brother Ted, wasn't in the film; cutting Campbell's Pizza Poppa from "Multiverse of Madness" would have been a crime. As previously stated, the two have frequently worked together for decades, with both of them first finding success in Raimi's ultra-low budget breakout "The Evil Dead." Not only that, but Campbell is synonymous with everything that makes Raimi distinct as a filmmaker; he's brash, physical, and oh-so-charming. Without his presence, "Multiverse of Madness" might have felt like just another Marvel movie, albeit with more violence and cooler shot framing.
Interested in learning more about the production of the latest "Doctor Strange" film? "Assembled: The Making of Doctor Strange in the Multiverse of Madness" is now available on Disney+.