Josh Brolin's No Country For Old Men Audition Didn't Play Out The Way He Had Hoped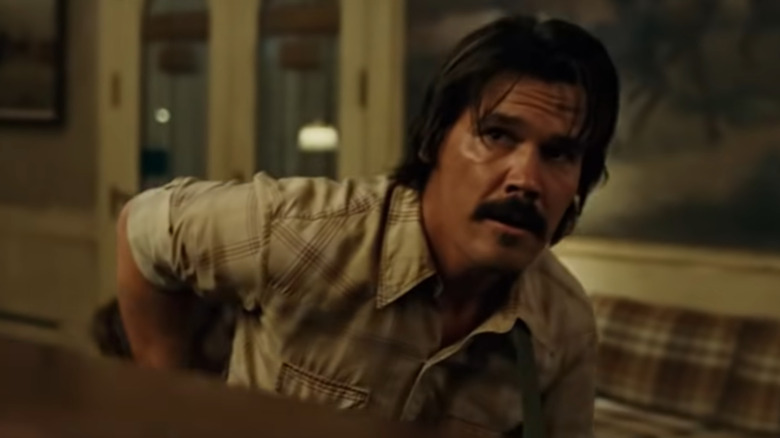 Miramax
"No Country for Old Men" turned Josh Brolin's whole career around. 2007 was a big year for Brolin: He appeared in "No Country" and another Tommy Lee Jones film, "In the Valley of Elah," along with "Grindhouse" and "American Gangster." Prior to 2007, Brolin had costarred in other scattered studio pics like "Mimic" and "Hollow Man," which saw him working with directors like Guillermo del Toro and Paul Verhoeven, but his biggest claim to fame — apart from being the son of "Amityville Horror" star James Brolin — was arguably still his film debut in "The Goonies" back in 1985.
Brolin didn't have the same clout in 2007 that he does now, and to secure his role in "No Country for Old Men," he had to audition for Joel and Ethan Coen like any other actor. At the time, he was already in Texas, working on the "Grindhouse" double feature with directors Robert Rodriguez and Quentin Tarantino. Luckily (or perhaps unluckily), Brolin was able to enlist their aid in filming his audition video. In a 2008 interview with The Skinny, he recalled how he learned of the film adaptation of Cormac McCarthy's novel through actor Sam Shepherd and went about trying to win the role of Llewelyn Moss in it:
"Sam Shepard told me that the Coens were making [McCarthy's] book into a movie and he hoped they didn't screw it up. I read it in a couple of days but I didn't imagine I was gonna play Llewellyn or [Anton] Chigurh or anybody. It was brought to my attention that I could audition for it so when I was working on 'Grindhouse' my audition tape was filmed by Robert Rodriguez and Quentin Tarantino during lunch and when it was sent to Joel and Ethan [Coen] their only comment was 'who lit it?'"
'Obviously I didn't make much of an impression'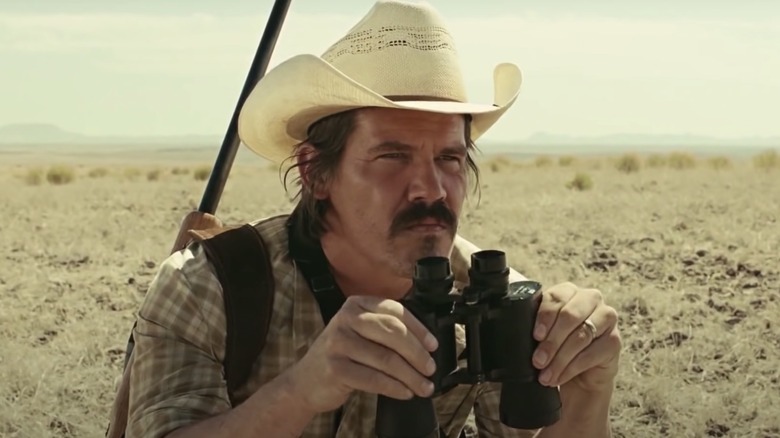 Miramax
Having an expertly lit audition video shot by two accomplished filmmakers wound up working against Brolin insofar as it distracted from his actual performance. "Obviously I didn't make much of an impression," the actor continued. "I have the greatest agent on earth and I got Ethan's cellphone number and wouldn't leave him alone. They finally said okay to meeting me."
It's as if he were living that "No Country" quote, "I've decided to make you a special project of mine." Fortunately, Brolin's persistence paid off, and he won the part and turned in a memorable performance as Llewelyn, the taciturn pronghorn hunter who comes across the scene of a drug deal gone wrong in the desert and gets in over his head when he decides to make off with the bag of money he finds.
The following year, Brolin earned his first Academy Award nomination for his performance opposite Sean Penn in "Milk." Since then, he went on to work with the Coen brothers again on "True Grit" and "Hail Caesar" and has struck up new collaborations with other acclaimed directors like Denis Villeneuve on "Sicario" and "Dune." He's also pulled double-duty as a Marvel movie star, playing Cable in "Deadpool 2" and Thanos in "Avengers: Infinity War" and "Avengers: Endgame," the latter of which briefly reigned as the highest-grossing film of all time.
None of this might have happened were it not for Brolin's star-making turn in "No Country for Old Men." Although he failed his first audition, his tenacity in pestering Ethan Coen earned him a second chance, and that's all any of us can ever hope for.