Ingrid Bergman's First American Film Taught Her A Lesson She Quickly Unlearned
United Artists
Hollywood is a notoriously vain industry. From the actors' infamous "good side" to photoshoot touch-ups, a lot of thought goes into making talent look their best. But not every film industry values the process with equal fervor, which can be jarring for actors looking to cross over into American films. Wildly, this was the case for international maven Ingrid Bergman, who made her Hollywood debut with the 1939 film "Intermezzo: A Love Story." The drama had a big hand in launching her international career, but it also taught her about the concept of "camera angles" — that is, the most flattering vantage point for an actor on camera.
In a conversation with the Los Angeles Times' Cecil Smith, Bergman shared an anecdote about her first experience with her "best side." On her first day on the "Intermezzo" set, Bergman was asked which side of her face photographed best. "And I didn't know," Bergman explained, "So they photographed, they did a test, and they said, well, one side was better than the other. I won't tell you which."
Shooting "Intermezzo" effectively trained Bergman to favor a particular side of her face. Whenever it came time to shoot her coverage, the crew seemed "very anxious" about getting the best angle. "And of course, that stays in your mind," Bergman admitted. "You want to look your best, and you think that maybe the difference is so enormous that I must be very careful and watch out for them — my best side."
Best face forward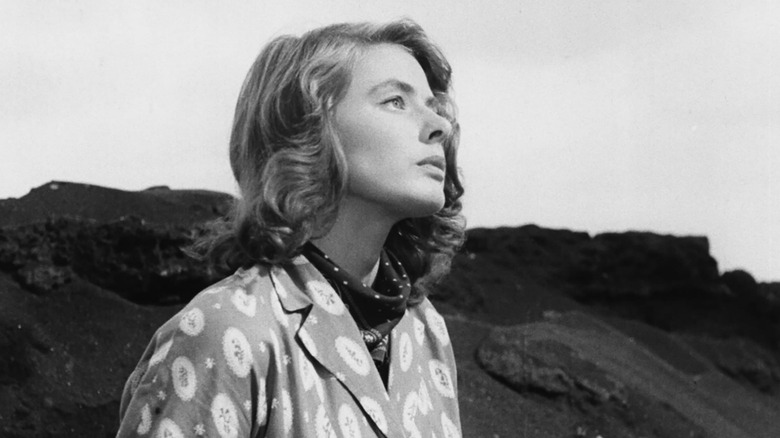 RKO Pictures
The practice informed Ingrid Bergman's work for years, until her first collaboration with Italian neorealist Roberto Rossellini in 1949. Bergman had been making films in America since "Intermezzo," and with directors who all seemed to prioritize her "best side." But when she relocated to Italy, she found herself working with a drastically different kind of filmmaker.
"The very first time that Mr. Rossellini put up his camera to shoot me, I said, 'You know, my best side,' and he looked at me and he said, 'Your best side? I'm making a movie, and, I mean, I couldn't care less! I'm going to be on the side that suits my action.' And I thought that he was right. It is right. I mean, actors shouldn't be so vain that they always, always have to look their best. They should try to be good in the part and play it as truthfully as they can, and try to forget about how they look."
It's interesting how the concept of the good side has changed since then — and, how it obviously hasn't — and how deeply it's permeated Hollywood. The growing trend of de-glamming actresses for "gritty" roles, like Charlize Theron in "Monster," Nicole Kidman in "Destroyer," or even transforming actresses for a turn in a biopic — has been interesting to watch. The process puts a certain emphasis on the truthfulness of the performance, but it's also impossible to divorce that from the actor's appearance. In a way, vanity will always have an influence in filmmaking, whether filmmakers are conscious of it or not. It's just a matter of how that vanity is used to serve the story.