Alone Is The Closest You'll Get To Getting Lost In The Woods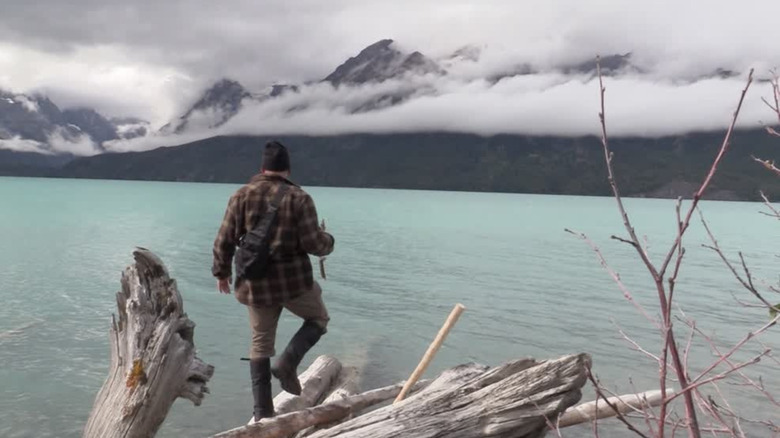 The HISTORY Channel
Picture this: you are all by yourself. You are away from the pressures of everyday life, away from the crushing deadlines of work and the stress of upcoming bills. There are no cars honking and no pedestrians walking in your way. It is just you in the wilderness with nothing but your wits and the animals that call this vastness their home.
For many people, this sounds appealing at first, until the reality sets in that you cannot survive on your own in the woods with only the bare minimum of supplies on hand. That's okay, because you can watch other people do just that for your voyeuristic entertainment! Netflix has recently acquired one season of the HISTORY Channel's reality competition series "Alone," and it has made quite the splash on the streamer; as of this writing, "Alone" is currently #2 on the Netflix Top 10 list right behind "Stranger Things."
That's nothing to scoff at, especially for a show that seemingly was added to the platform pretty discreetly. When /Film reached out to the HISTORY Channel for comment, a spokesperson said that "it's great to see previous seasons of the celebrated series getting exposed to new audiences," while also adding how its upcoming season will premiere in August.
If you've seen the show pop up on your Recommended tab recently and are curious to press play, here's what you should know about "Alone."
So, what's it about?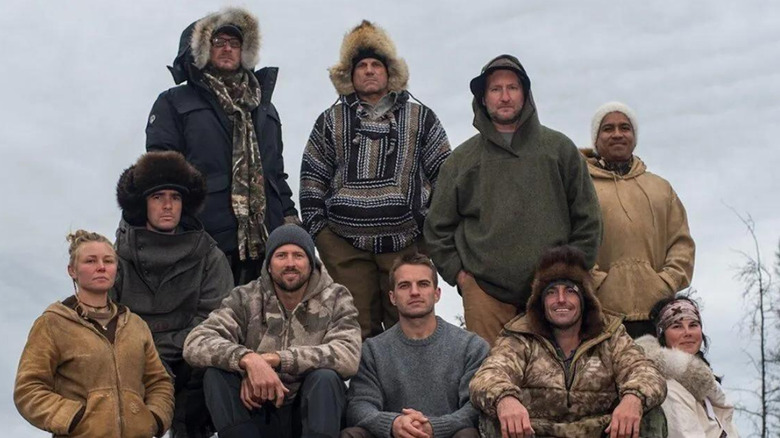 The HISTORY Channel
The concept of "Alone" is pretty simple. A group of ten professional survivalists is tasked with surviving in the isolated wilderness for as long as possible with only a handful of essential items, including a set of cameras. Once they set off, they are tasked with recording themselves as they hunt, scavenge, and try to survive in complete isolation from the rest of society. The only human interaction that these contestants have is the occasional medical health check, where doctors are flown to their locations to determine whether they are still fit to continue the competition.
If the contestant finds themselves at a breaking point and cannot bring themselves to continue, they must call in the show's rescue team through a provided satellite telephone. They are sent back to the production's base camp for a couple of days before they are allowed to return home. However, the last person who makes it through the competition wins a $500,000 cash prize, which may or may not be a little too low considering what you do to win it depending on your outlook.
How it stands out from similar shows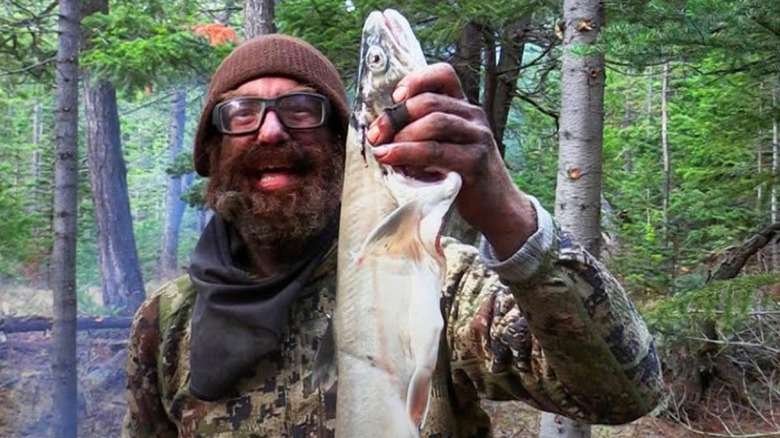 The HISTORY Channel
Wilderness TV isn't a particularly unique concept — from reality shows like "Mountain Men" to schlocky competitions like "Naked and Afraid," there is a fairly large market for programs about people living in the isolated wilderness. However, the majority of these types of shows were just about entertaining the audience, with some very basic facts sprinkled throughout so that it gets labeled as educational. Seriously, what did you learn from "Man vs. Wild" other than you can drink your pee if you're completely dehydrated?
"Alone," on the other hand, places a major emphasis on learning. Since the focus is placed entirely on the contestants, they often talk to the camera about what they're planning on doing at any given time. They actually give pretty detailed explanations and depictions of the survival skills they use throughout the show, with the editing team sometimes providing additional terrain facts as the contestants are speaking. While you likely won't be using any of these tricks in your day-to-day life, it's still cool to listen to these survivalists talk about these tactics. When listening to them talk about their new daily routine, you might start to think that your current problems might not be as bad as you think.
What's the appeal?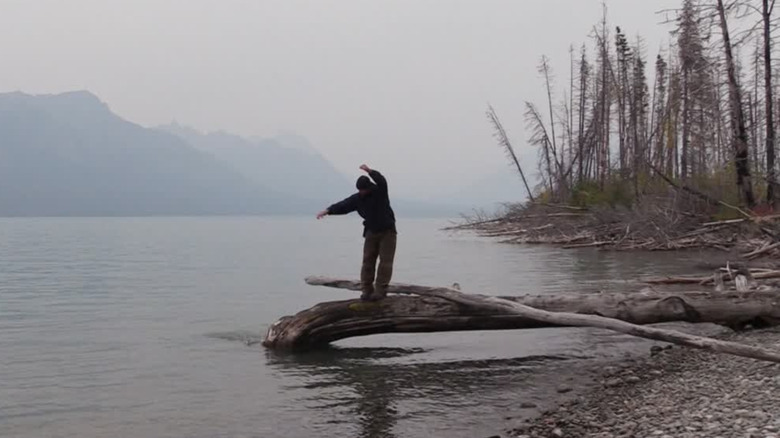 The HISTORY Channel
You're probably asking this question after reading about what this show is all about, and I honestly don't blame you for doing so. It can be easy to watch for the first couple of episodes, but after a while, it can get pretty disturbing seeing people essentially fight for their lives. Some people might not be able to handle seeing something so real.
However, there are also people who feel the opposite way. It's not necessarily the fact that many Netflix subscribers seem to enjoy watching people being stranded in the middle of nowhere with only the bare minimum of supplies. However, there is a weird sense of catharsis that watching something like this can bring.
As I alluded to in the introduction, everyone has wanted to escape the pressures of reality and move away to the wilderness at least once in their lives. However, it simply isn't that feasible unless you have the proper skills to do so. With this in mind, why not watch people who actually do have those skills live out your fantasies from a safe and secure location? It is likely that there is an element of vicarious living at play with the show's newfound popularity, as many would not be able to have such an experience in their lifetimes.
Wanna check it out for yourself? The eighth season of "Alone" is available to stream right now on Netflix.