Richard III Review: An Incandescent Danai Gurira Commands The Throne Under The Night Sky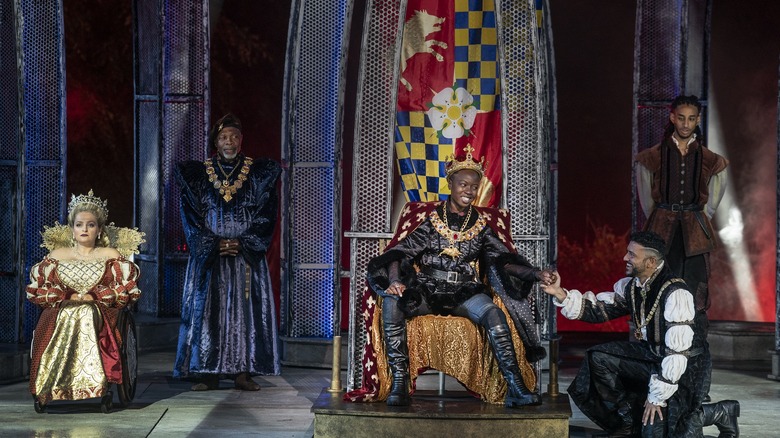 Joan Marcus/Public Theater
Danai Gurira welcomes you to the winter of discontent. The royal knave she inhabits, King Richard III, lies among William Shakespeare's oeuvres of doomed regents. The nature of the real King Richard III of England (reigning for two years, 1483 to 1485) is up for historical discussion. How much does Shakespeare's text (printed around the 1590s) function as Tudor propaganda against him? This line of discourse may not apply much to this staging of "Richard III" at the Public's NYC Free Shakespeare in the Park. Director Robert O'Hara ("Slave Play") is more preoccupied with the Bard's text as an outlet to explore one royal's villainy — and entertain us.
On a sparing stage of shark-finned metallic arches on a turntable (scenic design by Myung Hee Cho), the design suggests the original 1400s time period (the regal costume design by Dede Ayite is period-suggestive but with flourishes like gold sneakers) but the play's attitude and airs are decidedly contemporary — the thumping musical underscoring by Elisheba Ittoop enlivens every scene transition.
Danai Gurira as the King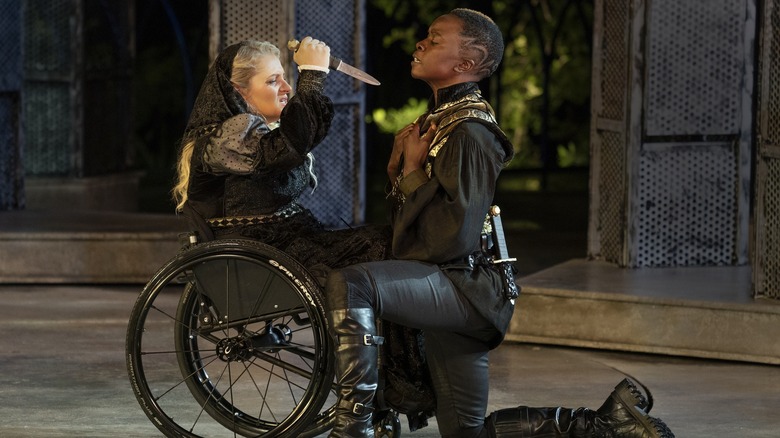 Joan Marcus/Public Theater
At the center is hypnotic "Black Panther" star Danai Gurira (who appeared in the Public Theater's 2011 "Measure for Measure"). Tirelessly, she performs a swagger of masculinity with well-exercised malice and doesn't forget to dab in the comedy. Much can be read into the casting that most of her main targets are white men and boys who play those in the way of Richard's succession. This Richard, interpreted by a Black woman performing snarling and self-entitled toxic masculinity, appears to despise his rivals less out of perceived injustice and more for inhabiting (white) privilege and power denied to him. Much of Gurira's steely comic timing is found in her Richard's self-congratulatory attitude and faux-piety. Like a child brazenly stealing a cookie, Gurira rakes plenty of laughs, especially when Richard lounges near the corpse of his fresh murder victim to woo the widow of said corpse.
Modern Shakespeare theatergoers might have sat through past executions of the Bard's text and absorbed unfortunate disability tropes — with Richard's "deformity" in the text being linked to evil and a long tradition of disabled performers being excluded from owning and interpreting this hefty role. Recent productions of "Richard III" moved with the times and centered a disabled performer for the textually and historically disabled King Richard III (a confirmation acquired upon discovery of the real King Richard's bones). Here, the casting inverts the setup by inviting disabled and non-disabled performers to encircle Gurira. As a result, disabled players exist on various spectrums of morality: among them are Richard's murderous lackey (Maleni Chaitoo is a Deaf actress), a disappointed mother like the Duchess of York (Monique Holt is a Deaf actress), and the victor who restores order to the kingdom (Gregg Mozgala, an actor with cerebral palsy known for the Public Theater's "Public's Teenage Dick," doubles as Edward IV and Richmond).
Women are the survivors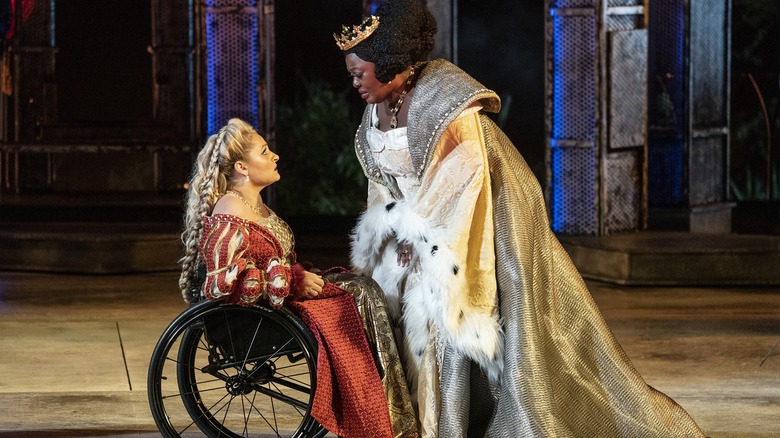 Joan Marcus/Public Theater
As Lady Anne, Ali Stroker (Daniel Fish's "Oklahoma!" alumni) sinks her fangs into her fleeting stage time. Anne is Richard's first marital mark, and Stroker swerves adroitly from Anne's contempt to sexual attraction toward Richard.
On that note, plenty of the royal women in this tale are intensely cognizant that they're taking risks — for Anne, falling for the unpredictability of Richard's nature is a thrill-seeking gamble for her. When misfortunes arrive for men (poor Hastings and George!), the men don't curse fate out of practice but more out of disbelief. But it's the women, the queens usurped from their security and their husbands and offspring, who are wary that they're survivors in their own story more than the men are. In particular, the exiled Margaret's (a dagger-sharp Sharon Washington) promise to "teach thee how to curse" to a bereaved Queen Elizabeth (Heather Alicia Simms) glows with a generational solidarity between Black women.
In addition, Gurira never softens her Richard but something in Richard's temperament simmers when his mother, the Duchess of York played by Monique Holt, shares the stage with her son. The Duchess is perhaps the soul closest to Richard's heart even if she can't inspire compunctions. When she and Richard communicate in American Sign Language (Neil Sprouse is director of Artistic Sign Language), a majority of which exists in its own rapport without spoken translation, her expressive disappointment in her son is a knife-twist greater than his inevitable assassination.
Powered by an excellent ensemble and lead, O'Hara's "Richard III" does have to swallow its weaker staging elements. An army spectacle (fight direction by Teniece Divya Johnson and Jeremy Sample) doesn't feel slick as intended. Curiously in this same sequence, some prerecorded verses are spoken through poorly tested speakers. At Richard's coronation, the ensemble breaks out into a delightful contemporary dance. For as applause-worthy as it is, it teases a very different version of O'Hara's "Richard III" swimming beneath the final product rather than augmenting the bigger picture. 
For as much as the electricity flows, perhaps the production's most critical shortcoming is that O'Hara's blocking does little on its sparing stage to visually delineate the hierarchical comprehension in the royal court (the act summaries in the playbill does little to help). For a newcomer to this high-density history play, they have little aid in mapping the royal family tree, the splintering between Yorks and Lancasters, who married who, who sired who. Yet, much is comprehensible and emotionally chartable in the double-crossing, (dis)loyalties, executions, and dissolutions. With two hours and 20 minutes nimbly flying by, Danai Gurira is the engine that keeps the clockwork of the ensemble rolling.
"Richard III" is running at the Delacorte Theater in Central Park until July 17. Tickets are free. This production will be released on PBS Great Performances at a later date.